Contact Us
Room: M-Building, MB-08
Phone: (718) 482-5188
safezone@lagcc.cuny.edu
Deema Bayrakdar
Director
Nathan Tosh
Program Coordinator
Upcoming Events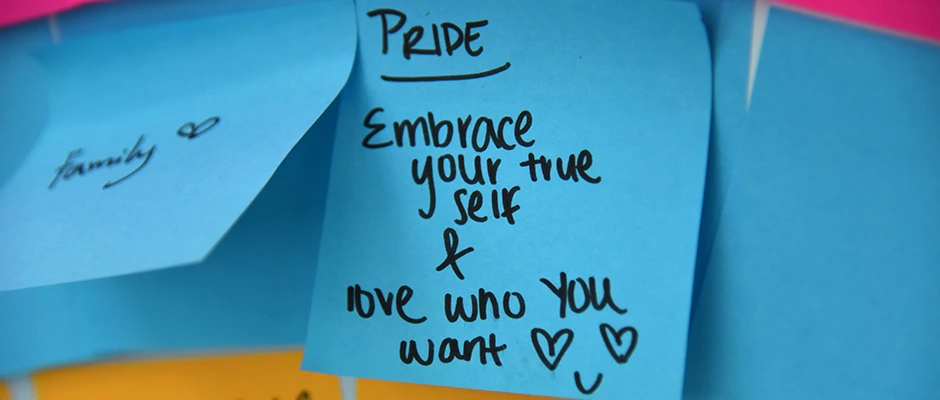 The LGBTQIA Safe Zone Hub is a collaborative resource for celebrating the experiences, identities and expressions of LGBTQIA students, faculty and staff as well as increasing awareness about LGBTQIA issues, gender and sexuality at LaGuardia. We are committed to leading with a social justice lens, offering support services and developing programs, events and opportunities for those who identify as LGBTQ+ or questioning. Whether you identify as lesbian, gay, bisexual, transgender, queer, intersex, asexual, questioning or an ally, you are welcome here.
We want to ensure that your interests and needs guide our programming and initiatives. Please complete this survey and share your thoughts so that we can learn more about you!
Our Priorities
Sexual orientation, gender identities and expressions and equity
Awareness and education about issues relevant to LGBTQ+ community
Advocacy, empowerment and social justice activism
Healthy relationships
Space for expression, support and connection
In-Person Support Circles
Ever feel like you're the only one going through something? Join a Support Circle, which brings students together around a theme to express, connect, empower and build community. Guided by peers and group facilitators, themes include stress & overwhelm, social anxiety, isolation and loneliness, healthy relationships, and inner strengths and resilience. All are welcome.
Watch a segment about Support Circles that aired on LaGuardia's radio station, WLGR.
Check the Events page for scheduled Support Circles.
Resources
Campus-wide Safe Zones
Room MB-08 may be the LGBTQ+ hub, but Safe Zones can be found all around campus. Safe Zones are individuals and/or spaces where students, staff and faculty can feel safe and accepted as their most authentic selves.
Interested in receiving Safe Zone Training? Contact Nathan Tosh at ntosh@lagcc.cuny.edu.
View the Lavender LaGuardia list of LGBTQIA faculty and staff.