Contact Us
Room: E-Building, E-517
Phone: (718) 482-5610
Foundation@lagcc.cuny.edu
Hours of Operation
Address:
LaGuardia Community College
ATTN: LaGuardia Community College Foundation
31-10 Thomson Avenue, Room E-517
Long Island City, NY 11101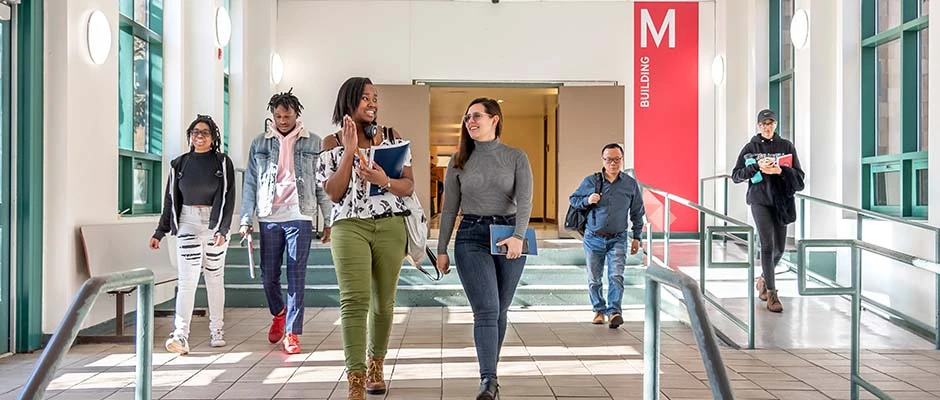 We have met our ambitious Tomorrow Campaign goal to raise $10 million and have unlocked the $5 million gift from our anonymous donor. Not only is $5 million our largest donation ever but now we have an unprecedented $15 million to help our students rise and recover from the economic turmoil caused by the pandemic.
These funds will help LaGuardia students get the education they need to make brighter tomorrows for themselves, their families, and their communities.
Our students are not only pursuing a degree – they are daring to do more
Driven by goals and grit, 60% of our students are immigrants, most are first-generation college students, and 71% come from homes with less than $30,000 in annual incomes. The LaGuardia Community College Foundation directly supports students with scholarships, emergency aid, internships, on-campus job placements, and professional development to ensure they are able to stay in school and graduate in order to improve their lives, families, and communities. Our students can't do it alone, and neither can we.
With your support, we can close the opportunity gap and build a more equitable society.
Imagine a level playing field for students
Our students have determination, intelligence, resilience, and incredible work ethic. What they don't have are financial support, role models and career opportunities to help them move up the ladder to the middle-class.
Foundation Scholarships
Our students come from households with less than $30,000 in annual family income and they work two or three jobs to be able to pay their tuition and living expenses. This work-to-survive cycle means students often take fewer credits per semester and have a harder time graduating. Together we can change that by providing:
Scholarships to help with tuition and other college expenses so that students stay in school and graduate.
Emergency Funds to cover urgent costs like textbooks, transportation, rent, or healthcare.
Professional Development
Access creates opportunity. We help students build their networks and professional skills through:
Programs like the President's Society that teach our students the professional skills needed to succeed in today's competitive world.
Internships and well-paying campus jobs give our students access to networks and professional opportunities that students from more privileged communities take for granted.
Peer Advising
A win-win for both the program's paid student advisors and the students they work with, the Peer Advising Program ensures students' experiences are centered through hands-on mentorship and guidance.
ACE Scholarship Fund
The COVID-19 pandemic has resulted in unprecedented economic hardship for many of the 2.3 million residents of Queens, including the students of LaGuardia Community College and their families.
LaGuardia's Division of Adult & Continuing Education (ACE) is poised to help rebuild NYC's economy by providing opportunities for Queens residents to learn new skills, acquire industry-recognized credentials, and transition into well-paying career paths. LaGuardia is leading this effort with a new scholarship fund for ACE students and the Foundation is committed to helping hundreds of Queens residents get back to work.
Your Donation can Transform Lives
Foundation recipients are three times more likely to graduate than general students.
of Foundation funds go directly to students because we limit overhead and focus on what matters.
Our degree moves students from poverty to opportunity – from <$30K annual family income to >$58K individual income.