Our History
LaGuardia Community College opened its doors to higher education to all in 1971. Learn more about the College's history as a bold, innovative catalyst for social change and educational equality in the 20th and 21st centuries.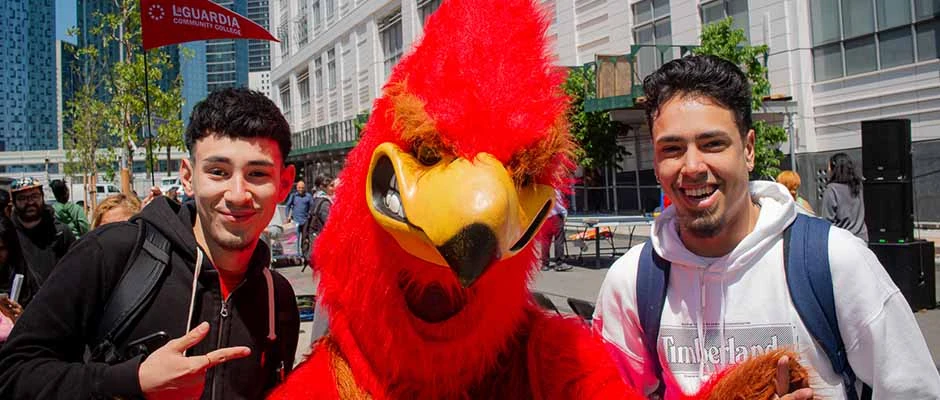 LaGuardia Community College, is a proud Hispanic-Serving Institution, located in Long Island City, Queens, and an institution of the City University of New York (CUNY). LaGuardia is committed to diversity, equity, and inclusion, and offers a welcoming environment for immigrants of all nations and individuals of all backgrounds. The College reflects the legacy of our namesake, Fiorello H. LaGuardia, the former NYC mayor beloved for his advocacy of underserved populations. Since opening its doors in 1971, LaGuardia's academic programs and support services have advanced the socioeconomic mobility of students while providing them with access to a high quality, affordable college education.
Fast Facts
LaGuardia's Fast Facts are comprised by the Office of Institutional Research and Assessment in collaboration with the Division of Communications and External Affairs.

NOTE: Fast Facts were revised October 26, 2022; based on 2021 enrollment data. Download a PDF of Fast Facts.
Our College
Founded: 1971
President: Kenneth Adams
School Colors: Red and White
Mascot: Red Hawk
College Namesake: Fiorello H. LaGuardia, NYC's 99th mayor
(term: January 1, 1934, to January 1, 1946)
Majors: More than 50 majors, certificates, and programs
Continuing Education: More than 68 continuing education programs
Degree Students
Annual Tuition
---

Enrollment
50% Full-Time
50% Part-Time
---

Entering Academic Credential
62% High School Diploma
33% Transfer
5% TASC (Test Assessing High School Completion)
---

Age
58% Under 23
24% 23-29
18% 30+
---
Languages Spoken
---

Receiving Financial Aid
Adult Continuing Education
Age
18% 24 or younger
15% 25-29
30% 30-39
22% 40-49
15% 50 or older
---

Race/Ethnicity
71% Hispanic
9% Black
11% Asian
6% White
3% Other














Faculty
362 Full-time
534 Part-time
64% Of professors with terminal degrees

Staff
658 Full-time
534 Part-time

College Revenue
52% Government Appropriations
29% Grants and Contracts
8% Tuition and Fees
10% Other Sources
Total Revenue = $290,264,000
Charitable Support
LaGuardia Community College Foundation, a separate 501(c)(3), has raised over $45 million since its formation in 2003, and has provided scholarships, stipends, emergency aid, and on-campus employment to more than 30,000 students.
LaGuardia has garnered major support from such leading funders as Goldman Sachs Gives, Bill & Melinda Gates Foundation, Robin Hood, Henry Luce Foundation, The Carroll and Milton Petrie Foundation, and The Teagle Foundation.
Secured $16.6 million from government and foundations to continue the development of innovative programs and services that support student success.
The LaGuardia Community College Foundation provides financial assistance to students through scholarships, emergency funding, transportation and textbook aid; and 93% of our graduates have no student loan

Milestones and Rankings
Lifetime earnings increase more than $400,000 for students with an associate degree.
LaGuardia ranked #5 among U.S. two-year colleges in economic mobility – moving low-income people to the middle class and beyond – in a Stanford University study.
LaGuardia students are 45% more likely to transfer to a 4-year college, including some prestigious institutions such as: Stanford, Brown, Columbia, NYU, Cornell, and Vassar.
LaGuardia follows CUNY's Pathways to Degree Completion; making it easier for students to transfer to other CUNY institutions.
90% of our graduates say their education helped them find jobs after graduation.