Contact Us
Aquatics
Room: E-Building, E-148
Pool Desk: (718) 482-5038
Monday- Friday  9 a.m.- 9:15 p.m. 
Saturday- Sunday 9 a.m.- 5 p.m. 
Open swim hours may vary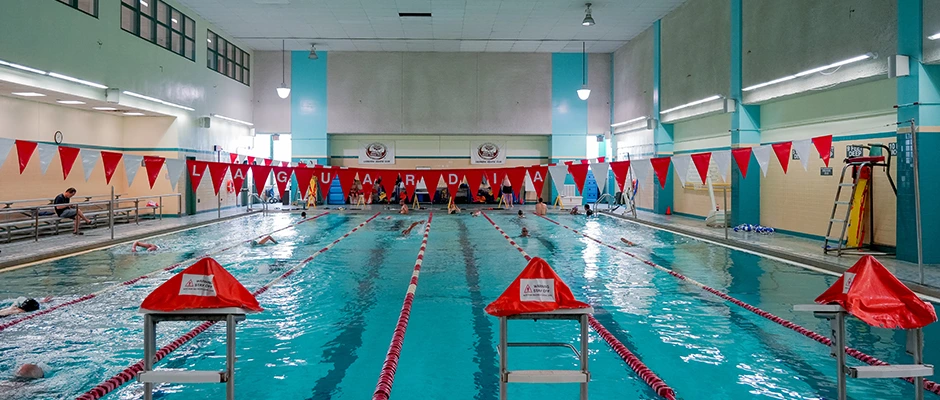 The Aquatics Center is located in the E-Building, Room E-155, and offers a 25-yard, six-lane indoor swimming pool. Staffed by certified aquatic specialists and qualified instructors, we offer lap swim, open swimming, and beginner to advanced swimming classes.
Swim Instruction
We offer private and group swim lessons for all skill levels, from beginner to club.
| | | |
| --- | --- | --- |
| Class | Age Groups | Cost |
| Private Swim Instruction (one 45-minute lesson) | All ages | $50 |
| Group Swimming Instruction (eight 45-minute lessons) | Ages 5-8; ages 9-13; adults (14-99) | $150 |
| Intensive Swim Classes (summer only, M-F for two weeks, 55-minute lessons) | Ages 5-8; ages 9-13 | $225 |
Aquatics FAQ's
Q: Why do I need a photo ID to go swimming?
A: You need to bring a photo ID for your own safety. In case of an emergency, we can provide vital information to the rescue personnel.
Q: Do I need to wear a swimming cap?
A: A swimming cap is required if your hair is longer than 4 inches.
Q: Can I use my gym shorts in the swimming pool?
A: Unfortunately, no. For sanitary reasons, we only allow swimming trunks with lining.
Q: Do you provide towels?
A: No. We require all our patrons to bring their own towels.
Q: Why do I need to take a shower before getting in the pool?
A: This is required by the Board of Health of the City of New York. Besides hygiene issues, perspiration, lotions, or any other substance introduced into the pool water will combine with the chlorine and result in an unpleasant gas called chloramine that stings the eyes and smells bad.
Q: Can I bring my friends to swim?
A: Yes. We are proud to be a true community college, and we are open to everyone. However, if your friends are not currently LAGCC full-time students, they will have to pay the admission fee.
Q: Can I bring my baby to swim with me?
A: Yes, but babies and toddlers must wear a waterproof diaper and/or be potty-trained.
Q: What is the water temperature in the pool?
A: We usually maintain the pool water at 79-80 degrees from May to September and 81-82 degrees from October to April.