Contact Us
Room: C-Building, C-102
Phone: (718) 482-5000
admissions@lagcc.cuny.edu
Monday- Thursday  9 a.m.– 7 p.m. 
Friday  9 a.m.– 5 p.m.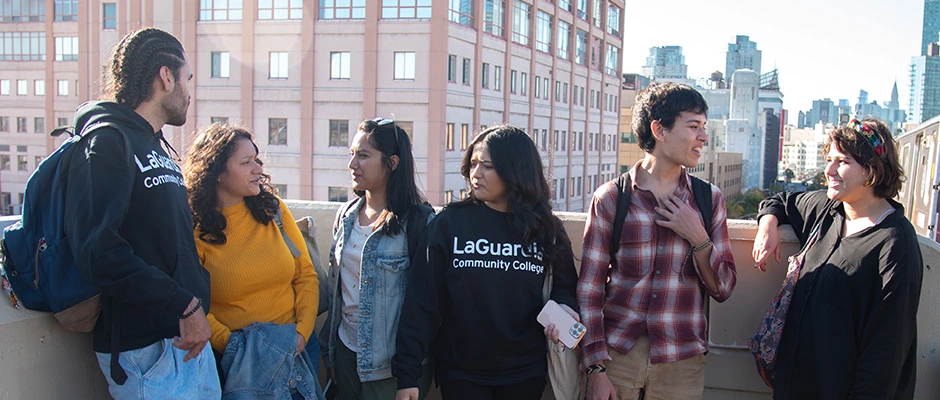 Campus Tours & Info Sessions
Interested in attending LaGuardia? We are now offering an online tour experience as well as online information sessions. Get a feel for the LaGuardia campus via our virtual tour videos, and register now for an information session.
LaGuardia students are not only pursuing a degree – they are daring to do more.  Apply Now
Readmission/ Reinstatement
If you have not registered for classes at LaGuardia for two or more semesters, or if you were placed on academic probation or suspension when you last attended LaGuardia and would like to be considered for re-entry, please submit the Readmission & Reinstatement Application.
Senior citizens (persons of 60 years of age and older) may enroll in undergraduate courses at LaGuardia in a variety of ways.

Degree programs: Senior citizens may enroll and enter degree programs identical to any other student and may be eligible for financial aid. All fees apply to these degree seeking students. Apply for a degree program.

Audit courses: Senior citizens may also enroll on a space-available, audit basis without tuition charge and without credit. Individuals seeking this waiver must apply as a non-degree student and must submit proof of age and residency at the time of admission. A $65.00 per term/session fee and a one-time $15.00 university consolidated fee applies as well as any penalty fees that may be incurred (e.g., late registration payment, processing fees or library fines). Seniors are usually invited to register shortly before the start of the semester. A registration date will be sent upon receipt and review of the application.

Note: An audit grade is assigned to the students who have officially registered to audit a course, such as senior citizens with non-degree status. Audited courses may not be retaken for credit. Students must request an audit grade at the time of registration or within the first three weeks of the semester by notifying the instructor. The AUD grade does not signify that the course was completed.

View schedule of classes.
If you were admitted to LaGuardia Community College for the Fall 2022 semester but did not attend, you may be eligible for reactivation. Please complete the Reactivation Form.
Transferring Into LaGuardia
Our credit evaluators will review your credits from previous colleges, College Now courses, Joint Services Transcript (JST) evaluations, and College Level Examination Program (CLEP), military, and advanced placement programs.
Transfer Credit Policy
Read the full transfer credit policy.
Here's a brief overview:
A maximum number of 30 credits can be granted toward your associate degree. For certificate programs, up to 50% of the required credits can be granted.
All transferred courses become permanent on your student record.
In general, for courses to be transferred, a grade of C or better must have been earned.
Courses accepted for transfer credit are not included as part of any student's grade point average (GPA). By CUNY policy, courses passed for credit at any CUNY college are required to transfer for credit to any other CUNY college. Courses with a grade below C may transfer as elective credit depending on a specific course or program requirements.
If you have credits from colleges outside of CUNY, think you are entitled to additional transfer credit, and do not already have the transfer maximum of 30 credits, you can contact us at creditevaluation@lagcc.cuny.edu before you register.


Learn more about admissions for transfer-in students. If you're transferring from another CUNY college, you can complete an unofficial evaluation of your CUNY-to-CUNY credits.
To find out more about transfer credits or advanced placement, email creditevaluation@lagcc.cuny.edu.
You can view your credit evaluation in CUNYfirst once it's completed. If you have questions about your credit evaluation or have changed your major, please complete the Transfer Credit Inquiry Form before making an appointment. We will respond to your inquiry by email within five business days.