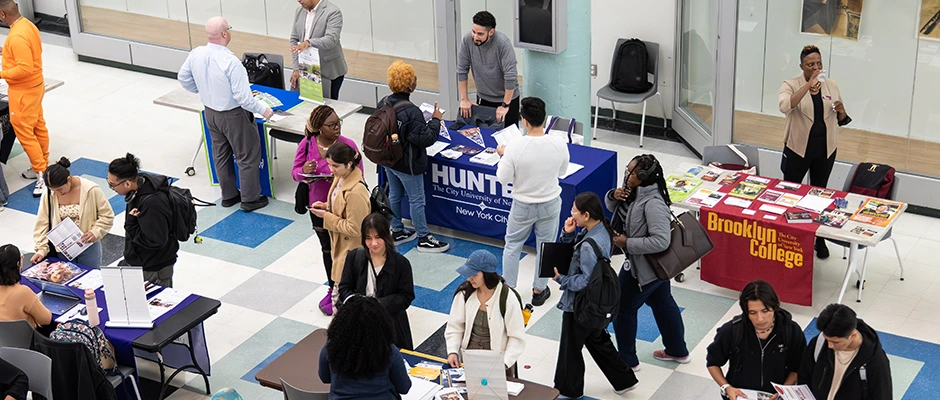 Navigating Your Path to Transfer Success
Welcome to your semester-by-semester guide for successful transfer to a bachelor's degree program!
Transfer Milestones lay out the transfer process in clear stages to help you make the right choices for your academic, career, and personal growth.
---
Unlock Your Transfer Success with LaGuardia's Support
The journey of transferring to a four-year college or university can be complex, but we're here to make it as seamless as possible. Our dedicated team of advisors, faculty, and counselors are committed to helping you every step of the way. Here's how we can assist you:
Transfer Planning: Advisors can assist students in researching and identifying potential transfer institutions that match their academic and career aspirations. They can also help students understand admission requirements and application deadlines. 
Resource Navigation: Advisors can direct students to various campus and external resources, such as scholarships, financial aid opportunities, and transfer workshops, assisting in navigating the application process and offering additional resources for guidance. 
Recommendation Letters: Faculty members can write strong recommendation letters for students applying to four-year colleges or universities. These letters can carry significant weight in the application process, mainly highlighting a student's academic achievements and potential.  
Faculty Mentorship: Faculty can serve as mentors, offering insights into their expertise, research opportunities, and career and transfer advice. This mentorship can help students make informed decisions about their academic and career paths. 
Research Opportunities: For students interested in research-intensive programs at their transfer institutions, faculty can provide research opportunities within their departments, helping students build valuable skills and experience. 
Wellness Counseling: Counselors can provide students with personal counseling services to address emotional and psychological challenges that may impact their academic performance and transfer readiness. 
Career Counseling: Counselors can help students explore career options, assess their skills and interests, and align their academic choices with their career goals. This can be especially helpful when students are choosing a major or field of study for transfer.

Advisors, faculty, and counselors all play a role in providing holistic transfer support to students. Advisors offer academic planning and resource guidance, faculty members contribute their academic expertise and mentorship, and counselors provide personal and career counseling. Together, they create a support network that helps students successfully navigate the transfer process.
---
Success Stories from LaGuardia Transfers
Engineering Enthusiast's Triumph: "I studied engineering for 3 semesters. Honestly, I was pretty worried that my credits wouldn't transfer with me, so I talked to my advisor, and they helped me figure out the best way to transfer those credits. I loved my classes, but I'm glad I don't have to take them all over again!"
Overcoming Challenges and Embracing Opportunities: "Entering LaGuardia as a first-generation college student in Travel Tourism & Hospitality, the expectations were immense. Yet, through perseverance and embracing opportunities, I flourished academically and personally. My involvement in extracurriculars and the college senate enriched not just my own journey but contributed to the community. Now, as I prepare to attend NYU, I realize this is not an end but a new beginning. With the lessons learned, I'm not only ready to face the future but also to shape it."