LaGuardia Community College Welcomes 20 New Lecturers and Assistant Professors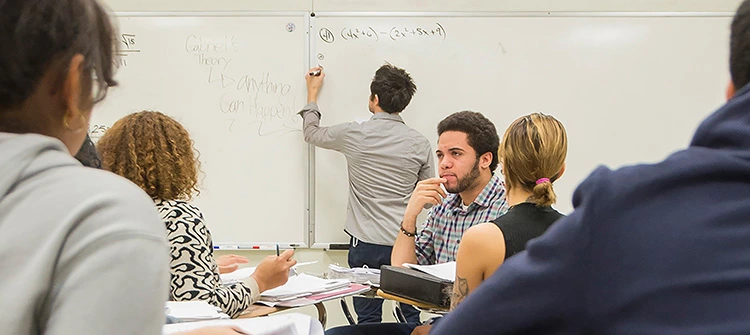 LONG ISLAND CITY, NY (August 29, 2023) — LaGuardia Community College/CUNY is proud to welcome new educators, who will share their expertise and help guide students to academic success.
"We are welcoming 20 new lecturers and assistant professors this Fall," says Provost and Senior Vice President for Academic Affairs Dr. Billie Gastic Rosado. "Last year, 23 new faculty colleagues joined our community. We feel fortunate to be able to increase the number of full-time faculty at the College."
Dr. Gastic Rosado says bringing a diverse pool of talent to teach at LaGuardia will benefit the students and their learning experience.
"Faculty can be influential mentors to students, making it critically important that they reflect the diversity of our students," she said. "We are made stronger by a faculty that can share a wide range of academic expertise, industry and disciplinary engagement, and perspective based on their lived experience and background. Our faculty are key to students feeling connected to their field of study and our college."
The 20 new lecturers and associate professors are:
Suzanne Uzzilia, Sub. Lecturer Doc. Sch.
Anthony Amen, Sub. Lecturer
Kristine Blewitt, Sub. Lecturer
Victoria Buitrago Brown, Sub. Lecturer
Miguel Carvajal, Sub. Lecturer
Li Duan, Sub. Assistant Professor
Felecia Farrell, Sub. Lecturer
Michelle Lugones, Sub. Assistant Professor
Sandra Ribeiro, Assistant Professor
Joan Rizzo, Sub Assistant Professor
Hendryx Silva, Assistant Professor
Mathematics, Engineering and Computer Science
Khalid Kassou, Lecturer
Dora Trujillo, Lecturer
Shaoshao Yang, Lecturer
Steven Kulawy, Sub Lecturer
Kuhuk Sharma, Sub. Lecturer
Andreas Karras, Sub. Lecturer
Jessica Kindred, Sub. Lecturer
Cecilia Salvatierra, Sub. Lecturer
Emily Tancredi-Brice, Sub. Lecturer
Among the new faculty, Dr. Sandra Ribeiro, Dr. Dora Patricia Trujillo, Shaoshao Yang, and Khalid Kassou are each looking forward to the start of the 2023-24 academic year at LaGuardia.

Dr. Ribeiro, new assistant professor in Health Sciences, says she hopes "to bring knowledge, education, and opportunities to enhance fitness and wellness in a holistic approach. As a trained physical therapist," she said, "there are many aspects that can help everyone's quality of life."
Ribeiro, who was born in Portugal and raised in France, immigrated with her family to Yonkers, New York, when she was 10 years old. She says her academic journey is deep rooted in New York City. She earned her B.S. in Physical Therapy from Hunter College; an MS.Ed in Therapeutic Recreation from Lehman College; and a Doctorate in Physical Therapy from Dominican College.
"I started as an adjunct five years ago with the Health Science Department, in the Physical Therapist Assistant and Occupational Therapist Assistant Programs," she said. "Under the guidance of the departments, I have developed my skills and grown professionally as well as gained confidence in pursuing my goals in academia. I have also been an adjunct professor of the Doctor of Physical Therapy Program at Dominican College for three years teaching Neuromuscular content. It is my continued goal to further add positively to LaGuardia Community College and its future success."

Dr. Trujillo, a new fulltime lecturer in MEC, specializes in mathematics education, with a focus on addressing math challenges and promoting equity. Dr. Trujillo says she "views students as co-creators of knowledge and prioritize conceptual understanding over rote memorization."
"I foster a supportive environment, emphasizing that learning occurs through struggle," Dr. Trujillo said. "In addition to teaching, I will actively collaborate with colleagues to share effective teaching strategies and research findings, contributing to our college community's growth and success. My research focuses on equity in developmental math courses, aiming to remove barriers for marginalized students pursuing higher education."
Dr. Trujillo has an A.S. in Mathematics from LaGuardia Community College; a B.A. in Pure Mathematics from City College; and M.A. in Applied Mathematics from Queens College; a M.Phil in Urban Education and a Ph.D. in Urban Education: The Learning Sciences, both from the CUNY Graduate Center.
Dr. Trujillo says she is proud to be an alumna from LaGuardia and says, "LaGuardia provided me with an affordable entry into higher education, and the professors at this college nurtured and encouraged me to pursue a career in mathematics. For me, working here is a way of paying it forward."

Professor Khalid Kassou is not new to LaGuardia or New York. He has been an Adjunct Lecturer at LaGuardia since 2011. He said he decided to join LaGuardia because of "its exceptional reputation in training young scholars and its commitment to student success." Professor Kassou has taught various mathematics and computer science courses, and his areas of expertise include budgeting, outcomes assessment, and promoting classroom technology.
"I hope to share these skills and knowledge with my students by creating interactive and inclusive learning environments, incorporating real-world applications into my teaching, and utilizing technology to enhance the learning experience," said Professor Kassou. "Additionally, I aim to collaborate with colleagues and contribute to the college community through initiatives like Open Educational Resources and data analysis."
Dr. Kassou earned an M.S. in Finance & Accounting Management, from the Keller Graduate School of Managemen in New York. He is currently working on his Ph.D. in Engineering Management from North Central University and he is also pursuing a Certificate in Machine Learning from Harvard University.

Professor Yang looks forward to sharing her expertise in the field of statistics.
"Statistics is not just about numbers," Professor Yang said, "'t's a powerful tool for making informed decisions in various fields, from science to business. I'm excited to share my knowledge with my students and the wider college community."
Professor Yang earned a Master's degree in Statistics and Applied Mathematics from Hunter College, a Bachelor's degree in Mathematics with a Minor in Math Secondary Education from City College, and an Associate of Liberal Arts degree from Borough of Manhattan Community College.
"My goal is not only to teach statistics but to inspire a lifelong curiosity about data and its potential to inform decision-making," Professor Yang said.
• • • •
LaGuardia Community College (LAGCC), a Hispanic-Serving Institution, located in Long Island City, Queens offers more than 50 degrees and certificates, and more than 65 continuing education programs to educate New Yorkers seeking new skills and careers. As an institution of the City University of New York (CUNY), the College reflects the legacy of our namesake, Fiorello H. LaGuardia, the former NYC mayor beloved for his advocacy of underserved populations. Since 1971, LaGuardia's academic programs and support services have advanced the socioeconomic mobility of students while providing them with access to a high quality, affordable college education.
####