LaGuardia Community College Invites Neighbors and Runners to Community 5K Run on October 14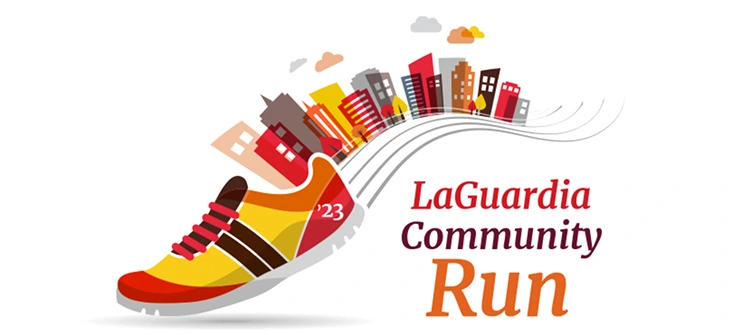 LONG ISLAND CITY, NY (August 30, 2023) — The LaGuardia Community 5K Run is coming to Long Island City for a second year, and LaGuardia Community College/CUNY invites runners and walkers of all levels to participate.
The community race is scheduled on Saturday, October 14. Walkers and runners can pick up their bibs at 8 a.m., and the race begins at 9 a.m., at 47th Avenue and 29th Street, in Long Island City. Event details are available online including a route map and amenities offered during the race. Registration is open to participants ages 7 and older.
This year's principal sponsor is Boyce Technologies, Inc., located in Long Island City, Queens.
"We thank Charles Boyce and Boyce Technologies, Inc. for their generosity and continued support of LaGuardia Community College and its students," said Kenneth Adams, President of LaGuardia Community College. "We encourage neighbors, community partners, and runners to come out and take part in this fun event supporting the important work of LaGuardia CARES. We look forward to celebrating with our community and building awareness of the importance of physical and mental well-being for everyone."
"We at Boyce Technologies are proud to be part of the LaGuardia community in every way possible: we're neighbors in Long Island City, we employ interns and alumni, we help train students in careers in advanced manufacturing and more, and we help the LaGuardia Community College Foundation lift its sights higher for student aid," said Charles Boyce, CEO and President of Boyce Technologies, Inc. "So for us, it was natural to become Principal Sponsor of the LaGuardia Community Run."
"We are also so pleased that proceeds from the event will support LaGuardia CARES, which provides LaGuardia students with a variety of resources for daily living expenses, including food, transportation, rent, utilities, rent and more, said Boyce, who is also chairman of the LaGuardia Foundation Board of Directors. "We urge our business colleagues and neighbors in the Long Island City community to run alongside us, physically and financially.  Boyce Technologies believes that physical fitness and community engagement are crucial elements of a vibrant and healthy environment, on campus and beyond."
LaGuardia's Red Hawk mascot offers Helpful Training Tips and a LaGuardia Couch to 5K Plan is also available for interested participants who want to train for the race.
Proceeds from the LaGuardia Community 5K Run support LaGuardia CARES, a campus-based office that connects students with resources for daily living expenses, including food, healthcare, rent, utilities, childcare, emergency transportation and more. LaGuardia CARES operates an on-campus food pantry and clothing closet for students and offers emergency financial assistance.
Community organizations and businesses are invited to register in advance for FREE to host a table at the Activities Plaza during the race. To reserve a space for tabling, send an email to: LaGuardiaRun@lagcc.cuny.edu or call (718) 730-7739. Hosting a table offer an opportunity to promote your organization or business, share giveaways, and engage with members of the Long Island City community.
The top three male and female finishers overall will receive medals along with the top three finishers in the following age categories: 20 & under, 21-30, 31-40, 41-50, 51+. Digital certificates and photos will be available to all participants upon completion on the EliteFeats website.
Children under the age of 6 are not permitted in the race but are welcome to enjoy the activities plaza (accompanied by a parent or guardian). Strollers, bicycles, scooters, skateboards, and pets are not permitted.
• • • •
LaGuardia Community College (LAGCC), a Hispanic-Serving Institution, located in Long Island City, Queens offers more than 50 degrees and certificates, and more than 65 continuing education programs to educate New Yorkers seeking new skills and careers. As an institution of the City University of New York (CUNY), the College reflects the legacy of our namesake, Fiorello H. LaGuardia, the former NYC mayor beloved for his advocacy of underserved populations. Since 1971, LaGuardia's academic programs and support services have advanced the socioeconomic mobility of students while providing them with access to a high quality, affordable college education.
####