Virtual Exhibition Examines What It Means to be LGBTQ in Academia
Rainbow LaGuardia Traces the Personal & Professional Experiences of LaGuardia Community College Faculty & Staff

June 29, 2020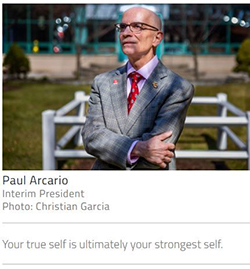 In honor of 2020 Pride Month, the LaGuardia and Wagner Archives at LaGuardia Community College has launched a new virtual exhibition, Rainbow LaGuardia , exploring what it means to be LGBTQ in academia, through conversations with the college's LGBTQ faculty and staff. The exhibit is funded in part by the New York City Council, with special thanks to Council Member Danny Dromm and Speaker Corey Johnson.
Though LGBTQ men and women have long been disproportionately represented among academics, rarely have LGBTQ faculty and staff from one college been as candid about their sexual orientation in a public forum.
LaGuardia Interim President Paul Arcario, a subject in Rainbow LaGuardia, said, "When I started at LaGuardia 30 years ago, I never imagined I would have the opportunity to be 'out' this way."
Through oral history, video, and photography, Rainbow LaGuardia traces participants from adolescence through their formative years in college and graduate school and ultimately their work at LaGuardia. Participants share their challenges and triumphs, via intimate stories about family, education, and community.
"Rainbow LaGuardia not only reaffirms LaGuardia's commitment to diversity, inclusion, and equity, but reflects the mission of the Archives to collect stories of historically neglected individuals and groups, and share them with the widest audience possible," said exhibition co-curator Stephen Petrus, Ph.D., historian at the LaGuardia and Wagner Archives. "The accounts shared by our LGBTQ faculty and staff remind us, yet again, that the struggle for equality in America is ongoing. In a previous era, an exhibition like this was unthinkable."
During McCarthyism in the 1950s, a period of political and cultural repression, an untold number of professors in universities and colleges lost their jobs because of their sexuality. Until 1973, the American Psychiatric Association classified "homosexuality" as a mental illness. In 1992, during the "culture wars," District 24 in Queens rejected the New York City Board of Education's Children of the Rainbow Curriculum because of references to families headed by same-sex couples. There are countless other examples.
"LaGuardia welcomes all people, and often becomes a home for people who've felt marginalized. This exhibition reflects this openness," said Dr. Arcario.
The College is dedicated to being an open, inclusive and safe space for all LaGuardians and visitors, and has a thriving LGBTQ community, represented by:
• Lavender LaGuardia, a voluntary list of lesbian, gay, bisexual, transgender, queer, intersex, and/or asexual (LGBTQIA) staff and faculty at LaGuardia Community College. Lavender LaGuardia aims to promote an inclusive and affirming climate for our students by expanding their knowledge of and access to LGBTQIA role models and mentors across campus.
• LGBTQIA Safe Zone Hub, which aims to educate the College community about sexuality and gender, and to spread awareness about LGBTQ+ issues while celebrating individual's identities and experiences.
• The Straight and Gay Alliance (SAGA), a very active student club.
Sixteen faculty and staff are currently featured in Rainbow LaGuardia; additional participants will be added in the next year. The exhibition was made in collaboration with the college's Commercial Photography program.
"Rainbow LaGuardia gave our students the opportunity to work on a project that promoted visibility of the LGBTQ community on campus," said Thierry Gourjon, exhibition co-curator and associate professor of photography at LaGuardia who trained five student photographers to do portraits of the show's subjects. "In the process, they became young professional photographers."
The LaGuardia and Wagner Archives documents NYC's social and political history. For the past four years and counting, the Archives has been building an LGBTQ Collection to illuminate the LGBTQ community's struggle for social equality in the Borough of Queens from the period after the Stonewall Rebellion in 1969 to the present.
Earlier this month, the Archives organized a virtual Pride Celebration with the CUNY Queens Consortium—the five CUNY campuses in Queens: LaGuardia Community College, Queensborough Community College, York College, Queens College, and the CUNY Law School. Aiming to fill the void created by the coronavirus-necessitated cancellation of the 2020 Queens Pride Parade, the virtual event featured music, student dancers, drag performances, and appearances from community leaders including New York City Council Member Daniel Dromm, who chairs the Council's LGBTQ Caucus and co-founded the annual Queens Pride Parade in 1993.
"You can take the parade out of pride, but you can't take the pride out of Queens," said Steven Hitt, director of the LaGuardia Performing Arts Center, which helped to coordinate the virtual pride celebration.
For more information on how CUNY celebrated Pride Month with virtual events honoring its historic commitment to inclusivity, diversity and social justice, click here.
Applications are now being accepted for Fall 2020 at LaGuardia Community College. And with new Fast Track Admissions, you'll get a quick decision. Visit www.LaGuardia.edu/Apply for more.
• • • •
LaGuardia Community College (LAGCC)
, located in Long Island City, Queens, educates thousands of New Yorkers annually through degree, certificate, and continuing education programs . LaGuardia is a national voice on behalf of community colleges, where half of all U.S. college students study. Part of the City University of New York (CUNY), the College reflects the legacy of our namesake, Fiorello H. LaGuardia, the former NYC mayor beloved for his championing the underserved. Since our doors opened in 1971, our programs regularly become national models for pushing boundaries to give people of all backgrounds access to a high quality, affordable college education.
###
Media Contact: Elizabeth Streich at (347) 229-8674 or
estreich@lagcc.cuny.edu