Celebrating the 3,253 Members of LaGuardia Community College's Class of 2020
June 22, 2020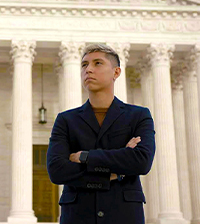 A virtual celebration was held last week for the 3,253 members of the LaGuardia Community College Class of 2020.
Immigrant rights activist Antonio Alarcón (pictured at right on the steps of the U.S. Supreme Court) gave the keynote address. Alarcón (LaGuardia '15) was a co-plaintiff in the landmark DACA case, U.S. Department of Homeland Security v. Vidal et al., upon which the Court issued its long-awaited decision—to uphold DACA—on June 18, 2020.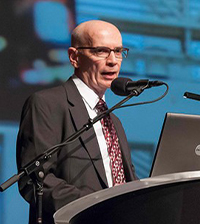 "Not only is Antonio Alarcón a LaGuardia graduate and an immigrant rights activist, but he bravely shares his story of being a young child coming to the U.S. as an undocumented immigrant. With so many of our students from immigrant families, his story is their story," said LaGuardia Community College Interim President Paul Arcario, Ed.D. "As we're facing a future impacted by a global pandemic and social unrest over the killings of black fathers, daughters, and more at the hands of police, he encouraged our graduates to use the knowledge and skills they've accumulated in their lives, and at LaGuardia, to adapt and shape our future."
In his remarks to the Class of 2020, Alarcón said, "… If we all speak up and tell our stories, then we cannot be ignored. So, I'm asking you to use your voice. Use the education you gained at LaGuardia to change minds, open hearts, and eliminate violence and prejudice against immigrants, and other injustices in this world."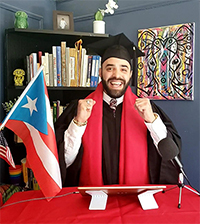 Class Speaker Felipe Maysonet, age 36, earned his Associate of Arts in Communication Studies, with a concentration in Public Relations. Maysonet spoke about the impact of coronavirus pandemic, telling his fellow graduates, "Hold your head up high for we have not been defeated. I mean, come on, between classes, work and life, these few months and this semester, was no 'walk in the park.' I mean literally, we can't even walk in the park! Thanks, Covid-19."
In his speech, Maysonet described growing up in NYC as "poor, gay and Latino," while also appreciating its diversity and beauty. Raised by a single mother, his family experienced homelessness and lived in shelters before eventually moving to Williamsburg, Brooklyn in their first NYC apartment. When he was 16 years old, his mother, whom Maysonet describes as "indomitable, nurturing, and the person who sparked my passion for activism," died from AIDS. This led to several years of couch-surfing with friends and family, while trying to get his life on track.
Despite trying to navigate through hardships and disparities, Felipe has given his time and heart in HIV/ Aids activism along with social and civil activism. In 2011, he enrolled at LaGuardia, but left soon after to care for his ailing father, with whom he'd recently reconnected. Later that year, his father died due to complications from diabetes. Not ready to return to college, he found work as a video production assistant and nightclub promoter and volunteered with advocacy groups fighting for LGBTQIA+ rights, HIV/AIDS awareness, disability rights, and social justice reform.
He came back to LaGuardia in 2018, and got involved in college activities that enabled him to shine a light on social issues—e.g., the annual Black Lives Matter Summit. For his dedication and scholarly achievements, Maysonet has received several awards and scholarships for high-achieving students. These include being named LaGuardia's 2020 ASAP Scholars Valedictorian, and induction into the Delta Alpha Pi International Honor Society.
Maysonet has received a scholarship to complete his bachelor's at NYU, where he'll major in film and communications. His long-term goal is to start a non-profit foundation, "The House of Maysonet," to give scholarship and other support to marginalized young people. "I want to see all people represented fairly and equally, so that inclusion is no longer an issue."
About the LaGuardia Community College 48th Graduating Class
The Class of 2020 was made up of:
• 45% who self-identify as Hispanic; 22% as Asian; 16% as Black; and 11% as White
• 54% were between the ages of 18¬-24; 25% between ages 25-29; 11% between ages 30-34; and 10% ages 35 and older
• 69% residents of Queens; 15% of Brooklyn; 7% from The Bronx; 7% from Manhattan; 0.6% from Staten Island; and 2% from elsewhere
• The five most popular majors were:
1. Business Administration
2. Criminal Justice
3. Liberal Arts: Mathematics and Science
4. Liberal Arts: Social Science and Humanities
5. Psychology
Click here for Fast Facts on LaGuardia's student population.
CUNY Chancellor Félix Matos Rodríguez gave remarks, as did LaGuardia Community College Interim Provost and Senior Vice President Nireata Seals, Ed.D.
U.S. Senator Charles Schumer, U.S. Senator Kirsten Gillibrand, Lieutenant Governor Kathy Hochul, Queens Borough President Sharon Lee, U.S. Congresswoman Carolyn Maloney, NYS Senator Michael Gianaris, NYS Assemblywoman Catherine Nolan, and NYC Council Member Jimmy Van Bramer gave brief congratulatory remarks.
• • • •
LaGuardia Community College (LAGCC)
, located in Long Island City, Queens, educates thousands of New Yorkers annually through degree, certificate, and continuing education programs . LaGuardia is a national voice on behalf of community colleges, where half of all U.S. college students study. Part of the City University of New York (CUNY), the College reflects the legacy of our namesake, Fiorello H. LaGuardia, the former NYC mayor beloved for his championing the underserved. Since our doors opened in 1971, our programs regularly become national models for pushing boundaries to give people of all backgrounds access to a high quality, affordable college education.
###