After Two Decades at LaGuardia Community College,
Dr. Gail O. Mellow Announces Plans to Step Down as President in August 2019
February 27, 2019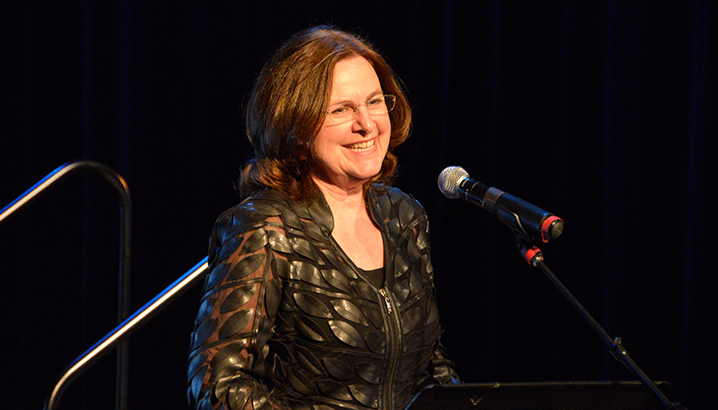 LaGuardia Community College President Gail O. Mellow today informed the campus community that she plans to step down in August 2019.
"I love LaGuardia. After almost 20 years as president, I continue to be amazed at what our community accomplishes. We are an astonishing institution and it starts with our formidable students, with their extraordinary passion for learning and determination to overcome obstacles and thrive," said Dr. Mellow. "I remain floored by the endless dedication and talent of our faculty and staff to educate and support our students—they passionately embrace innovation and constantly seek to improve the work they do both in and out of the classroom. We have an incredible network of community supporters—from those providing funding for our at-risk students, public officials supporting our dreams, and businesses and not-for-profits providing internships and mentoring to our students. Our leadership team has never been stronger and I know that LaGuardia will continue to improve the lives of students, their families and our community for decades to come."
LaGuardia Community College of the City University of New York (CUNY) serves more than 57,000 credit and non-credit students each year. With 60% of students born outside the U.S., representing 148 nations and speaking 90 languages, the College's student body is among the most diverse in the nation. A majority come from families making less than $30,000 annually (view the College's fast facts and institutional profile).
"What we do at LaGuardia is essential in today's America—giving students the knowledge and skills they need to build careers, thereby moving them out of poverty and making our communities stronger," said Dr. Mellow.
"One would be hard-pressed to find another educator who has done more than President Gail Mellow to champion the value of community colleges within the overall landscape of American higher education," said CUNY Interim Chancellor Vita C. Rabinowitz. "From her tireless efforts to increase funding, to her development of cutting-edge practices in the classroom, to her groundbreaking partnerships with employers and communities, Gail has spearheaded innovations at LaGuardia that suffuse her writings and presentations and that have inspired community colleges everywhere. She has also drawn on her keen understanding of LaGuardia's students, addressing their needs, using their strengths and positioning them to attain both academic and workforce success. Gail may be embarking on a new chapter in her career, but her legacy is assured as one of the great leaders of CUNY and of public higher education in the United States."
"President Gail Mellow has been a pioneering leader for LaGuardia and CUNY, but that characterization does only partial justice to her illustrious and decorated career," said CUNY Chancellor-designate Félix V. Matos Rodríguez. "Dr. Mellow has also been a trailblazer for community colleges everywhere; she has been an architect, an innovator, a builder, a nurturer and a visionary. She has developed so many means to harness the power of education to transform lives. LaGuardia has grown many times over, in quality as well as in size, during her decades of leadership there. Dr. Mellow has advanced CUNY's mission of embracing students of modest and diverse backgrounds, extending a hand and guiding them onto an upward track. On a personal note, she has been a good friend. We thank Dr. Mellow for her exemplary service, and wish her well in all her future endeavors."
Under her leadership, LaGuardia has become a recognized leader among community colleges for conceptualizing and launching innovative programs and teaching methods, which have become pilots for the nation. These include programs supporting non-traditional students in learning English; professional development programs that prepare students to be successful in the workplace; initiatives assisting small businesses and entrepreneurs in building their businesses and creating jobs; and robust support services keeping the College's mostly low-income students on track towards graduation, including a food pantry, affordable daycare for student-parents, and scholarships and emergency funds available from the College's Foundation.
Dr. Mellow has achieved notable success propelling LaGuardia into the national dialogue about higher education, where nearly half of all undergraduates study at community colleges. She's co-written two books, numerous articles, and spoken extensively on the centrality of community colleges in the American higher education ecosystem. She's put a spotlight on the funding disparities between community colleges and four-year colleges, and has been an effective voice pushing for enhanced public and private support for low-income students.
"I closely relate to the struggles many of our students face. During my first-year of college at a well-known public university, I had to drop out due to unexpected financial circumstances. I returned home and enrolled in our town's community college, where I was thrilled to meet students as eager for a chance at a better life, as was I," said Dr. Mellow. "I appreciated the support I received there, and the opportunity to pursue a college degree at an affordable cost. That's where my affinity for community colleges was born."
She was among the early advocates about the benefits of free community college to narrow opportunity disparities among people from different backgrounds, and served as a board member of America's College Promise/Heads Up!
Dr. Mellow's focus on the importance of high-quality teaching as an instrumental student success strategy led her to launch a faculty development program, Taking College Teaching Seriously, which garnered support from the Gates and Kresge Foundations. Faculty Guild subsequently purchased the intellectual property and model, with 100% of proceeds going directly to LaGuardia's Foundation, providing financial support for students.
Her contributions to higher education have brought numerous recognitions, including the 2017 TIAA Institute Hesburgh Award for Leadership Excellence, one of the most prestigious awards in academia, and the 2016 NASPA President's Award, for advancing the quality of student life on campus.
Highlights of LaGuardia's success under Dr. Mellow's leadership include:
LaGuardia: An Engine of Economic and Social Mobility
• LaGuardia is among the top 1% of two-year colleges nationwide (#5 out of 604) with the greatest success in lifting the poorest students into jobs that enable them to create better lives for themselves and their families, according to an analysis led by researchers at Stanford University's Center on Poverty and Inequality.
• LaGuardia has seen a 64% increase in enrollment of degree-seeking students and a 155% increase in non-credit students.
• The College's graduation rate has risen 6% over the past five years.
• LaGuardia graduates are 32% more likely to transfer to a four-year college than community college students nationally.
• More than 50 academic majors have been established (a 58% increase under Dr. Mellow's leadership), with LaGuardia now awarding degrees in a range of programs, including computer science, electrical engineering, environmental science, industrial design, and philosophy.
• Investment in faculty development grew significantly.
• With an emphasis on opening the doors to high-quality higher education to all, the College has established innovative programs, many of which have been replicated by other colleges and universities throughout the country, including:
o Bridge to College and Careers Program, an innovative approach to preparing students for the high-school equivalency exam, which has seen a 200% increase in pass rates and a subsequent 300% increase in completers' college enrollment.
o First Year Seminar, through which students learn about on-campus resources and transfer options, create a graduation plan, explore career opportunities in their major area, and more.
o The widespread use of electronic portfolios ( ePortfolios) as a tool for students' learning and assessment.
o The development of career ladder programs in technology and health care (e.g., medical billing) that allow students to earn non-credit certificates and seamlessly enroll in credit-based programs. As a result, more than 10% of degree-seeking students matriculate from LaGuardia's non-credit programs, offered through Continuing Education.
LaGuardia: A Catalyst for Economic Growth
• LaGuardia served as the anchor college in the development of Goldman Sachs' 10,000 Small Businesses program to educate local entrepreneurs to grow their businesses and create jobs. 10,000 Small Businesses provides training in business development, capital building, contract negotiation, and more. Since the program at LaGuardia launched in 2010, it has served more than 830 business owners, with 66% showing revenue growth and 50% creating new jobs within six months of program completion. With the success of the program at LaGuardia, Goldman Sachs expanded it to all 50 U.S. states, Puerto Rico, and Washington, D.C.
• NYDesigns is a 30,000-ft2 non-profit business incubator for design and hardware tech startups located on the LaGuardia campus. Twenty-two businesses are incubated bi-annually. Since its founding in 2006, dozens of companies have benefited from the use of studio spaces, access to a network of mentors and advisers, and the ability to prototype their designs and ideas in a fabrication lab.
• LaGuardia's business services are boosting the local economy by growing businesses, creating jobs, and helping entrepreneurs successfully launch their companies. Over the last 15 years, LaGuardia has provided hands-on education and specialized technical assistance to more than 22,000 small businesses that have secured over half-a-billion dollars in contracts.
Growing Support for LaGuardia Students
• The LaGuardia Community College Foundation, launched in 2005, has raised more than $23 million to date to support student scholarships, on-campus employment and emergency aid. LaGuardia's largest donations include $2 million from the Goldman Sachs Foundation, and a current $3 million matching grant, the largest gift in the College's history.
• Growing government and foundation support for an array of programs. During Dr. Mellow's tenure, the College received over $150 million in external grants.
• Important partnerships established with businesses and not-for-profits throughout New York City, including with the Museum of Modern Art (MoMA), MetLife, and Google, in order to offer students opportunities to gain first-hand knowledge and skills.
"My family and I are looking forward to the next chapter," said Dr. Mellow. "I have no fixed plans and I'm leaving the door open to new opportunities. One thing is certain: I will continue advocating for the needs of community colleges and the students they educate."
Dr. Mellow began her career as assistant professor of psychology at Essex Community College in Baltimore. She then held leadership roles at the University of Connecticut Women's Center in Storrs, Conn.; Quinebaug Valley Community-Technical College in Danielson, Conn.; and Rockland Community College in Suffern, N.Y. In 1996, she joined LaGuardia as senior administrator for curriculum and pedagogy, before being named president of Gloucester County College in Sewell, N.J. in 1997—a role she held for three years before returning to LaGuardia in 2000 as president.
Dr. Mellow received an A.A. from Jamestown Community College in Jamestown, N.Y., a B.A. from SUNY Albany, where she graduated Phi Beta Kappa, and her M.A. and Ph.D. in Social Psychology from George Washington University. She has served as president at LaGuardia since September 2000.
• • • •
LaGuardia Community College (LAGCC)
, located in Long Island City, Queens, educates thousands of New Yorkers annually through degree, certificate, and continuing education programs . LaGuardia is a national voice on behalf of community colleges, where half of all U.S. college students study. Part of the City University of New York (CUNY), the College reflects the legacy of our namesake, Fiorello H. LaGuardia, the former NYC mayor beloved for his championing the underserved. Since our doors opened in 1971, our programs regularly become national models for pushing boundaries to give people of all backgrounds access to a high quality, affordable college education.
####