Urgent Drive for Food, Toiletries, Clothes, & Household Items to Fill LaGuardia Community College's On-Campus Pantry
February 28 – March 20, 2019
♦ Pantry serves LaGuardia's 50,000/yr. students—a majority of whom struggle to make ends meet; more than 70% come from families making less than $30,000/yr.
♦ Items needed include: non-perishable food, clothes, toiletries, childcare items, & household supplies
♦ Monetary donations always needed & greatly appreciated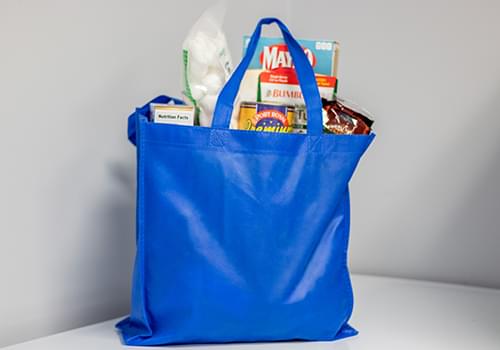 Demand for the food from the pantry has risen dramatically in recent months. Particularly during the federal government shutdown at the beginning of 2019, the number of students seeking for food pantry items increased 25% (100 to 125 students per week).
The pantry is run by our Single Stop office, which as its name implies, is a one-stop shop for students needing emergency assistance. Its staff helps students sign-up for public benefits, find safe housing, and refers them to our College Foundation where they can apply for emergency funds. Nearly 1 in 4 LaGuardia students receive support from Single Stop – approx. 5,000 students each year.
The pantry provides:
– Food that hungry students can eat asap on campus, or bring home to make meals for themselves and their family members
– Toiletries, such as toothbrushes, toothpaste, dental floss, mouth wash, soap or body wash, shampoo & conditioner, and deodorant
– Diapers, wipes, and jars of baby food for student-parents
– New and gently-used clothing—for students needing business attire for interviews, coats for winter months, etc.
– Household items such as laundry detergent and cleaning supplies
In order to fill the pantry so that LaGuardia students are able to stay focused on school, donations of almost any kind are greatly appreciated—monetary, non-perishable food, clothes, toiletries, etc.
Donations can be made online via https://www.laguardia.edu/fooddrive/.
Members of the community can make in-person donations at the College's Welcome Desk, located in the lobby of Shenker Hall, 31-10 Thomson Ave., Long Island City, Queens.
Click here to watch a NY1 story about the drive.
• • • •
LaGuardia Community College (LAGCC)
, located in Long Island City, Queens, educates thousands of New Yorkers annually through degree, certificate, and continuing education programs . LaGuardia is a national voice on behalf of community colleges, where half of all U.S. college students study. Part of the City University of New York (CUNY), the College reflects the legacy of our namesake, Fiorello H. LaGuardia, the former NYC mayor beloved for his championing the underserved. Since our doors opened in 1971, our programs regularly become national models for pushing boundaries to give people of all backgrounds access to a high quality, affordable college education.
####