LaGuardia Humanitarian Initiative (LHI)
LHI: Celebrating 5 Years of Transformative Impact and Growth
Mission Statement: LHI=Classroom to Community
As the nexus of global and experiential learning, LaGuardia Humanitarian Initiative foregrounds pedagogical inquiry, civic engagement, and academic service learning by facilitating a year-long college-wide inquiry of a global issue as addressed by the United Nations. Through partnerships with local and global organizations, students gain access to career opportunities and professional development workshops. Ultimately students are mentored on how to translate their classroom learning to advocate, educate, and support their communities.
About Us: LaGuardia Humanitarian Initiative (LHI) aligns with the vision and praxis of the Association for Experiential Education by offering a platform for students to engage in deep learning and accomplish the goal of education; i.e., as John Dewey (1916) notes, education becomes relevant and meaningful to students only when they understand the reasons for learning the academic content.
LHI fosters institutional improvement by opening up multiple avenues for students across the college to become socially responsible global citizens. The LHI pedagogy enhances all core competencies and communication abilities within General Education. In addition, LHI projects attend to and support the diverse experiences of students by providing them with opportunities to learn, design, deliver, and translate their classroom knowledge and experiences through active partnership with peers, faculty, and staff at LaGuardia, as well as with members and administration of partnering organizations.
---
Themes
---
LHI Around the World

The United Nations Academic Impact Program recognized LHI's contributions by inviting LaGuardia to join the 1,400 institutions from 145 countries that make up the United Nations Academic Impact Program membership.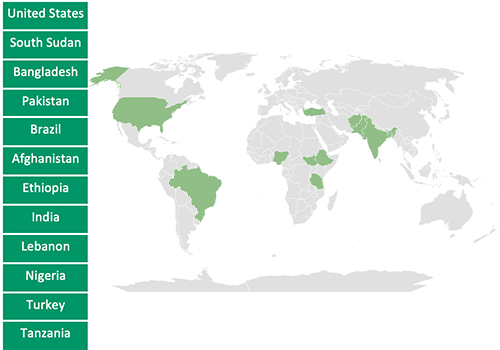 ---
LHI College-Wide Committee
Tuli Chatterji (English)–Founder and Coordinator
Ellen Quish (First Year Seminar)
Elizabeth Jardine (Library)
Claudette Davis (Natural Sciences)
Sada Jaman (Business and Accounting)
Sandra Sze (M.C.E)
Dana Trusso (Humanities)
Anja Vojvodic (Social Sciences)
Stefania Dinu (Development) – Co-Chair
Rocio Reynoso (ASAP Program)
Yacquelin Nava (CCPD/CUNY Service Corps Program)
Deema Bayrakdar (Women's Center)

Anabel Rivas (ASAP Program)
---
Highlights
Glimpses of LHI's impact
70+ courses were involved; impacted 11+ countries; fundraised $10,000+ to support both local and global communities.

LHI's efforts made LaGuardia the first community college in the United States to become an institutional chapter of Vice President Al Gore's Climate Reality Project to collectively advocate for environmental issues.

Two students were sponsored by CARE International to represent LaGuardia and CARE at the Capitol Hill, DC.

Several students volunteered and interned at local and global organizations, such as Make the Road, Digital Girl Inc, Amal Alliance.

Two students—Bibi-Sakeena Khemraj (Biology) and Kayla Greene (New Media Technology) – were invited for an exclusive Q and A session with Nobel Laureate Malala Yousafzai.

Congratulations to our students Kayla Greene, Natalie Molina, Jennifer Lemos Mauldin, and Alma Rendon for being recognized by Malala Youth Action Campaign.

ELA students revised culturally relevant lesson scripts for Rohingya refugee children in the camps in Bangladesh.

LHI sponsored the rehabilitation of a water well and 3 educational workshops that benefited 1950+ villagers in the Wau State in South Sudan during COVID-19. The well is named after LaGuardia.

News
LaGuardia becomes a member of the United Nations Academic Impact Program on May 20, 2021.
In 2021 LaGuardia Humanitarian Initiative launched a LaGuardia Chapter of Climate Reality Campus Corps, an Institutional Initiative of Climate Reality Project, a global organization formed by former Vice President and Nobel Laureate Al Gore to combat climate crisis. The Chapter is run and led by students.
LaGuardia is the first CUNY campus and the first community college in the United States to become a Climate Reality Campus Corps Chapter.
For more information email Kevin Mark at kmark@lagcc.cuny.edu