Contact Us
Room: M-Building, MB-13
Phone: (718) 482-5479
Monday– Friday 9 a.m.– 5 p.m.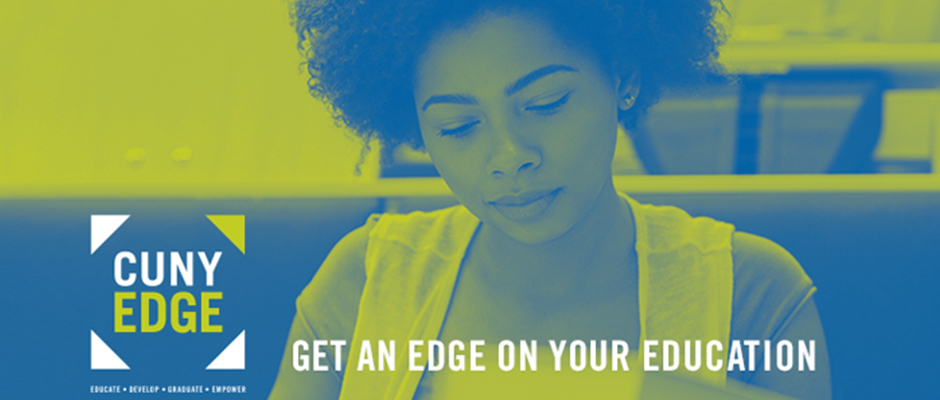 CUNY EDGE (Educate, Develop, Graduate and Empower) formerly known as COPE, is an initiative implemented by the City University of New York and the Human Resources Administration (HRA). CUNY EDGE is dedicated to helping CUNY students who are receiving public assistance achieve academic excellence, graduate on time and either find employment or transfer to continue their educational journey. 
Vision: CUNY EDGE envisions a world in which all people have access to the educational opportunities and support needed to realize academic success, a sustainable career, and a brighter future.

Mission: Our mission is to help CUNY students who are receiving public assistance achieve academic excellence, graduate on time, and find employment.

 
The vision and mission of the program are demonstrated in our core activities. 
CUNY EDGE balances academic advising and personal support with career/employment readiness, leadership development, and community engagement while maintaining students' compliance with HRA regulations. Our program integrates elements of successful college completion programs with work opportunities, personal development, and academic excellence. It is a pioneering effort to show that by addressing key academic, social, and financial barriers, students can focus on what matters most while they are in college – their education. 
---
Program Benefits
Ongoing academic, personal, and career planning advisement




Comprehensive personal and professional development seminar series to assist students with study skills-building, problem-solving, career development, and self- advocacy




Career readiness services

Connection to internship, HRA fellowships, and job opportunities

Promotes a culture of academic excellence by offering tutoring services and limited tuition support for intersession classes

Collaboration with CUNY Start, ASAP, advising offices, career services, HRA Work Study sites, and LaGuardia CARES, among other programs, to get students the help they need


​Completion of school enrollment verification letter (HRA-154) for compliance with all current HRA rules/regulations

 
---
Eligibility
Must be an active Human Resource Administration (HRA) Cash Assistance Recipient

 
Must be enrolled for the at least 3 credits for the current semester

 
To enroll, students must complete and intake and FERPA forms; please email nmuniz@lagcc.cuny.edu to request these. 
---
Services
Advisement Services 
We provide students with the tools and resources needed to complete their associate degree, as well to continue on to a baccalaureate degree program and/or employment. Our advisement services foster a relationship between the advisor and advisee, and sessions include diverse topics such as course selection and managing interpersonal relationships. Academic advisement sessions will allow you to speak to your advisor about concerns in class or at home, and allow the two of you develop and implement solutions. Advisement consists of the following but is not limited to: 
Registration and enrollment

 

Transfer application to senior institutions

 

Professional development

 

Scholarship opportunities

 

HRA assistance/liaison

 

Career Readiness Services 
CUNY EDGE offers extensive career readiness services including job preparation, job placement and follow-up, resume building, job search and more. A key goal is for students to obtain meaningful employment that will lead to long-term economic self-sufficiency. CUNY EDGE helps current and former students find part-time or full-time employment and provides post-employment counseling. Our services include: 
Job referrals

 

Interview preparation

 

Resume and cover letter building

 

Employment prep workshops

 

Career and academic counseling

HRA Fellowship Program Services 
The HRA Fellowship Program provides a limited number of paid work opportunities for eligible undergraduate CUNY EDGE students. The primary goal of the Fellowship program is to support CUNY EDGE students with meeting HRA compliance requirements while gaining valuable work experience, professional development, and engagement in other meaningful campus opportunities.  
Human Resource Administration (HRA) determines eligibility and the number of hours each student is assigned. 
Eligibility: 
You must be a matriculated Undergraduate CUNY EDGE Student

 

You must have an Active HRA Benefits case

 

You have an HRA-154 form completed by your CUNY EDGE advisor and submitted to HRA/TAG – (Training Assessment Group)