Graduate in Two Years, Avoid Debt and Save Money!

Take 15 credits each semester, and 30 credits a year, so you can graduate in two years. Along the way, you'll avoid taking on debt and save money by only paying two years' tuition.
There are many more reasons to take 15 credits per semester – but it's not for everyone.
To learn more, review the information on this page and for help figuring out if 15 to Finish is for you, talk to your advisor.
Why 15 Credits Each Semester?
Four Ways To Graduate In Two Years
LaGuardia's unique semesters, which consist of a 12-week session + a 6-week session, will help you ease your workload. You have four great options* for taking 30 credits per year.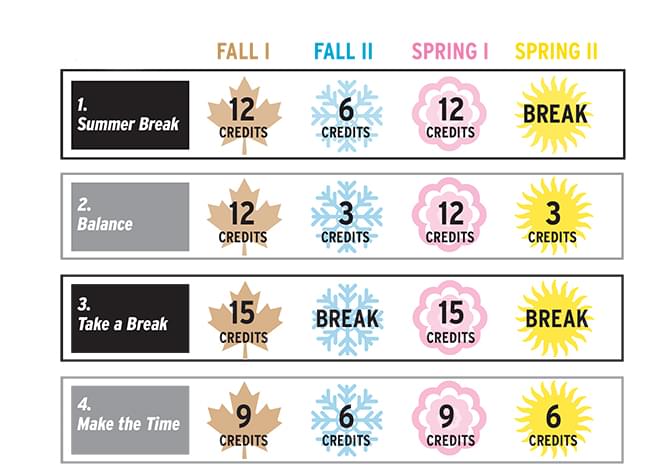 *ASAP students take the "Balance" option: 12 credits, 3 credits, 12 credits, 3 credits. For more information, speak to your ASAP advisor.
Why 15 Credits Each Semester?
Commit to College, LaGuardia, and Graduation
Taking 15 credits per semester may not be easy, but it will give you the advantage of graduating in two years and getting ahead. Meet with your advisor to map out a plan and balanced schedule so you can earn the degree you want in two years, and stick to it.
Take All of the Required Courses for Your Major
Lay out a plan so you don't miss taking a class. Refer to your major's Degree Map.
Understand When to Take Electives
Electives are classes that are not required by your major but you want to take because they interest you. But you have to keep track of elective credits because once you are beyond your credit limit, they may cost you your student aid and they don't count toward graduation. 
Make Every Credit Count
Credits that don't count toward your degree are not covered by Financial Aid.
Apply for Student Aid
Fill out a FAFSA (Free Application for Federal Student Aid) each year by June 30, to determine your eligibility for federal, state, and college-sponsored financial aid, including grants, educational loans, and work-study programs. You may be eligible for grants that do not have to be paid-back. With financial assistance, you can concentrate on your studies, work fewer hours and finish college faster. For more information and how to apply, contact the Financial Aid Office .
Ask for Help
On campus, you're surrounded with people and resources with the purpose of helping you from application to graduation. Ask for help from professors, advisors and fellow students when you need it.
Is Taking 15 Credits each Semester For Me? (Q&A)