LaGuardia Community College Congratulates 2023 Graduates—Red Hawks Rising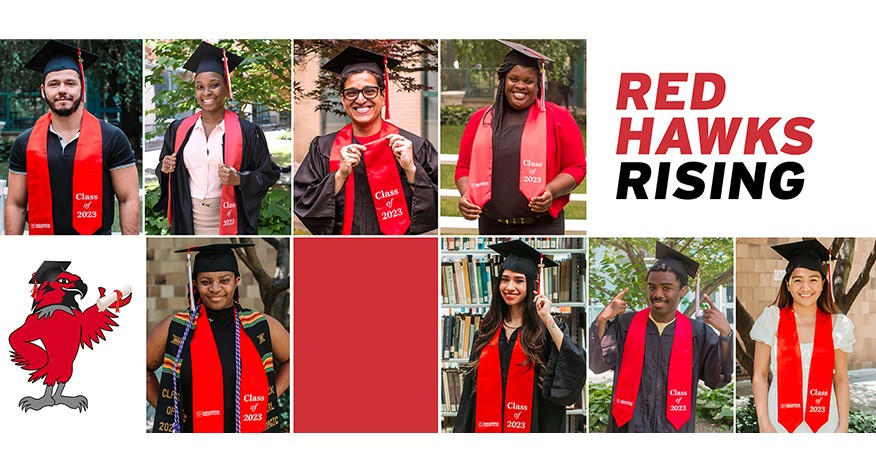 LONG ISLAND CITY, NY (June 07, 2023) — The LaGuardia Community College/CUNY Class of 2023 includes more than 2,000 individuals who will celebrate earning their associate degree or certificate at Commencement on Wednesday, June 21.

LaGuardia's Class of 2023 reflects the college's diverse student population, Hispanic-Serving Institution designation, and service to New York City—in particular, the borough of Queens, one of the most ethnically diverse urban areas in the world. Graduates come from more than 80 countries and 37% were born outside the United States. Forty-one percent of the graduates are Hispanic or Latino, 25% are Asian or Pacific Islander, 22% Black, 11% White, and 0.5% American Indian. A significant majority, 65%, live in the borough of Queens; 15% live in Brooklyn, 9% in The Bronx, 7% in Manhattan, 3.5% outside NYC, and 0.5% in Staten Island.

Business Administration is the top major among the Class of 2023. Additional top majors include (in order of popularity): Criminal Justice, Psychology, Computer Science, Early Childhood Education, Liberal Arts: Math and Science, Accounting, Business Administration: Healthcare Management, Nursing, and Liberal Arts: Social Science and Humanities. LaGuardia offers more than 50 associate degree and certificate programs.

Many of the graduates are transferring to four-year colleges, frequently in CUNY, to pursue their bachelor's degrees. Graduates of career programs such as Nursing, Computer Technology, and Veterinary Technology often go right into the workforce.

LaGuardia's 2023 Red Hawks Rising include: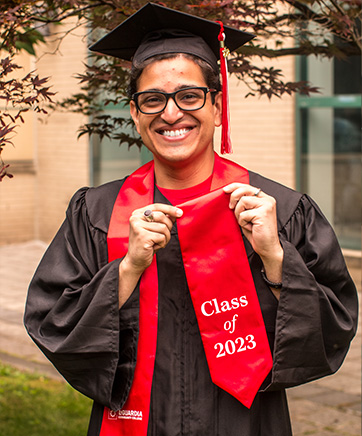 Arhum Aamir, 23
Associate of Science: Mechanical Engineering

Arhum is graduating from LaGuardia with a 4.0 GPA and is transferring to City College to pursue a bachelor's degree in mechanical engineering. This summer and one day a week the next year, while continuing his studies at City College, Arhum will work as an undergraduate researcher in the National Science Foundation (NSF) funded Research Experience for Undergraduates (REU) program Research Experiences for Undergraduates in Satellite and Ground-Based Remote Sensing with the Center for Earth System Sciences and Remote Sensing Technologies of the National Oceanic and Atmospheric Administration (NOAA). Arhum grew up in Jamaica, Queens and is a first-generation Pakistani-American.

After finishing high school, Arhum started at another CUNY college but struggled academically. He dropped out after one semester—something he hid from his family for three years. Then during the pandemic, two friends suggested that he might have ADHD. He went to see a doctor who confirmed their suspicion. "With medication and behavioral therapy, I began to feel liberated from a barrier I didn't know was there throughout my life," said Arhum. In Spring 2021, he enrolled at LaGuardia, where an aunt was a graduate, to pursue his passion for solving problems as an engineer. He found support for his ADHD at the college's Neurodiversity Program and a mental health counselor at the Wellness Center. "My therapist here has been a significant source of support and strength for me throughout this past year at LaGuardia," said Arhum. He did well academically, joining the Honors Program and becoming an editor for the 2023 LaGuardia Honors Journal. He also became interested in research as another venue for problem solving, and entered college research competitions, winning 2nd place in 2021–'22 and 3rd place in 2020–'21 in LaGuardia's Annual Library Research Review Competition. Arhum also developed an interest in environmental protection, and became a member of President's Society Environment (PSE), where he worked alongside fellow student ambassadors and faculty to pitch the LaGuardia Community Greenway to the NYC Department of Transportation and LaGuardia leadership. Arhum's career aspiration is to work on engineering for technologies, such as nuclear fusion, precision fermentation (lab-grown food), and sustainable energy, that can "help propel humanity forwards, particularly in developing regions."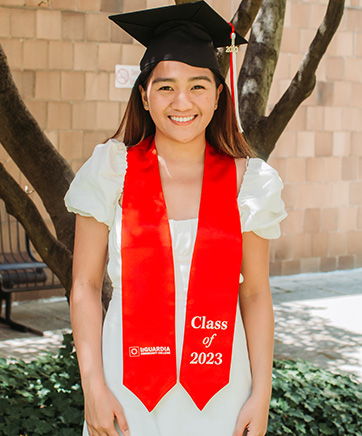 Bessiejud (Bessie) Aquino, 22
Associate of Science: Business Administration

Bessie, who is graduating with a 4.0 GPA, is transferring to Baruch College where she'll pursue a bachelor's in accounting. Bessie moved to the U.S. from The Philippines in pursuit of a better future. She credits LaGuardia for helping her find her voice. "When I started at LaGuardia in Fall 2021, I was really shy and insecure, and I wouldn't speak up even when I knew the answers." Encouragement from Dr. Jason Hendrickson, a professor of English, helped her develop self-confidence. Through LaGuardia's Wellness Center, she found support when she felt overwhelmed balancing work and school. And through the Goldman Sachs 10,000 Small Businesses Fellows program at LaGuardia, Bessie gained valuable professional experience. The program arranged an internship with a small business in Forest Hills, which hired her as store manager and Chief Financial Officer at the conclusion of the internship. Graduating from LaGuardia means a great deal to Bessie and her family, namely that she'll be the first in her family to hold a college degree and the first graduation where Bessie's parents will be in attendance. "I'm a first-generation college student who wants to make my parents proud and achieve goals they never had the chance to work on." Bessie plans to start her own business and establish a philanthropy to help students in need. "I want people to know that it's okay to ask for help. We're all trying to make our lives better," said Bessie. "And the LaGuardia Red Hawks are strong and powerful."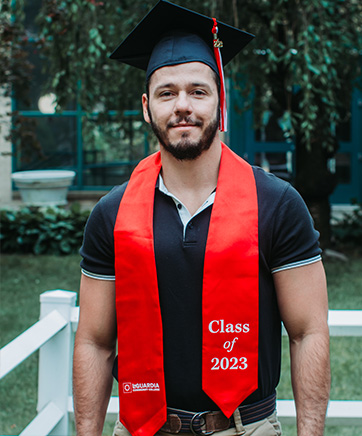 Guilardo Araujo, 35
Associate of Arts: Psychology

Guilardo Araujo finished his degree at LaGuardia after the Fall 2022 semester, and then transferred to Hunter College where he's currently pursuing a bachelor's in psychology. "Thanks to LaGuardia, I felt well-prepared for a four-year college—not just academically, but how to speak up and ask for help," he said. Guilardo moved to New York City from his native Brazil in 2017, wanting to go to college. However, he first needed to improve his English, which he accomplished by watching videos, translating song lyrics, and talking with people in his Queens community. In Spring 2021, he enrolled at LaGuardia, becoming a Student Success Mentor (SSM). He plans to earn his doctorate and become a clinical psychologist, working with immigrants who are victims of domestic violence. "I've seen too many loved ones in abusive relationships," he said. "Victims sometimes need help realizing they can get out. I want to help as many people as I can."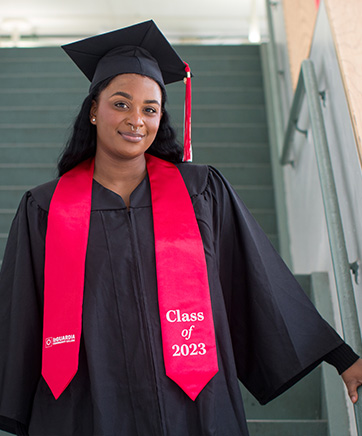 Joan Zayah Boothe, 26
Associate of Science: Criminal Justice

Joan is graduating with a 3.8 GPA and has already begun classes towards a bachelor's in criminal justice at John Jay College of Criminal Justice. Growing up in Virginia, a "phase of rebellion" during adolescence led to Joan being put on supervised probation. "I was a troubled and misunderstood teenager," said Joan. Having direct experience with probation officers, some of whom seemed disinterested in making meaningful connections with her, while others treated her with compassion, dignity, and integrity, made her want to become a probation officer herself. Recently, she started a new job as a probation officer working with juveniles in The Bronx. Joan plans to continue this job while pursuing her studies. She's proud of her accomplishments, and is amazed at how far she's come. "Five years ago, I took a leap of faith and moved to New York City with no job, no friends, no family, nowhere to live, and only $400 in my pocket. I went from being on probation to working for the Department of Probation, and being a straight-A student," said Joan. "I am trying to beat both my self-doubt and all the odds against me." And she's excited about her future in the criminal justice system. Joan is dedicated to becoming one of New York City's finest probation officers or working with people involved in the criminal justice system another way. "Everyone deserves a second chance," said Joan. "I want to help facilitate an individual's transition from a correctional institution to becoming a law-abiding citizen."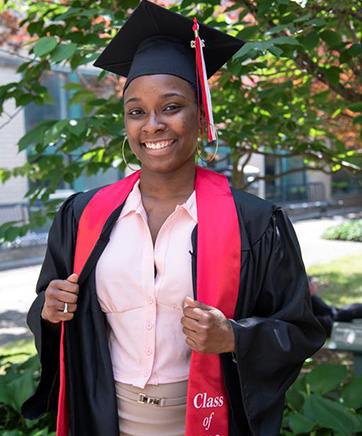 Shari Clark, 26
Associate of Science: Fine Arts

Shari is transferring to City College to pursue a bachelor's in electronic design and multimedia. She is grateful to LaGuardia for "giving me a second chance." Nine years ago, Shari started her college journey at another CUNY but struggled and was academically dismissed. She found her way to LaGuardia, where she thrived, becoming a member of the Phi Theta Kappa (PTK) International Honors Society, a President's Society Ambassador, and Humanities representative with the Student Government Association. "I have come a long way with my GPA. After leaving my first college with a GPA under 2.0, I made the Dean's List at LaGuardia more than once and am graduating with a 3.8 GPA. LaGuardia reminded me that I have the strength to pick myself up." Getting to connect with and learn from her professors is something Shari enjoyed most about being a LaGuardia student. She also found a paid job on-campus, working as a gallery associate with Dina Pizzarello, a professor with the Fine Arts program and director of the LaGuardia Art Gallery. She thanks her professors for "the opportunity to aim high and create my voice in my craft. I gained so much as an artist," said Shari who describes her style as a mix of abstract, cubism, and surrealism. Animation is another passion. Shari aims to become an entrepreneur.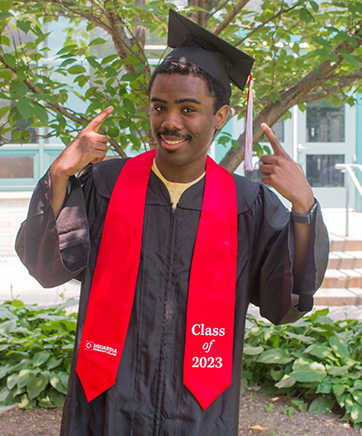 Christian Houston, 19
Associate of Science: Theater

Christian, who was born and raised in Brooklyn, plans to continue pursuing his dream of an acting career as a theater major at Howard University. Christian says that LaGuardia surpassed every expectation he had of it. "When I first came to LaGuardia, I expected to come to get my degree and leave. But as I started taking classes and getting involved in campus activities, I realized there was so much more to college than just getting a piece of paper," said Christian. He also learned how to open up, "I was a very monotone person when I first came, but thanks to my fantastic theater family, I could break out of my shell and explore new parts of myself." Graduating from LaGuardia is a bittersweet moment for Christian, who said, "I will miss the camaraderie and the creative energy that thrived within the theatre department. The memories we created, the countless rehearsals, the shared laughter, and tears—these moments will forever hold a special place in my heart."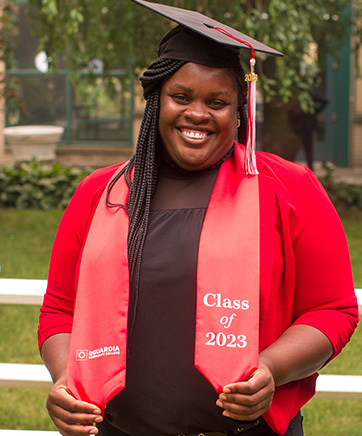 Melisa Morgan, 37
Associate of Science: Public and Community Health

Melisa finished her associate degree in December 2022 with a 3.9 GPA and is pursuing a bachelor's in health education and promotion at Lehman College. She had been accepted at Columbia University but chose Lehman for its affordability and proximity to her home in The Bronx. Melisa emigrated from Jamaica in 2016 to make a better life for her and her family—she and her husband have six children, ages 19, 17, 13, 8, and 4-year-old twins. "I was poor in Jamaica," said Melisa. And her mother was already living here. Melisa enrolled in a private college, but after one year she decided to transfer to LaGuardia. She started in September 2021 and became an ASAP student. After earning high grades in her first semester, she was awarded a Foundation scholarship and joined PTK Honors Society. She also became a Student Success Mentor, a paid position on campus. Melisa juggled parenting as a single mother while her husband was in Jamaica, full-time work as a patient health navigator with a home health agency, and unexpected health issues—she was diagnosed with endometriosis and needed shoulder surgery after a car accident. She also sends money and health supplies back to her community in Jamaica. "My country lacks a lot of amenities and it's very expensive. Rates of diabetes are rising." Her long-term goal is to earn a doctorate in public health and become a health education specialist. "I want to go back to Jamaica and work in its health department, making changes to improve people's lives." Meanwhile, she's happy to be working towards her bachelor's and is proud of her thriving family. Her husband joined her in the U.S. last year, and their two oldest sons are serving in the U.S. military and are thinking about college. "I tell everybody that LaGuardia is the best school I've ever gone to. It's so open and has a family environment, with people ready to guide you step by step. LaGuardia opens doors and opportunities for students."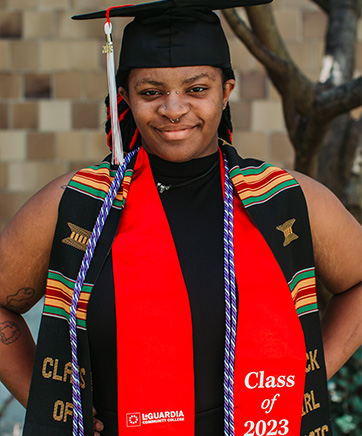 Angel Nelson, 21
Associate of Arts: Human Services—Mental Health

This fall, Angel will begin pursuing a bachelor's in social welfare studies at SUNY Albany. Her goal is to earn a master's in social work, so that she can "give back to the population who gave to me," said Angel, who entered the foster care system at age 13. After entering foster care, she struggled in school and nearly dropped out of high school. However, she persevered and enrolled at a CUNY college, but was academically dismissed. "I was in a stressful foster care environment at the time. I was about to quit college all together, but I found LaGuardia, so I decided that I'd go and try to start over." She completed her degree at LaGuardia while working two jobs—on campus in The English Language Center and as a retail store associate. Angel, who has a diagnosis of ADHD, credits the Office for Students with Disabilities for helping her along her journey. "Most of life I've struggled with mental health," said Angel, who grew up in Queens and currently lives in Harlem. As a future social worker, Angel plans to embody the attributes of social workers who became a lifeline for her: active listening, open communication, and "allowing me to have agency in my life." She wants to work with children in the foster care system, showing them that like her, they can finish high school and earn a college degree if they work hard.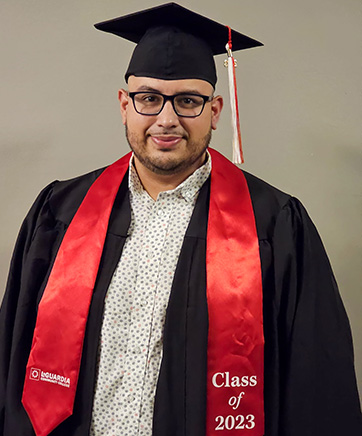 Marco Panchame, 38
Associate of Arts: Human Services—Mental Health

After beginning his college journey almost two decades ago, Marco is thrilled to be graduating from LaGuardia and transferring to the CUNY School for Professional Studies to pursue a Bachelor of Arts in Human Relations. "My LaGuardia journey has been a long one, spanning all the way back to 2005. Throughout this time, I've taken numerous breaks to discover myself. Yet no matter how long those breaks were, LaGuardia always welcomed me back with open arms." Marco, who grew up in Cypress Hills, Brooklyn in his Hispanic family, describes struggling with motivation, self-doubt, and a lack of dedication to his studies. So instead, he chose to find work. For the past 13 years, Marco has worked with the homeless population in New York City. "I am assistant building director for Breaking Ground Inc., a non-profit organization that provides housing solutions and support services for the homeless." In 2020, Marco found himself working at a COVID shelter at a hotel across the street from LaGuardia's Main Building. "Each day, as I looked out of my office window, the sight of the LaGuardia sign served as a constant reminder. I would think to myself, 'why didn't I finish? I'm intelligent, and I have a tremendous support system. So why not?'" Around this time, Marco was realizing that career advancement would be challenging without a college degree. "I had reached a plateau in my job where further progress was unattainable without a degree." So, in 2021, he returned to LaGuardia and finished his associate degree. He credits his wife, Jennie, a graduate of LaGuardia Community College and Hunter College. "Our beautiful baby girl, Norah, is a daily reminder of the importance of perseverance, hard work, and family." Marco's long-term goal is to earn a master's in social work and become a licensed social worker, so that he can become a substance abuse and mental illness counselor working with New York City's homeless population and other communities in need.
Angelina Jolie Rivera, 21
Associate of Arts: Early Childhood Education

Angelina, who is graduating with a 3.7 GPA, is transferring to Queens College to pursue a bachelor's in early and elementary childhood education. She was born and raised in New York City and currently lives in Woodhaven, Queens. Angelina transferred to LaGuardia after pursuing nursing at another CUNY college. "At the time, I thought nursing was the major for me because I'd always wanted to work in a field where I could help others in need. However, I quickly realized that there was too much math and science involved. I was feeling completely lost." At LaGuardia, she chose Early Childhood Education as her major because of her interest in working with young children, and she became an ASAP student. "I came to LaGuardia to restart my career path. I was able to choose a degree that I felt passionate about. I want to be able to make a positive difference by teaching children, helping them develop a love for learning, and assisting them as much as possible for a brighter future," said Angelina. "I am grateful to have attended LaGuardia because it allowed me to meet incredible mentors and teachers who have guided me in learning and developing the skills I need to succeed. I feel both motivated and well-prepared for my future profession." After earning her bachelor's, Angelina plans to continue her education and earn a master's degree in education. She said, "As I continue on this path toward my long-term career, I am looking forward to seeing what the future has in mind for me."
• • • •
LaGuardia Community College (LAGCC), a Hispanic-Serving Institution, located in Long Island City, Queens offers more than 50 degrees and certificates, and more than 65 continuing education programs to educate New Yorkers seeking new skills and careers. As an institution of the City University of New York (CUNY), the College reflects the legacy of our namesake, Fiorello H. LaGuardia, the former NYC mayor beloved for his advocacy of underserved populations. Since 1971, LaGuardia's academic programs and support services have advanced the socioeconomic mobility of students while providing them with access to a high quality, affordable college education.
####