Credit For Prior Learning College Tour Invites Community Organizations To Learn About Academic Opportunities At LaGuardia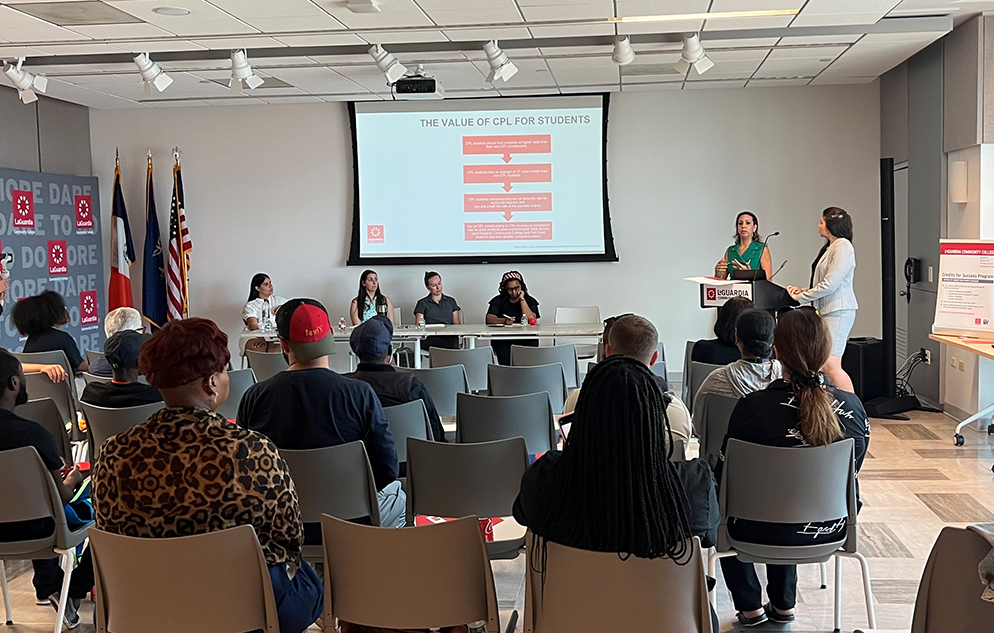 LONG ISLAND CITY, NY (July 18, 2023) — On Wednesday, July 12 LaGuardia's Office of Credit for Prior Learning (CPL) invited Commonpoint Queens and Adult Learning Center at Queens Public Library for a college tour to learn about LaGuardia and its academic opportunities. The event provided guests with a chance to learn services offered at the college including financial aid opportunities, College Discovery, advisement, healthcare management, Accelerated Study in Associate Programs (ASAP), and benefits of credit for prior learning.
Nedelka Sotelo, Community Outreach Specialist with the Office of Credit for Prior Learning, said this is the first time this type of event has been presented by CPL, and other events will be scheduled with Commonpoint Queens, LaGuardia's Adult Continuing Education, and the Queens Public Library throughout this summer.
LaGuardia's Credits for Success Program allows our students to earn college credit for skills and credentials gained through prior learning experiences, such as work experience, military training, professional certifications, and other knowledge they have gained outside of the traditional academic settings.
"By receiving credit for what they already know, they can potentially reduce the number of courses they need to take, which can save them both time and money," Sotelo said.  "Our office also connects with students to understand their personal lives, goals, and how CPL fits in each of their unique situations. We connect students back to their advisors and ensure they are on the right track for graduation after attaining credits."
One of the organizations invited to the college tour, was Commonpoint Queens The HUB, an organization located in Elmhurst offering job placement opportunities and career counseling. Jessica Ortiz, director of Recruitment & Compliance, Opportunity Youth Program with Commonpoint, attended the event and said she was surprised to learn LaGuardia offered CPL opportunities.
"The college tour was beneficial for me and for those who attended, because it provided us with vital information not only for the Credit for Prior Learning department, but overall information that students should know about prior to enrolling into college," Ortiz said. "We were given the opportunity to learn about the admissions process, financial aid process and other financial assistance clients can qualify for such as ASAP and College Discovery. But most importantly, we all felt a sense of community during the tour which is the tone every university should set."
Ortiz said the biggest challenge students are facing when taking the proper steps to enroll into college is feeling as if they are being bounced around from one department to another. "This can become overwhelming, especially for students who are considered first generation graduates," she said. "I believe Credit for Prior Learning can help ease this process by thoroughly walking students through the process and maintaining a follow up rapport with clients until clients have been assigned an academic advisor or feel confident enough to venture off on their own. I am a firm believer in setting people up for success, which includes going above and beyond expectations."
Overall, Ortiz said attending the college tour has provided her with critical information she can share with future clients who may be thinking about attending college.
"We primarily work with students who have many barriers and are considered at-risk youth, who may have never even considered college, so to leave the event with a sense of inspiration was a huge takeaway for me and our clients," Ortiz said. "The facilitators of this tour were so readily available to offer help and to walk us through step by step what enrolling into LaGuardia Community College can look like. This inspired our clients to proceed with choosing LaGuardia as part of their academic journey."
• • • •
LaGuardia Community College (LAGCC), a Hispanic-Serving Institution, located in Long Island City, Queens offers more than 50 degrees and certificates, and more than 65 continuing education programs to educate New Yorkers seeking new skills and careers. As an institution of the City University of New York (CUNY), the College reflects the legacy of our namesake, Fiorello H. LaGuardia, the former NYC mayor beloved for his advocacy of underserved populations. Since 1971, LaGuardia's academic programs and support services have advanced the socioeconomic mobility of students while providing them with access to a high quality, affordable college education.
####