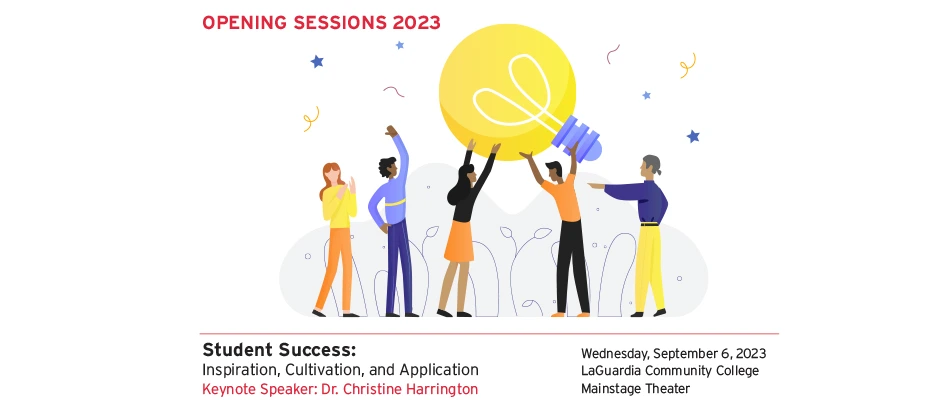 Opening Sessions Fall 2023 Save the Date!
Wednesday, September 6, 2023
Join us as we kickstart the Fall 2023 semester at LaGuardia Community College at Opening Sessions.
Student Success: Inspiration, Cultivation, and Application
Over the past year, our college has shifted from a hybrid mode of learning to mostly in-person classes after a long quarantine period due to the COVID-19 pandemic. The effects of isolation are still apparent in our classrooms, and we are working hard to refresh and reimagine student engagement. The Opening Sessions Committee surveyed the college community to determine the most important conversation that needs to be had at LaGuardia right now. Faculty and staff agree that student success is the theme of 2023-24. The challenges that our students are facing post-pandemic have stimulated crucial conversations about recruitment, enrollment, advising, teaching, and pedagogy to enhance student engagement. 
During Opening Sessions, we will explore questions like: What do we observe about student success? How do students define success compared to our institutional expectations? Where do we see triumphs or gaps? As an institution, how can we collectively address these gaps? How can we create a culture of success and implement strategies and tools that support it? Lastly, how can we involve students in the process since it is ultimately about their own success? 
Together, we reignite our dedication to student success by coming together as a team of professionals who build trust, provide guidance, and nurture opportunities. Our collective efforts will inspire students to reach their full potential.
Keynote Speaker: Dr. Christine Harrington: Professor and Co-Coordinator, Ed. D. in Community College Leadership New Jersey City University
Schedule
Main Stage Theater Lobby — 8am-9am; Breakfast and Check-in
Main Stage Theater — 9am-11am; Plenary Session
Main Stage Theater — 10:45am-11am; Coffee break
Location TBD — 9am-5pm; Student art exhibit and showcase
E-500 and E-501 — 1:15pm-2:15pm; New Faculty and Staff Luncheon
E-Atrium — 1:15pm-2:15pm; PSC Chapter Luncheon
E-111 — 1:15pm-2:15pm; Student Success Mentors (SSM) Meet and Greet
E-Atrium — 3:45pm-5pm; Coffee & Cake Reception
We will have breakout sessions in two segments from 11:10am-12pm and then from 12:15pm-1:05pm.
12:15pm-1:05pm (50 Minutes)
Committee Chairs & Members