Asian American Pacific Islander (AAPI) Celebration

Asian American Pacific Islander (AAPI) Celebration
LaGuardia Community College has been celebrating the Asian American Pacific Islander (AAPI) Celebration in May every year. AAPI is an annual event of LaGuardia featuring various cultural, philosophical, and linguistic heritages from Asian countries. Along with the other cultural heritage celebrations, including African American Heritage week and Latino Heritage week, AAPI acknowledges and celebrates diversity and cultural richness of LaGuardia Community College.

The Asian American Pacific Islander (AAPI) Celebration Committee is committed to promoting Asian and Asian American groups on campus. Our Mini-Conference and Final Celebration are intended to provide the college with a wonderful array of educational, cultural and engaging programs that will heighten the awareness and contributions of Asian and Asian American groups in New York City.
---

"I Still Believe in Our City" Posters by Amanda Phingbodhipakkiya licensed under CC-BY 4.0.
---
Asian American Pacific Islander (AAPI) Celebration Committee
Co-chairs: Dana Trusso, Tuli Chatterji, and Tomonori Nagano
Committee Members: Anita Baksh, Claudia Chan, Thomas Cleary, Payal Doctor, Sada Hye Jaman, Malgorzata Marciniak, Ann Matsuuchi, Lyudmila Spajic, and Kyoko Toyama
Follow/Like our Facebook page for updates on Asian Heritage Celebration events.


---
LaGuardia's Asian American Voices Journal, Issue 5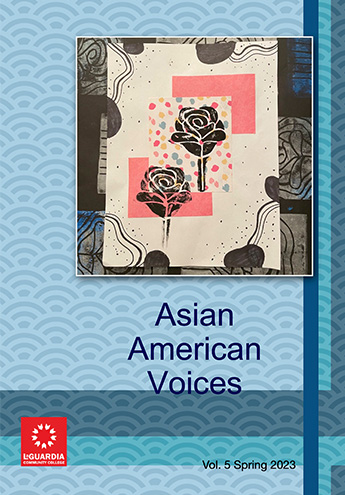 Please encourage your students to submit term papers, creative writing, essays, recipes, artworks, and photo collections to Malgorzata Marciniak (Editor-in-Chief) at mmarciniak@lagcc.cuny.edu for publication in Asian American Voices.

Editorial Committee: Anita Baksh, Tameka Battle, Tuli Chatterji, Richa Gupta, Malgorzata Marciniak, Tomonori Nagano, and Dana Trusso

Asian American Voices Issue 1
Asian American Voices Issue 2
Asian American Voices Issue 3
Asian American Voices Issue 4
Asian American Voices Issue 5

See the article views of the Asian American Voices at https://bit.ly/LG-AAV.
---
View the Asian Heritage Celebration Gallery