More than 600 students attended LaGuardia's recent Immigration Information Fair
Over 45,000 students from more than 150 countries come to LaGuardia Community College each year. Many are recent-immigrants, or have immigrant family members and friends.
On two days in April 2018, the Immigration Information Fair was held on LaGuardia's campus to make sure that LaGuardia students have up-to-date information about immigrant rights and resources at LaGuardia, CUNY, and the broader NYC/Queens community.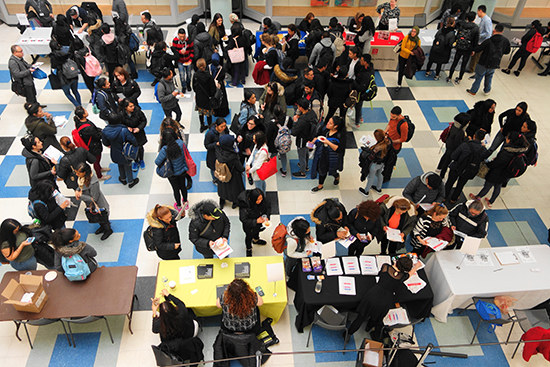 The view from above at the recent Immigration Information Fair held at LaGuardia Community College over two days in April 2018.
More than 600 students attended the fair. A main feature was a Know Your Rights workshop, presented by the New York Immigration Coalition . The event also offered free consultations with attorneys to ask questions. More than 80 students availed themselves of these consultations.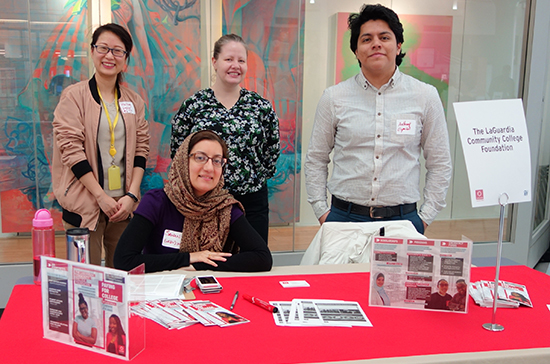 LaGuardia Community College Foundation staff provide information about scholarships and emergency funds that students can apply for, at the college's recent Immigration Information Fair.
"We want to thank the many groups that came to provide resources about their services to our students," said Mimi Blaber, executive director of the CUNY Language Immersion Program at LaGuardia. "We know there are a lot of questions and confusion about the topic of immigration, and we wanted to provide as much info as possible."
A student receives a legal consultation with an attorney at the recent Immigration Information Fair at LaGuardia Community College.
Groups that attended included CUNY Citizenship Now!, CUNY School of Law, Catholic Migration Services, Hellenic American Neighborhood Action Committee, Legal Aid Society, Queens Library, the Arab American Association of New York, Make the Road, and the Office of New Americans.
The fair also afforded LaGuardia students an opportunity to learn about the many services that help students enter and stay in college:
Additional resources can be found on the LaGuardia website.