$40,000/yr. Transfer Scholarship Awarded to Eleni Romano, Mechanical Engineering Major
May 9, 2018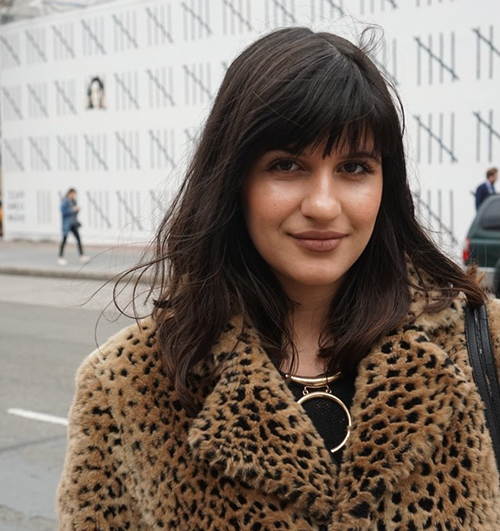 Eleni Romano, age 24, a
mechanical engineering major
at
LaGuardia Community College/CUNY
("LaGuardia"), is one of 47 recipients of the 2018 Jack Kent Cooke Foundation Undergraduate Transfer Scholarship. This highly competitive national scholarship provides awardees with up to $40,000 annually for a maximum of three years to complete their bachelor's degree.
"Being selected for the Jack Kent Cooke Foundation Undergraduate Transfer Scholarship is an astounding accomplishment — a testament to a student's incredible work," said LaGuardia Community College President Gail O. Mellow. "Community colleges educate the vast majority of low-income, recent immigrant, or otherwise disadvantaged students, and giving them the opportunity to pursue their bachelor's or even graduate work with significantly fewer financial worries is an incredible benefit. We're so proud of Eleni Romano, our ninth LaGuardia student to be awarded this coveted award since 2006, and know that with the ability this award will afford her to focus on her studies, the possibilities of what she can accomplish are that much wider, and we all stand to benefit."
Ms. Romano was a member of President's Society – Tech, the college's leadership development program for students interested in STEM fields. She's consistently made the Dean's list, and is a member of the Honors Program. Additionally, as a member of the CUNY Research Scholars Program, Ms. Romano spent two years working on the National Aeronautics and Space Administration's Goddard Institute for Space Studies (NASA GISS) research program. While at LaGuardia, she received several scholarships from the LaGuardia Community College Foundation to help make ends meet.
"Eleni has been my research mentee for almost two and half years, and her work has been nothing short of outstanding," said John Toland, Ph.D, associate professor of physics at LaGuardia. "Her contributions to our research project about gyroscopes merit publication in a peer-reviewed scientific journal, which we will be preparing over the summer. Eleni demonstrates confidence, competence, integrity and grit in both her research work for me and as an active member of the college community. I am very proud of her and excited to see where her academic journey will go."
"Eleni has taken the time to understand quantum mechanics at a fundamental level and can explain her research to a general audience or to physicists who have been in the field for decades," said Allyson Sheffield, Ph.D, associate professor of physics at LaGuardia. "She provides invaluable feedback and advice to her fellow CUNY Research Scholars and is a true inspiration to them."
"I'm so grateful to my mentor John Toland for his help and support," says Ms. Romano. I've learned so much working with him on his work on gyroscopes, which are navigational systems found in many technologies from smartphones, to planes and satellites – making it possible to determine what's up and down, what's portrait or landscape orientation. I always had an interest in science, but family and friends discouraged me pursuing it as a career. His support allowed me to pursue my dream."
"And Dr. Sheffield helped me so much by advising me as I wrote my Jack Kent Cooke application."
Ms. Romano and her family moved to the US from Athens, Greece when she was nine years old. She is married to Marco Gonzalez, who is also a student at LaGuardia.
She describes herself as having been a "lazy student" in high school, at Bayside High School. Consequently, she placed into developmental math at LaGuardia; since then has taken (and passed!) every single math class at LaGuardia.
The lowest grade she got in a math course at LaGuardia was a B+, which she attributes to having to juggle work (in a restaurant) with school to make ends meet.
"I came from MAT096 (developmental math) to being a Jack Kent Cooke scholar! When I found out that I got the scholarship, I just couldn't believe it—I was so excited! Now with the Jack Kent Cooke Foundation Undergraduate Transfer Scholarship, I won't have to take out loans, and will be able to totally focus on pursuing my bachelor's without having to work."
Ms. Romano is the 9thLaGuardia student to be awarded a Jack Kent Cooke Undergraduate Transfer Scholarship. In 2017, three LaGuardia students were selected for this covered scholarship.
The LaGuardia Jack Kent Cooke scholars have included:
1. Yeshey Pelzom (2006); Agnes Scott; King's College, London (M.A., also funded by the JKC Foundation)
2. Harmonie Kobanghe (2012); Georgetown; Columbia (M.A., also funded by the JKC Foundation)
3. Cristina Mihailescu (2014); Columbia
4. Xavier Medina (2015); Columbia
5. Nathan Weiss (2015); Baruch
6. Jonathan Morales (2017); Stanford
7. Konstandinos Gobakis (2017); Amherst
8. Miguel Castillo (2017); Columbia
9. Eleni Romano (2018)
Karlyn Koh, Ph.D, LaGuardia's Cooke Foundation Faculty Representative, director of the LaGuardia Honors Program, and a professor of English remarks that "our Cooke scholars over the years are examples of not only the talent and drive that many community college students possess, but also of how far the latter can go with academic and financial support. These nine Cooke scholars are thus surely an inspiration to other LaGuardia students, and also to all of us who work on behalf of students to support their success."
In addition to the monetary award, Cooke Transfer Scholars receive comprehensive educational advising from foundation staff to guide them through the processes of transitioning to a four-year school and preparing for their careers. The foundation also provides opportunities for internships, study abroad, and graduate school funding, as well as connection to a thriving network of 2,300 fellow Cooke Scholars and alumni.
What are Ms. Romano's plans for the future? As she says, "I'm 1000% sure getting a physics degree. I definitely want to get a master's in physics; and I'm still deciding if I'll pursue a Ph.D as well. I'm interested in Columbia University, as well as in the Stevens Institute of Technology, where my mentor Professor John Toland studied. We'll see!"
"Community colleges provide an affordable first step for many students with financial need to begin their higher education journey," said Harold O. Levy, executive director of the Cooke Foundation. "Cooke Transfer Scholars have demonstrated incredible ability and ambition, and we look forward to supporting their success at universities such as Stanford, Cornell, and MIT."
This year, nearly 2,500 students applied for the Cooke Undergraduate Transfer Scholarship. The foundation evaluated each submission based on academic ability, persistence, leadership, and service to others. The recipients selected have a median adjusted gross income of $5,000 and an average GPA of 3.92. Biological sciences, engineering, and computer/informational sciences are the most popular fields of study among the cohort.
A full list of the 2018 Cooke Transfer Scholars, including the community colleges and states they represent, can be viewed here .
• • • •
The Jack Kent Cooke Foundation
is dedicated to advancing the education of exceptionally promising students who have financial need. Since 2000, the foundation has awarded $175 million in scholarships to more than 2,300 students from 8th grade through graduate school, along with comprehensive counseling and other support services. The foundation has also provided over $97 million in grants to organizations that serve such students.
www.jkcf.org
LaGuardia Community College (LAGCC), located in Long Island City, Queens, educates thousands of New Yorkers annually through degree, certificate, and continuing education programs . LaGuardia is a national voice on behalf of community colleges, where half of all U.S. college students study. Part of the City University of New York (CUNY), the College reflects the legacy of our namesake, Fiorello H. LaGuardia, the former NYC mayor beloved for his championing the underserved. Since our doors opened in 1971, our programs regularly become national models for pushing boundaries to give people of all backgrounds access to a high quality, affordable college education.