LaGuardia Community College Graduates 40 Nurses from its
Top-Ranked Nursing Program

Furthering the college's "3,000 Heroes" campaign to graduate 3,000 frontline NYC health workers by 2027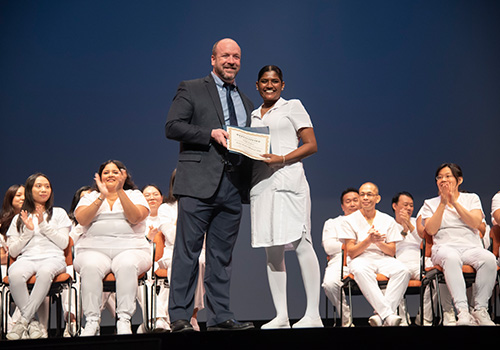 LONG ISLAND CITY, NY (December 22, 2022) — LaGuardia Community College/CUNY held a pinning ceremony, a tradition for nursing graduates that dates back to the 12th century, on December 21, for nearly 40 graduates from the college's top-ranked Nursing Programs. The graduates were from the Registered Nursing and the LPN to RN Advanced Standing Pathway programs, where Licensed Practical Nurses study to become Registered Nurses.
Attendees at the pinning ceremony included keynote speaker, Bernice Wambari-Jones, RN and LaGuardia alumna, along with other distinguished guests including representatives from the Nurses Association of the Counties of Long Island.
"We are proud to graduate NYC's newest frontline workers. Not only have these graduates demonstrated their dedication to nursing through their hard work, but their skills are also needed now more than ever. The pandemic has had a profound impact on nursing staffing and showed how essential these frontline workers are. Nurses represent 80% of the health care industry's workforce, and demand for nursing is at a peak," said Kenneth Adams, president of LaGuardia Community College. "The critical need for frontline health care workers is why we launched the '3,000 Heroes' initiative to expand our training of frontline healthcare professionals, ready to make a difference every day in someone's life—no matter how big or small. With these newest graduates, we are well on our way to graduating 3,000 frontline workers by 2027."
LaGuardia's Nursing Program offers courses covering approximately 75 different specialties in nursing. Nurses are engaged in direct client care, administration, education, and/or research. Nurses in advanced practice are prepared to assume greater autonomy in areas such as primary care, clinical specialties, anesthesia, and midwifery. Following classroom learning, students are placed in a clinical internship with partner hospitals and medical facilities.
Since 1985 when the program was launched, LaGuardia's Nursing Programs have graduated nearly 3,000 nursing heroes. The programs boast an enviable record of NCLEX-RN pass-rates. In 2021, 98% of LaGuardia RN students passed the NCLEX–RN exam on their first attempt. This surpassed the pass rates for most four-year colleges in New York City, including NYU and Columbia.
• • • •
LaGuardia Community College (LAGCC), located in Long Island City, Queens, educates thousands of New Yorkers annually through degree, certificate, and continuing education programs. LaGuardia is a national voice on behalf of community colleges, where half of all U.S. college students study. Part of the City University of New York (CUNY), the College reflects the legacy of our namesake, Fiorello H. LaGuardia, the former NYC mayor beloved for his championing the underserved. Since our doors opened in 1971, our programs regularly become national models for pushing boundaries to give people of all backgrounds access to a high quality, affordable college education.
####