LaGuardia Community College Partaking in Million-Dollar Pilot Program to Combat Hunger among Low-Income College Students
December 20, 2019
LaGuardia Community College is one of seven New York community colleges, all part of the City University of New York (CUNY), participating in a new million dollar pilot program designed to provide meals to students who struggle with food insecurity. Funded by the New York City Council, the program is part of City Council Speaker Corey Johnson's multi-pronged approach to stemming food inequity in New York City.
"College student hunger is a major problem in New York City. Students should only be focused on learning and it's hard to do that when you are hungry and can't afford a meal. The Council is proud to fund this $1 million pilot at CUNY community colleges, including LaGuardia Community College, to help students pay for food. Access to food is a human right," said Speaker Corey Johnson.
In a recent CUNY survey, half of the students surveyed said there was a point in the previous 30 days when they didn't know how they were going to get their next meal. Nationally, 1 in 2 community college students have experienced food insecurity. The problem is especially acute among low-income students, which make up the majority of LaGuardia students.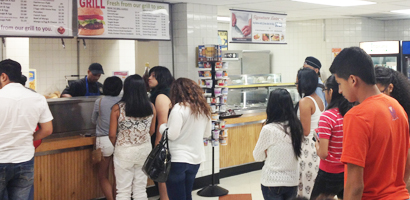 This fall, nearly 200 LaGuardia students received food vouchers of $400 each to use in on campus cafeterias (photo at left shows one of the cafeterias on the LaGuardia Community College campus). The students include Dreamers, those with Deferred Action for Childhood Arrivals (DACA) status. Assuming a student purchases three $10 meals a week for 13 weeks, the program may cover a semester's worth of school meals. An additional set of vouchers will be given out spring semester.
Students in the pilot program were selected from a pool of low-income students who met basic eligibility criteria and had an average family income of $15,605. To qualify for the program, students had to show significant financial need, be enrolled at a CUNY community college for at least nine credits, live in one of the five boroughs, be currently working towards their first college degree, not receiving any SNAP benefits, and have a satisfactory grade point average.
"Our mostly low-income, recent immigrant and otherwise disadvantaged students are eager to make better lives for themselves and their families by earning their college degrees," said LaGuardia Community College President Paul Arcario. "But if they're hungry or worried about where their next meal will come from, how can they possibly be expected to focus on their coursework? This food voucher pilot program is fueling our students, so that they can devote themselves to their studies. It also helps fill the gap of free lunch, which many of our students were accustomed to receiving in the K-12 public school system."
At LaGuardia Community College, the program is facilitated by LaGuardia CARES (College Access for Retention and Economic Success), which serves students in need of emergency assistance. Its staff helps students sign-up for public benefits, find safe housing, and refers them to the College Foundation where they can apply for emergency funds.
Each year, nearly 5,000 (approx. one in four) students receive support from LaGuardia CARES. In addition to the services described above, LaGuardia CARES runs an on-campus pantry, which provides hungry students with food they can eat ASAP on campus or bring home to make meals for themselves and their family members. Students can also receive toiletries, childcare items, new and gently used clothing, and household supplies, at the on-campus pantry.
"When I was unexpectedly evicted from my apartment, I depleted my savings finding a new apartment—paying first and last month's rent, a security deposit, and a broker's fee. I'd just started a new job, but hadn't gotten my first paycheck yet. I was broke. Thankfully, I learned about LaGuardia's food pantry, where I got milk, soup, beans, chicken, bread, and cereal. The food pantry kept me on my feet," said psychology major Jesse Delacruz, age 32.
Donations of any kind to LaGuardia's Pantry are greatly appreciated. Non-perishable food, clothes, toiletries, etc. are needed. Monetary donations can be made at any time online via LaGuardia's Food Drive page. To donate non-perishable food or toiletries, request a pick-up of donations, or help with sizable donations, please contact LaGuardia CARES at (718) 482-5135 or singlestop@lagcc.cuny.edu.         
And for those interested in pursuing a college degree at LaGuardia Community College, applications are being taken now for the Spring 2020 semester. Classes start on Tuesday, March 3, 2020, so apply today. Visit www.laguardia.edu/apply for more information.
• • • •
LaGuardia Community College (LAGCC), located in Long Island City, Queens, educates thousands of New Yorkers annually through degree, certificate, and continuing education programs . LaGuardia is a national voice on behalf of community colleges, where half of all U.S. college students study. Part of the City University of New York (CUNY), the College reflects the legacy of our namesake, Fiorello H. LaGuardia, the former NYC mayor beloved for his championing the underserved. Since our doors opened in 1971, our programs regularly become national models for pushing boundaries to give people of all backgrounds access to a high quality, affordable college education.
####