Three LaGuardians on the Front-Lines Fighting for the Rights of Immigrants
November 7, 2019
Three LaGuardians (aka LaGuardia Community College students/graduates), Martin Batalla Vidal, Antonio Alarcon and Ricardo Aca are taking the battle to preserve DACA, the Deferred Action for Childhood Arrivals policy enacted under President Obama to protect nearly 800,000 undocumented immigrants brought to the U.S. as children, all the way to the U.S. Supreme Court. DACA allows these "Dreamers," as they're known, to work and go to school in the U.S., and most importantly, shields them from deportation. The current presidential administration has sought to weaken or eliminate DACA.
Martin is lead plaintiff in Department of Homeland Security/McAleenan v. Vidal et al., Antonio is a co-plaintiff, and Ricardo has been working hard alongside them, advocating for immigrant rights through his photography and his work with Make the Road New York.
Just days before the U.S. Supreme Court would hear oral arguments in their case, on November 12, 2019, Martin, Antonio and Ricardo came to LaGuardia to talk about the case, the road it's taken to get to the Supreme Court, and the importance of their activism work to get the case to the highest court in the nation. They also shared their personal stories as undocumented immigrants in the U.S., and what having DACA has meant for them and their families.
NY1: Incertidumbre y ansiedad entre beneficiarios de DACA: próxima semana audiencia en Corte Suprema sobre el caso
To watch a video of their conversation, visit https://vimeo.com/371736962.
Photos of the event are available on Flickr.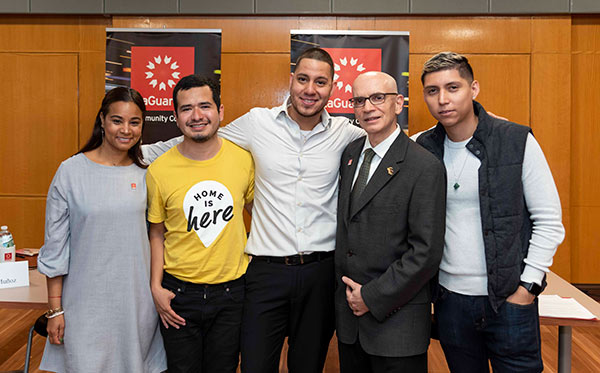 From l to r: Caridad Munoz, Creative Technologist for LaGuardia Community College and Conversation Moderator; Ricardo Aca; Martin Batalla Vidal; LaGuardia Community College Interim President Paul Arcario; and Antonio Alarcon. Photo credit: Kristian Larotta, LaGuardia Community College.
• • • •
LaGuardia Community College (LAGCC), located in Long Island City, Queens, educates thousands of New Yorkers annually through degree, certificate, and continuing education programs . LaGuardia is a national voice on behalf of community colleges, where half of all U.S. college students study. Part of the City University of New York (CUNY), the College reflects the legacy of our namesake, Fiorello H. LaGuardia, the former NYC mayor beloved for his championing the underserved. Since our doors opened in 1971, our programs regularly become national models for pushing boundaries to give people of all backgrounds access to a high quality, affordable college education.
###