LaGuardia Celebrates 10th Anniversary of President's Society, the College's Innovative Professional Development Program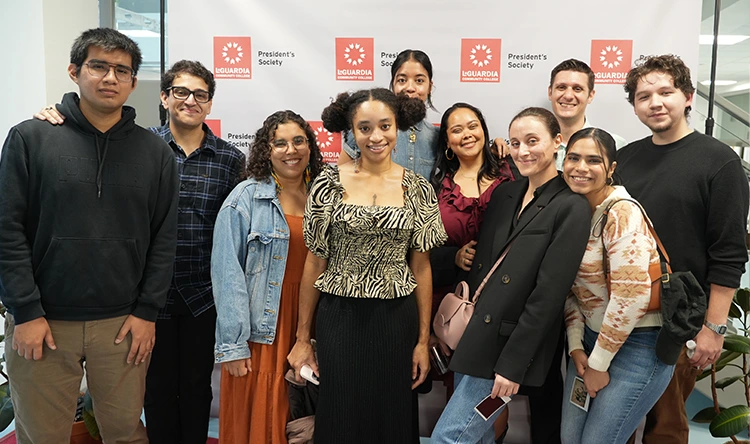 LONG ISLAND CITY, NY (October 4, 2023) — Throughout the past decade, more than 600 LaGuardia Community College/CUNY students have received a boost from the college's President's Society to earn their degree and start a career. President's Society is an innovative leadership program that helps high-potential students gain the practical skills, confidence, and connections needed to succeed in today's workforce.
More than 200 President's Society alumni attended an anniversary party and networking event on Thursday, September 28, at Boyce Technologies, Inc. in Long Island City, Queens. Boyce President Charles Boyce is chairman of the LaGuardia Community College Foundation, which funds LaGuardia's President's Society. Click here to watch a short video of LaGuardia alums celebrating the President's Society 10th anniversary; click here for photos from the event.
The program has a record of strong outcomes—95% of President's Society alumni graduated with their associate degrees from LaGuardia, and 88% earned or are currently earning their bachelor's degrees. Schools they transferred to include Columbia, Cornell, Amherst, Stanford, Wellesley, Brown, and all the CUNY senior colleges. President's Society alumni work throughout New York City and beyond as doctors, lawyers, finance executives, software engineers, and more.
"The 10th anniversary of the President's Society is an incredible achievement. The impact it has had on the more than 600 LaGuardia students it has served is immeasurable. We thank the many donors and friends of LaGuardia that have enabled us to fund and grow the President's Society. We look forward to what the next 10 years will bring," said Kenneth Adams, President of LaGuardia Community College. "We are grateful to Charles Boyce for his leadership of our Foundation and for hosting the celebration of this milestone at his beautiful offices. Charles has given numerous President's Society students opportunities to gain invaluable technical and professional skills by hiring them as interns at his company."
President's Society was founded in 2013 by Karen Dubinsky, LaGuardia's Chief Engagement Officer, and Robin Barsky, a longtime supporter of LaGuardia—under the leadership of Dr. Gail O. Mellow, President Emeritus of LaGuardia.
"We created President's Society to introduce LaGuardia students to successful professionals working in a wide variety of industries, so the students could see their own stories in the executives and learn how to leverage their degrees into exciting careers. And we wanted New York City industry leaders to get to know our incredible LaGuardia students and understand the skills and value they'd bring to their teams," said Ms. Dubinsky. "As a result, students report a boost in their self-confidence and sense of self-worth. However, I believe that President's Society brings out what's already within the students."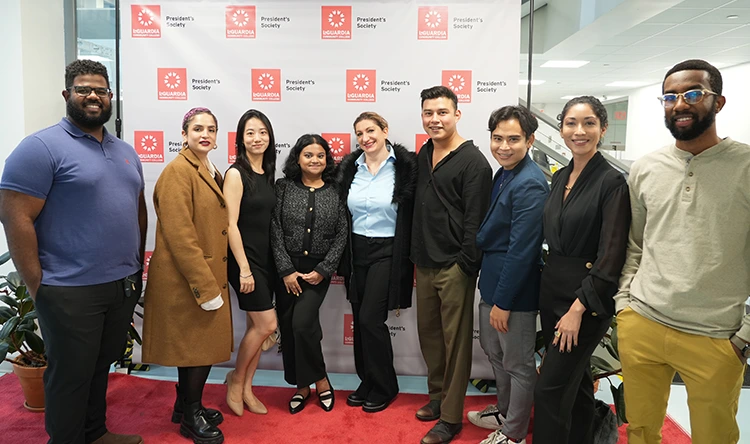 At the event, Dr. Mellow spoke about how the President's Society helps students to see their stories and attributes as advantages.
"Many of you entered President's Society not understanding the kind of contributions that you could make to this world. You didn't see speaking six to seven different languages or having lived in multiple countries as a value. But now you do," said Dr. Mellow. "It is so exciting to see the accomplishments that the alumni here today have made, and to imagine what the future will bring for you and future President's Society Ambassadors."
Many LaGuardia students are immigrants or from low-income backgrounds—54% of LaGuardia students have family incomes of less than $30,000 annually. They come from more than 130 countries and speak 62 different languages.
President's Society students, are known as Ambassadors because they represent the college, attend meetings with industry experts and are invited to apply for scholarship opportunities and internships with leading cultural institutions like MoMA and PS1, and top New York City employers like UBS. Students in the year-long program also go on outings to NYC's world-renowned museums and Broadway shows to build their cultural knowledge and attend weekly Wednesday evening workshops and seminars where they learn soft skills for networking and workplace success, receive transfer and career counseling, and more. Each student receives a stipend provided by the LaGuardia Community College Foundation as well as professional attire purchased for them to wear at professional and cultural events.
A unique initiative within President's Society is Launch!, which pairs students seeking guidance through the process of transferring to a four-year college with volunteers who have helped their children through the college application process. Many Launch! students are first-generation college students. The initiative has helped more than 135 LaGuardia students transfer to a four-year college, more than 90% of whom have graduated with their bachelor's degrees or are still enrolled. Some have matriculated to elite universities such as Brown, Cornell, and Georgetown, while many others have transferred to local city and state schools, where 88% of LaGuardia transfers go.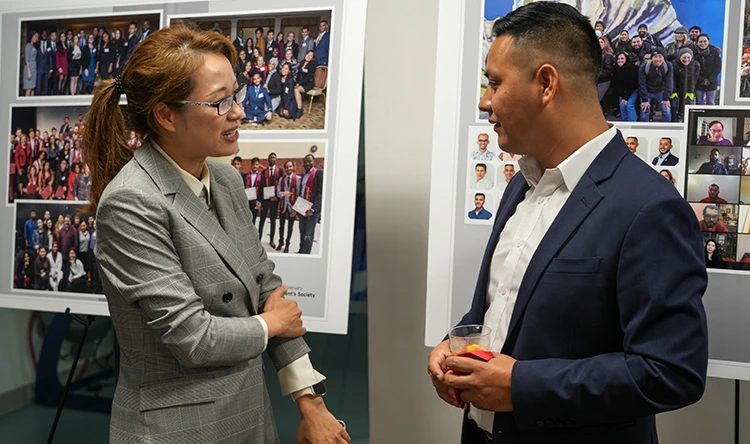 Two President's Society alumni at the anniversary event include Samad (Sunny) Ahmed (LaGuardia'18) and Min Young Kim (LaGuardia'23). Sunny is from Bangladesh, and Min Young is from South Korea—and are the first in their families to earn a college degree. They are grateful to the President's Society for giving them a platform for success.
"President's Society gave me a platform to come out of my comfort zone and embrace the American culture. It also helped me enter and understand the corporate setting and helped me create a vision of where I want to be. I'm so grateful for the support system it gave me early in my career," said Sunny, who holds an associate degree in Business Administration from LaGuardia and a bachelor's from Baruch in information risk management and cybersecurity, and today works as a cybersecurity consultant at KPMG. "I work for one of the big four accounting firms, one of the biggest companies in the world. I wouldn't be here without the support and assistance of President's Society founders Karen Dubinsky and Robin Barsky, as well as Elyse Newman, former (retired) director of student engagement for LaGuardia. President's Society taught me how to interview, how to leverage my LinkedIn, and how to speak with professionals. And it's continued to be a source of support even today. President's Society is the whole package to help a student succeed in their life."
As a LaGuardia student, Min Young was a 2023 Jack Kent Cooke Undergraduate Transfer Scholarship winner, one of 60 community college students selected from more than 1,700 students from 450 community colleges nationwide. The scholarship provides awardees with significant financial support to complete their undergraduate studies. Min Young graduated from LaGuardia with her associate degree in Liberal Arts: Applied Math, and is currently pursuing a bachelor's in computer science at Columbia University. Her ultimate plan is to earn a Ph.D. and develop a career teaching STEM to disadvantaged populations.
"I dropped out of high school, and it took me a long time to go back to school; President's Society helped me find my way. They made me feel genuinely supported," said Min Young. "President's Society helped me realize my potential and visualize a future that I didn't know existed to me."
The Foundation produced a video featuring four President's Society alumni: Chethana Gallage Dona, a Sri Lankan immigrant now pursuing her dream of becoming a doctor as a student at Touro College of Osteopathic Medicine; Diego Ochoa, a military veteran who transferred to NYU Stern after graduating from LaGuardia who's now working as a corporate and investment banker at Sumitomo Banking Corporation; Huilin Cai, an immigrant from China who earned her bachelor's at Fordham University is now works as a senior accountant at Integra Lifesciences (previously, she was an auditor at Price Waterhouse Cooper); and Mateo Arbeláez, a Colombian immigrant who earned his bachelor's cum laude from Stanford University and now works as a software engineer at Charles Schwab in the intersection of finance and technology known as FinTech. Click here to watch.
The anniversary event also marked the official launch of the President's Society Alumni Network. With President's Society alumni working all around the country, the network will be run through an online platform that enables alumni to connect with one another, search for alumni in categories or industries of interest, and more. President's Society alumni are encouraged to sign-up by filling out survey.
"Unlike senior colleges, community colleges don't typically have robust alumni groups or networks," said Ms. Dubinsky. "The President's Society Alumni Network aims to change that by creating a platform for our vibrant alumni to connect and share resources and opportunities, as well as create ways to support current LaGuardia students."
• • • •
LaGuardia Community College (LAGCC), a Hispanic-Serving Institution, located in Long Island City, Queens offers more than 50 degrees and certificates, and more than 65 continuing education programs to educate New Yorkers seeking new skills and careers. As an institution of the City University of New York (CUNY), the College reflects the legacy of our namesake, Fiorello H. LaGuardia, the former NYC mayor beloved for his advocacy of underserved populations. Since 1971, LaGuardia's academic programs and support services have advanced the socioeconomic mobility of students while providing them with access to a high quality, affordable college education.
####