LaGuardia Community College Partners With Airbnb To Address Student Homelessness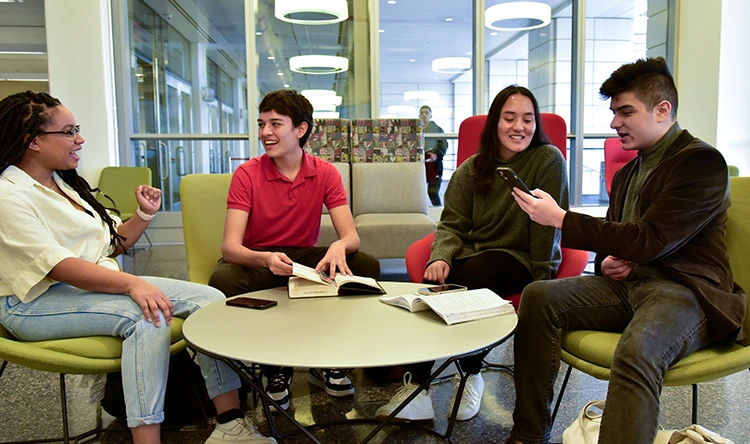 LONG ISLAND CITY, NY (October 4, 2023) — LaGuardia Community College/CUNY is fighting student housing insecurity and homelessness by partnering with Airbnb.
In a pilot program, Airbnb is providing LaGuardia students experiencing homelessness with vouchers for semester–long stays in Airbnb rooms or apartments for up to $1,700 a month. Reimbursement is provided directly to the rental hosts by Airbnb, which has allocated $100,000 for the program.
"We're incredibly grateful for our partners at Airbnb for their bold measure to address student homelessness," said LaGuardia President Kenneth Adams.
Through the LaGuardia–Airbnb program, homeless students can choose where they want to live, which offers a sense of agency as they work to get back on their feet. Students like Anthony Franco, 48, who's pursuing a certificate in Practical Nursing (LPN).
Previously, Anthony worked as an independent contractor in finance — as a bill collector, lender, broker, etc. — until the COVID-19 pandemic hit. Long wanting a job with more stability and retirement benefits, he enrolled at LaGuardia to pursue a career in health care. Then all of a sudden, he was facing homelessness. "I'd been living with family and with an on and off again girlfriend, which all ended abruptly. I was in a dire need of a place to live." LaGuardia CARES got Anthony into the Airbnb program, through which he found an apartment in Corona, Queens, where he lived during his first semester at LaGuardia. With worries about housing further from his mind, he worked hard and earned a nearly 3.9 GPA. Today he lives with roommates in Long Island City, Queens, where he can walk to LaGuardia. "I never thought LaGuardia would have the resources that it has," said Anthony, who wants to become a Nurse Practitioner or Physician's Assistant.
Dr. Alexis J. McLean, LaGuardia's vice president for Student Affairs said that Anthony Franco's story illustrates the profound affect that the Airbnb program can have on students' lives.
"We want to give our students every opportunity to be successful, and having a place to live and study is an essential part of their success," said Dr. McLean. "Imagine trying to pursue a college degree while couch surfing or living in a shelter; LaGuardia students have lived in cars, or on the subway. These are untenable, risky situations."
Over half (54%) of LaGuardia students have family incomes of less than $30,000 per year. The struggle to balance school, work, and the cost of living often leads to students considering dropping out.
To date, the college has spent $80,000 — or 80% of the Airbnb funding — on housing vouchers for 15 students, said LaGuardia CARES director Rhonda Mouton, who oversees the initiative. "We hope to be able to continue and expand the program. So far, we've served the students with the most urgent situations. Yet the need is great — at the start of last year, 300 students said they were homeless."
Homelessness among college students is a big issue nationwide. The problem is especially acute in New York City, which has faced rising housing prices and inflation. According to a 2019 survey by the Hope Center for College, Community, and Justice at Temple University, 18% of CUNY community college students had been homeless over the previous year, with 55% of all CUNY students having experiencing housing insecurity.
• • • •
LaGuardia Community College (LAGCC), a Hispanic-Serving Institution, located in Long Island City, Queens offers more than 50 degrees and certificates, and more than 65 continuing education programs to educate New Yorkers seeking new skills and careers. As an institution of the City University of New York (CUNY), the College reflects the legacy of our namesake, Fiorello H. LaGuardia, the former NYC mayor beloved for his advocacy of underserved populations. Since 1971, LaGuardia's academic programs and support services have advanced the socioeconomic mobility of students while providing them with access to a high quality, affordable college education.
####