LaGuardia Students Receive Wardrobe Enhancement from J.Crew to Dress for Professional Success
LONG ISLAND CITY, NY (October 4, 2023) — Twenty-eight LaGuardia Community College/CUNY students visited the J.Crew store at 91 5th Avenue in Manhattan, on September 29 to meet with J.Crew style experts with an opportunity to pick out and get fitted for pieces of professional attire to add to their wardrobes.
The attire was paid for by a gift that LaGuardia Community College Foundation Board Member Priscilla Alexander made in honor of her daughter Melissa Spohler's birthday. This gift was named Melissa's Career Closet, and Melissa came to J.Crew to help the students make their selections. J.Crew provided additional monetary support and complimentary tailoring for the 28 students—members of the President's Society, the college's innovative leadership program that helps high-potential students gain the practical skills, confidence, and connections needed to succeed in today's workforce. The students are known as President's Society Ambassadors because they represent the college at events.
Karen Dubinsky, LaGuardia's Chief Engagement Officer, and President's Society Program Director said, "The professional attire is intended to give each student a confidence boost and round out any gaps in their current wardrobe, especially as many come from low-income backgrounds—54% of LaGuardia students have family incomes of less than $30,000 annually."
The students will wear their new attire at President's Society professional and cultural events, which include meetings with industry leaders and internship opportunities, and visits to NYC's world-renowned museums and Broadway shows. Students in the year-long program also attend weekly Wednesday evening workshops and seminars where they learn soft skills for networking and workplace success, receive transfer and career counseling, and more.
"We are grateful to J.Crew for helping our President's Society Ambassadors dress for success," Ms. Dubinsky said. "Through the styling session and new J.Crew professional attire purchased for them, they're ready to represent themselves in any setting."
President's Society Ambassadors Nataly Pichardo and Brandon Ospina say they now feel ready to take the next steps in their personal and professional journeys.
"I appreciated learning how to style different pieces for professional settings, and that it's okay to have fun with clothes by adding colorful accessories like wearing a scarf as a belt, to stand out," said Nataly Pichardo, 22, of Queens. "How you present yourself is important and being given this opportunity is very meaningful. I am especially grateful as a Business Administration major—it is so important to dress appropriately for the field I want to pursue. I don't have that many pieces, so I am excited to add two new timeless pieces to my wardrobe."
Nataly expects to graduate from LaGuardia in Spring 2024, and then hopes to transfer to Baruch, NYU, or Columbia. She plans to explore business consulting, public relations, and finance, as potential career paths.
"I previously worked as a hostess and got promoted to working in the office doing human resources and had an internship through the Goldman Sachs 10,000 Small Businesses Fellows Program at LaGuardia," Nataly said. "The skills that I have—I'm detail-oriented, patient, and a people person—align well with the business positions I've explored so far."
Nataly bought a black suit, a periwinkle blouse, and two pairs of shoes. She plans to wear the clothes to President's Society events with industry leaders, meetings with recruiters, and at job interviews.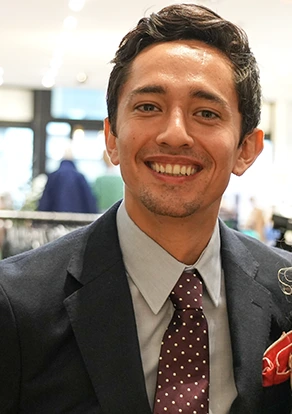 Psychology major Brandon Ospina, 30, plans to wear the classic navy suit, white dress shirt, and dress shoes that he selected at interviews for the bachelor's and graduate programs he aspires to attend.
"I want to get into clinical psychology and then go to medical school so that I can pursue psychiatry," Brandon said. "Then I want to earn a PhD so that I can do neuroscience research as a physician-scientist."
"It means a lot to be styled by J.Crew. I have been through a lot of changes in my life. I recently got divorced. It has been a bit of a challenge putting myself out there. I was in a shell, trying to protect myself after all the things that happened. Passion is such a great tool to be able to bloom again," said Brandon. "I had been working in the hospitality industry since age 18, as a server and bartender, traveling the world. I wanted a change so I decided to move to Queens. I live right across from LaGuardia, in one of the tall buildings in Long Island City. One day, I looked out the window, saw the college and thought, I should go back to school—it is time to start building something for myself that will last for a lifetime."
"LaGuardia has opened up a whole new world for me," said Nataly, a first-generation college student whose parents are from the Dominican Republic. "There are so many opportunities for business majors, like President's Society, internships, and scholarships. LaGuardia has made me excited about new opportunities that come my way."
Click here to see more photos from the J.Crew styling/fitting session.
• • • •
LaGuardia Community College (LAGCC), a Hispanic-Serving Institution, located in Long Island City, Queens offers more than 50 degrees and certificates, and more than 65 continuing education programs to educate New Yorkers seeking new skills and careers. As an institution of the City University of New York (CUNY), the College reflects the legacy of our namesake, Fiorello H. LaGuardia, the former NYC mayor beloved for his advocacy of underserved populations. Since 1971, LaGuardia's academic programs and support services have advanced the socioeconomic mobility of students while providing them with access to a high quality, affordable college education.
####