Mount Sinai Joins Weill Cornell Medicine as a Full Employer-partner in Medical Billing Training Program at LaGuardia Community College
86% of 5th cohort grads are now employed—13 at Weill Cornell Medicine, four at Mount Sinai, and three in private practices

March 15, 2019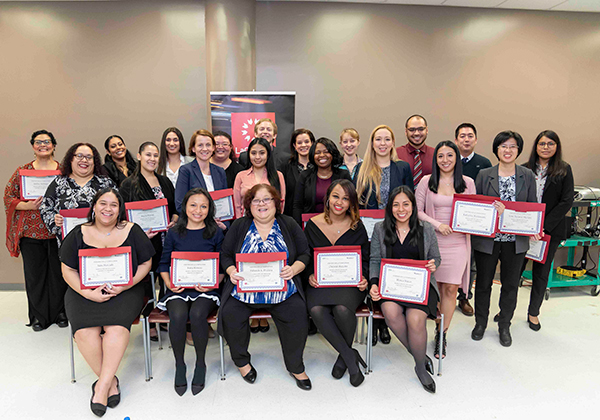 Medical Billing Training Program Cohort
At a recent graduation ceremony, the fifth cohort of 24 New Yorkers celebrated the completion of an intense five-month training, launched by LaGuardia Community College ("LaGuardia") and Weill Cornell Medicine, to prepare them for rewarding, in-demand medical billing positions. Mount Sinai, which has previously hired program graduates, was announced as a full employer-partner. The Medical Billing Training Program is offered through LaGuardia's Learning and Innovation Center.
As full employer-partners, Weill Cornell Medicine and Mount Sinai representatives collaborated with LaGuardia faculty and program staff to screen applicants, provide curriculum input, create job-shadowing opportunities for students, and interview program graduates for open medical billing positions.
"Mount Sinai has really benefited by expanding our relationship with LaGuardia Community College via their Medical Billing Training Program," Richard Nagengast, VP of Revenue Cycle for Mount Sinai. "The overall caliber of students is impressive. They come well prepared, demonstrating the value of the solid curriculum tailored to our real work. The graduates we've hired are among our best employees with several promotions among them. I am pleased to have this opportunity to support Adult Education in an endeavor that facilitates hiring well qualified candidates from our local community. This has truly been a win-win experience."
Since 2016, funding from the New York Alliance for Careers in Healthcare (within the New York City Department of Small Business Services) has enabled the program to be offered tuition-free for participants.
"The Medical Billing Training Program reflects the innovative workforce development work that we do every day with New York City's leading employers," said LaGuardia Community College President Gail O. Mellow. "These programs provide benefits for all parties involved—employers get an expanded pool of well-qualified candidates with diverse backgrounds, and participants get a pathway to a better life through jobs that allow them to provide for themselves and their family members."
"With accelerated training for New Yorkers who have a high school diploma or equivalency, the Medical Billing Training Program is a flagship of our Learning and Innovation Center, which provides pathways to middle skills jobs that traditionally have gone to those with a bachelor's," said Mark Healy, who oversees the Learning and Innovation Center as vice president of Continuing Education at LaGuardia.
Nearly 80% of program graduates from previous classes are currently working in New York as medical billers, customer service reps, and other non-clinical entry-level positions with starting salaries of $35,000-$45,000. In addition to Weill Cornell Medicine and Mount Sinai, Columbia University Irving Medical Center, NewYork-Presbyterian, Elmhurst Hospital, Memorial Sloan Kettering Cancer Center, Northwell Health, and additional NY metro health care facilities have hired program graduates.
Based on word of mouth and media coverage of the Medical Billing Training Program, nearly 1,500 people applied for spots in the fifth cohort. The 24 graduates range in age from 21-54 years-old, with the average being 32-years-old; nearly 90% are female. Most were born outside the United States.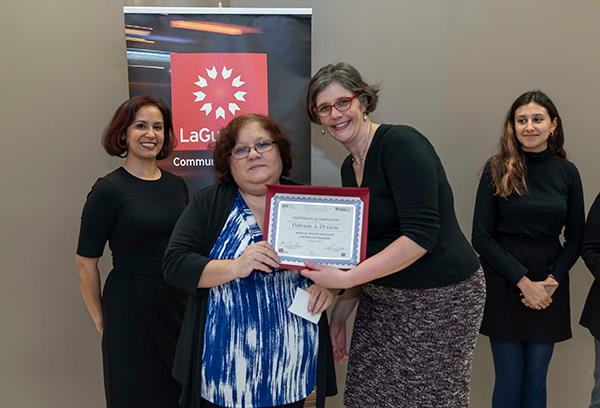 To the left, graduate Deborah DiGioia standing with program Director Kimberly Kendall
Fifth cohort graduate Deborah DiGioia, age 54, recently started a new medical billing job at a holistic family medical practice in Manhattan. Deborah had spent years working in retail, until she was laid off in 2017 when the Sears store she worked at closed. Working on the store's liquidation was an enormous job—resulting in Deborah needing carpal tunnel surgery. An occupational therapist who oversaw Deborah's post-surgery rehabilitation recommended LaGuardia's medical billing program. Ready to leave behind the long hours and physical demands of retail, Deborah jumped on the suggestion.
"As an over-50 woman looking to switch to a new career, I was thrilled to find LaGuardia's medical billing program," said Ms. DiGioia. "I didn't realize the wealth of information we'd get in the program. We learned about healthcare systems in other countries, and about the intricacies of the US healthcare system. I'm excited to be working in this field, and now my 29-year-old daughter is hoping to join me."
"The increasing involvement of New York's major healthcare providers validates a program we helped develop from the start," said Barry Puritz, co-chair of the Harvard Business School Club of New York's Skills Gap Initiative. "Graduates are being promoted as hiring managers recognize their value as detail oriented team players who understand the healthcare insurance system and are genuinely compassionate towards the patients whose treatment they help facilitate."
According to New York Health Careers, the medical billing occupation is expected to see continued growth as state and federal reforms have made health care available to many more people. Additionally, the US Bureau of Labor Statistics projects that between 2014 and 2024, the number of jobs for Billing and Posting Clerks will increase by 13% nationwide. The New York State Department of Labor projects that the number of jobs will increase by 20% in New York during the same period.
To read more about the Medical Billing Training Program at LaGuardia Community College, click on links below:
1. First cohort
2. Second cohort
3. Third cohort
4. Fourth cohort
Click here for a Crain's New York Business article on the 5th graduation from the Medical Billing Training Program.
View online (subscription required): City Revives Funding for Program to Train Medical Billers
• • • •
LaGuardia's Learning and Innovation Center provides accelerated training opportunities in strategically-selected areas that reflect job market outlooks, local workforce needs, and industry feedback. Courses are designed for fast turnaround—shrinking the time it takes to complete training and apply for jobs. Courses range between two weeks to five months, and include evening and weekend classes to accommodate family and work responsibilities. Many programs allow participants to accrue college credits, which can be applied towards an associate's degree at LaGuardia Community College. The Center is part of LaGuardia's Continuing Education Division, which serves approx. 30,000/yr. New Yorkers who are seeking to advance their careers, education and businesses.
LaGuardia Community College (LAGCC), located in Long Island City, Queens, educates thousands of New Yorkers annually through degree, certificate, and continuing education programs . LaGuardia is a national voice on behalf of community colleges, where half of all U.S. college students study. Part of the City University of New York (CUNY), the College reflects the legacy of our namesake, Fiorello H. LaGuardia, the former NYC mayor beloved for his championing the underserved. Since our doors opened in 1971, our programs regularly become national models for pushing boundaries to give people of all backgrounds access to a high quality, affordable college education.
###