Queens Borough President Donovan Richards Announces $5.5 Million in Funding for CUNY Colleges in Queens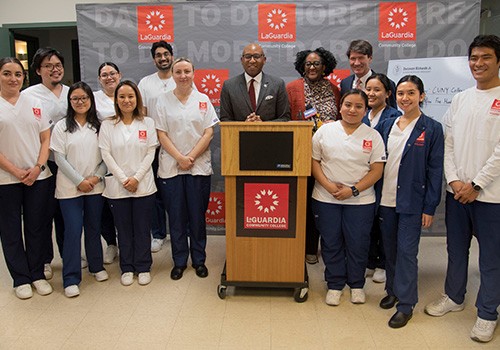 LONG ISLAND CITY, NY (March 14, 2023) — Queens Borough President Donovan Richards held a press conference, March 14, 2023, at LaGuardia Community College/CUNY to announce $5.5 million in funding across Queens' CUNY colleges.

"If we can't offer our young people an unrivaled education right here in Queens, then we cannot continue to succeed as a borough. Investing in our colleges is a direct investment in not only the leaders of tomorrow, but the well-being of their families, our economy and our communities," said Borough President Richards. "It's an honor to support some of our city's greatest universities to the tune of $5.5 million this fiscal year, and I look forward to the work ahead of us to ensure Queens remains a hub of higher education."

The projects funded by this year's allocation include building renovations, accessibility upgrades and more. Combined with his Fiscal Year 2022 budget victories, Borough President Richards has allocated $10 million to Queens' CUNY schools since taking office.

"Queens Borough President Donovan understands that CUNY campuses are anchor institutions in their communities and his capital funding to these four campuses in Queens will strengthen both the colleges and the borough that houses them. We've very grateful for his ongoing support of our system," said CUNY Chancellor Félix V. Matos Rodríguez.

At the press conference, Borough President Richards was joined by Kenneth Adams, President of LaGuardia Community College and three other CUNY colleges receiving funding in Fiscal Year 2023 — Queens College, Queensborough Community College, and York College.

LaGuardia received $2 million from Borough President Richards to support the modernization and expansion of training facilities for LaGuardia students preparing to join New York's frontline healthcare workforce. The facilities are used to provide hands-on education and skills building for the college's Nursing, Licensed Practical Nursing (LPN), Paramedic, EMT, and other healthcare majors that require specialized equipment.

"The $2 million from Queens Borough President Donovan Richards is a tremendous contribution towards '3,000 Heroes,' our initiative to rebuild New York City's healthcare workforce following the pandemic, by training and graduating 3,000 frontline healthcare workers by 2027," said Kenneth Adams, president of LaGuardia Community College. "This funding will go towards the upgrading our campus facilities where healthcare students hone their clinical skills in simulated settings, preparing them to care for New Yorkers facing acute illness or injuries that require urgent medical attention. Through '3,000 Heroes,' more New Yorkers will have access to job training for dynamic healthcare fields with family-sustaining salaries and growth potential."

About the "3,000 Heroes" Campaign
LaGuardia has long been a leader in the training of New York City healthcare professionals. The college's Nursing program, for example, is the top-ranked nursing program in New York State. According to RegisteredNursing.org, LaGuardia's Nursing graduates "leave the program with the ability to communicate, provide quality nursing care, educate patients, and practice legally and ethically."

In response to the critical shortage of frontline healthcare workers across the city, LaGuardia launched "3,000 Heroes" to increase the number of students in training programs for the health professions by aiming to graduate 3,000 frontline healthcare workers by 2027. The project was made possible from funding from Queens Borough President Donovan Richards, NYC Council Member Julie Won and Speaker Adrienne Adams.

"Since we launched '3,000 Heroes' in November 2022, we have made solid headway towards our goal of graduating 3,000 students by 2027 with the degrees and certificates that enable them to join the ranks of New York's frontline healthcare workforce. Already, enrollment in the 10 academic and workforce training programs in healthcare are on track to graduate 600 students per year (a 20% increase).

LaGuardia healthcare programs include associate degree majors and academic certificate programs, as well as accelerated workforce training programs offered through the college's Continuing Education division. In addition to Nursing, LPN, paramedic and EMT, the programs include Certified Clinical Medical Assistant, Mental Health Peer Specialist, Community Health Worker, Central Service Technician, Pharmacy Technician, and Medical Interpreter.

Individuals interested in training for rewarding careers in healthcare should visit the LaGuardia website. For more information, visit the Admissions Office or contact Shannon Lund, LaGuardia's admissions director at slund@lagcc.cuny.edu. Financial aid and scholarships are available to students who qualify.

Currently, the college is actively recruiting qualified applicants for the Mental Health Peer Specialist Training Program, which provides a bridge to full employment for those who are in active recovery from mental health challenges. The next cohort will begin in May 2023. The eight-month program provides education in the fundamentals of peer support, preparation for New York State peer specialist certification, internship placement with employer partners, and job placement assistance. It is provided tuition-free for trainees, who receive a stipend upon program completion, thanks to a $1.6 million grant provided by the U.S. Department of Health and Human Services. For eligibility and to apply, click here.

Healthcare providers that would like to partner with LaGuardia are encouraged to contact Philip Gimber, RN, chairperson of the Health Sciences Department, or Sunil Gupta, vice president of the Division of Adult and Continuing Education and Workforce Development. Other inquiries should be directed to Manny Romero, vice president of communications and marketing.
• • • •
LaGuardia Community College (LAGCC), located in Long Island City, Queens, educates thousands of New Yorkers annually through degree, certificate, and continuingeducation programs. LaGuardia is a national voice on behalf of community colleges, where half of all U.S. college students study. Part of the City University of New York (CUNY), the College reflects the legacy of our namesake, Fiorello H. LaGuardia, the former NYC mayor beloved for his championing the underserved. Since our doors opened in 1971, our programs regularly become national models for pushing boundaries to give people of all backgrounds access to a high quality, affordable college education.
####