LaGuardia Community College Student Named a Goldwater Scholar,
A Top Award for STEM Majors
Ecuador-native Veronica Martínez Castro is one of 410 winners for the 2021-22 academic year,
from 5,000+ nominees from two & four-year colleges nationwide
—Goldwater Scholarship Program helps outstanding students to pursue research careers in the fields of the
natural sciences, engineering, and mathematics—

Long Island City, NY (May 18, 2021)—LaGuardia Community College today announced that  environmental science major Veronica Martínez Castro is the first LaGuardia student to win a Goldwater Scholarship, one of the oldest and most esteemed national scholarships for STEM majors in the United States.
Goldwater Scholars are selected based on their academic merit, commitment to a STEM research career, display of "intellectual intensity," and potential for making a significant contribution in their future field of study—all characteristics Ms. Martínez Castro has in spades. Born and raised in Ecuador, she moved to NYC in 2018 to pursue training for a research career.
Over 5,000 students from two- and four-year colleges from across the United States were nominated for the scholarship, from which only 410 recipients were selected for the 2021–22 academic year. Ms. Martínez Castro is one of only three CUNY students selected as 2021-22 Goldwater Scholars; two are Brooklyn College students. Most winners are from four-year colleges, including Ivy League and other highly-selective institutions.
"Veronica's selection as a Goldwater Scholar is a reminder of the strength of LaGuardia's STEM programs. Our faculty's advanced research projects allowed Veronica to demonstrate her scientific aptitude while enabling her to work on improving environmental health conditions in Queens," said LaGuardia Community College President Kenneth Adams. "On behalf of LaGuardia, we commend Veronica for her resilience throughout the Covid-19 pandemic. She persevered with her research while juggling a challenging course load. We are incredibly proud that she has been named our first Goldwater Scholar."
Ms. Martínez Castro has collaborated with LaGuardia faculty on several environmental science research projects through the CUNY Research Scholars Program (CRSP) and the NIH Bridges Program. Her research on the water quality of Newtown Creek, a tributary of the East River designated as a Superfund site by the U.S. Environmental Protection Agency, was featured at LaGuardia's Undergraduate Research Conference and the 2020 CRSP Symposium, where she was the winning featured speaker.
At LaGuardia, Martínez Castro held a leadership role in LaGuardia's Honors Program, and was a member of the Honors Student Advisory Committee and Phi Theta Kappa International Honors Society. She will graduate from LaGuardia next month with her associate degree (GPA 3.948).
As a Goldwater Scholar, Ms. Martínez Castro will receive up to $7,500/year for up to two years towards the completion of her bachelor's degree. The scholarship may be used to cover costs related to tuition, room and board, fees, and books.
Each of the 2021-22 Goldwater Scholars intends to obtain a doctorate in their area of research. Ms. Martínez Castro plans to earn a doctorate in conservation biology, and then work around the world as a conservation biologist and environmental activist.
LaGuardia Community College is a leader in graduating tomorrow's STEM workforce. As reported by the Center for an Urban Future, LaGuardia graduates more students with STEM degrees than nearly all other CUNY colleges and graduate schools. Twenty percent of LaGuardia's graduates are in a STEM field.
Goldwater Scholarships have been conferred since 1989 by the Barry Goldwater Scholarship and Excellence in Education Foundation. This scholarship program is designed to foster and encourage outstanding students to pursue research careers in the fields of the natural sciences, engineering, and mathematics. Winners have become leading scientists, engineers, and mathematicians in their respective fields. Goldwater Scholars have been awarded 94 Rhodes Scholarships, 150 Marshall Scholarships, 170 Churchill Scholarships, 109 Hertz Fellowships, and numerous other distinguished awards, such as the National Science Foundation Graduate Research Fellowships.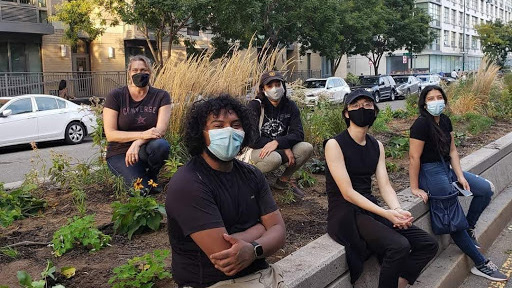 Goldwater Scholar Veronica Martínez Castro is pictured with LaGuardia's Environmental Sciences Program Director
Holly Porter-Morgan, PhD, and classmates at an event with the Newtown Creek Alliance.
They were part of a group of volunteers building a wildflower meadow in Long Island City.
Pictured from left to right: Professor Holly Porter-Morgan, and LaGuardia students Harry A., Shaopeng M.,
Natara G., and Veronica Martínez Castro.
• • • •
LaGuardia Community College (LAGCC), located in Long Island City, Queens, educates thousands of New Yorkers annually through degree, certificate, and continuing education programs . LaGuardia is a national voice on behalf of community colleges, where half of all U.S. college students study. Part of the City University of New York (CUNY), the College reflects the legacy of our namesake, Fiorello H. LaGuardia, the former NYC mayor beloved for his championing the underserved. Since our doors opened in 1971, our programs regularly become national models for pushing boundaries to give people of all backgrounds access to a high quality, affordable college education.
####