LaGuardia Community College is Leading NYC College in
Graduating Tomorrow's STEM Workforce
According to a New Report from the Center for an Urban Future LaGuardia Leads CUNY Community Colleges in STEM Graduates
January 25, 2021
LaGuardia Community College graduates more students with STEM degrees than nearly all other CUNY colleges and graduate schools, according to a Center for an Urban Future report. Twenty percent of LaGuardia's graduates are in a STEM field.
"With STEM jobs growing in NYC and throughout the U.S., the fact that we are graduating so many of tomorrow's STEM workforce not only meets what employers need by expanding the pool of well-trained STEM graduates, but our students are able to secure financially rewarding jobs that enable them to provide for themselves and their families," said LaGuardia Community College President Kenneth Adams.
"LaGuardia's track record in STEM is directly attributed to the talented faculty that built programs to prepare students for jobs or transfer to a four-year college. Our success also results from strategic partnerships with industry leaders who provide critical curriculum input and internship opportunities for students," said President Adams.
According to the Center for an Urban Future report:
• LaGuardia Community College is the top producer of STEM graduates among CUNY community colleges.
• Among almost all CUNY colleges and graduate schools, LaGuardia graduates the third most STEM degrees, right behind New York City College of Technology and City College.
• Among schools with more than 100 annual STEM graduates, LaGuardia Community College has seen the fastest growth in STEM graduates, increasing 76 percent since 2015-16.
• LaGuardia Community College has added granted 310 more STEM degrees in 2018-19 than in 2015-16, an increase of 76.4 percent.
"Our faculty are totally devoted to our students' success, which helps them with the sometimes bumpy adjustment to college, and provide valuable mentorship," said Abderrazak Belkharraz, Ph.D., chair of the Math, Engineering and Computer Science Department at LaGuardia Community College. "With so many of our students coming from low-income families, our extensive support services help students overcome personal and financial obstacles so they can focus on school and get to graduation."
LaGuardia's comprehensive student support services include advising, personal librarians, financial assistance to help students with living expenses, such as MetroCards, rent, childcare and food, as well as scholarships to help students facing an unexpected, short-term hardship, and much more.
"Most importantly, LaGuardia STEM graduates often do very well in bachelor's programs and graduate programs—reflecting the superior STEM education that they receive at LaGuardia," said President Adams. "As a result, LaGuardia graduates are working throughout the New York region and beyond as engineers, biotech researchers, physicians, and software engineers. While some LaGuardia STEM graduates are in competitive graduate programs."
Nearly a quarter of all degree-seeking students at LaGuardia are pursuing STEM majors, which include Biology, Computer Science, Computer Technology, Engineering, Environmental Science, Network Administration & Security, Programming and Software Development, and Physical Sciences.
LaGuardia STEM graduates include:
Gerardo Reyes is a second-year doctoral student in the Molecular Biology, Cell Biology and Biochemistry program at Brown University. Gerardo was born and raised in Lima, Peru, where he and his two brothers were raised by their single mother. In 2010, he moved by himself to the U.S., determined to make his mother proud by becoming the first in their family to graduate college. While pursuing his associate degree at LaGuardia he became homeless before finding room at a shelter in Manhattan. Eventually, he found work at a restaurant and moved to a transitional residence. He is a 2015 graduate of LaGuardia Community College and finished his bachelor's degree at the College of Mount Saint Vincent in 2018.
"My career goal is to become a professor at a research institution, where I can mentor and guide underrepresented students who may be going through similar situations as I did when I was an undergraduate student. Sometimes we need that one person that believes in us to push us forward," said Gerardo. "I was lucky to find my mentor, Dr. Thomas Onorato, at LaGuardia."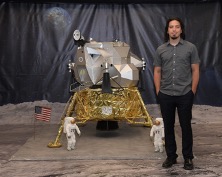 Christian Brady-Alvarez is an associate electrical engineer at Northrop Grumman, an aerospace and defense company based in Falls Church, Virginia. Christian was raised by his single mother in NYCHA public housing. The first person in his family to graduate college, Christian holds an associate degree in electrical engineering from LaGuardia, a bachelor's from SUNY Maritime College, and is currently pursuing a master's degree in electrical and computer engineering from Purdue University.
"The return-on-investment is incalculable based on how much my quality of life has improved since I walked into my first class at LaGuardia," said Christian. "The college became my second home for the two years I attended. STEM faculty Dr. Frank Wang and Dr. Allyson Sheffield taught me to appreciate the sciences beyond the classroom environment. They also gave me the tools I needed to excel in a four-year school upon graduation and begin a successful engineering career."

Katherine W. Lam is a third-year medical student Stony Brook University's Renaissance School of Medicine. As a frontline worker during the COVID-19 pandemic, Katherine has been vaccinating healthcare workers during her clinical rotations. Her medical research has been published in several top peer-reviewed medical journals. During the peak of the COVID pandemic, she led an interdepartmental research investigation on the effects of antihypertensive medications on clinical outcomes in COVID-19 patients, which was published in the Journal of Infectious Diseases. Katherine holds an associate degree in biology from LaGuardia and a bachelor's in the field from Johns Hopkins University. She plans to become a general surgeon.
"I am grateful for the STEM education at LaGuardia, the LaGuardia-Barnard intercollegiate science program, the Honors Program and the faculty, and the early research/presentation/publication exposure I had with Dr. Preethi Radhakrishnan," said Katherine. "These experiences allowed me to grow well-rounded and to solidify and demonstrate my interest in clinical research and medicine, which, ultimately in many ways, helped open doors for me after graduating from LaGuardia, including transferring to Johns Hopkins, landing a neuroendocrine/neuroimaging research assistant position at Yale during gap years, and being accepted to medical school training to be a physician."
Anastasios Tzanidakis is a post-baccalaureate astronomical data analyst at Caltech and is applying to graduate schools. Anastasios holds an associate degree in Liberal Arts: Math and Science from LaGuardia, and a bachelor's of astronomy from Columbia University.
"LaGuardia opened many new doors for my career and success in STEM. I was able to do original research, be part of peer-reviewed publications, and experience the importance and power of the scientific method. My experiences at LaGuardia have been the foundation of my academic confidence and has fueled my passion to pursue a career in academia and become a professor of astronomy," said Anastasios.
There is still time to enroll at LaGuardia Community College for the Spring Semester, which starts on March 6, 2021. Apply now at https://www.laguardia.edu/apply/.
• • • •
LaGuardia Community College (LAGCC), located in Long Island City, Queens, educates thousands of New Yorkers annually through degree, certificate, and continuing education programs . LaGuardia is a national voice on behalf of community colleges, where half of all U.S. college students study. Part of the City University of New York (CUNY), the College reflects the legacy of our namesake, Fiorello H. LaGuardia, the former NYC mayor beloved for his championing the underserved. Since our doors opened in 1971, our programs regularly become national models for pushing boundaries to give people of all backgrounds access to a high quality, affordable college education.
####