Local Pandemic Hero Sofia Moncayo to Keynote Virtual Celebration for LaGuardia Community College's Class of 2021 on June 17 @1pm
—Celebrating the 3,300+ Members of LaGuardia's 49th Graduating Class—
June 10, 2021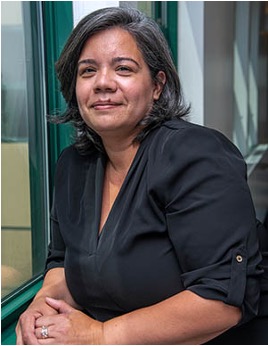 Local pandemic hero Sofia Moncayo (pictured at right) will give the keynote address at the virtual commencement celebration for the LaGuardia Community College Class of 2021 on Thursday, June 17 at 1 pm E.T.
The event will be viewable via LaGuardia.edu/Commencement – no RSVP required.
Throughout the coronavirus pandemic, Moncayo has been spearheading initiatives in her community to help families and local businesses devastated by the Covid-19 pandemic. She leads a food distribution program through the Mosaic Community Center in Sunnyside, Queens that gives out more than 2,000 boxes of food each week to families from Sunnyside, Woodside and nearby communities. She also helped start 25 for Sunnyside & Woodside, a Facebook group that encourages neighborhood residents to patronize local restaurants and businesses. The group is credited with helping local restaurants recover from the financial crisis and rehire employees.
Moncayo did all of this while experiencing her own struggles during the pandemic: she was furloughed from her accounting job, and she and her husband had to shut down their martial arts studio, Glory Gym MMA. Thankfully, she is now back to work and the studio reopened.
Her speech will be broadcast to the 3,300+ members of LaGuardia's Class of 2021—many of whom have dealt with loss of income and other challenges while earning their degree—the graduates' loved ones, college leadership, faculty, staff, and friends of the college.
Click here for Fast Facts on LaGuardia's student population.
Additional speakers include:
WHAT: Virtual Celebration for LaGuardia Community College's 49th Graduating Class
WHEN: Thursday, June 17, 2021, at 1 p.m. E.T
The virtual celebration will be viewable on LaGuardia.edu/Commencement. No RSVP required.
• • • •
LaGuardia Community College (LAGCC), located in Long Island City, Queens, educates thousands of New Yorkers annually through degree, certificate, and continuing education programs . LaGuardia is a national voice on behalf of community colleges, where half of all U.S. college students study. Part of the City University of New York (CUNY), the College reflects the legacy of our namesake, Fiorello H. LaGuardia, the former NYC mayor beloved for his championing the underserved. Since our doors opened in 1971, our programs regularly become national models for pushing boundaries to give people of all backgrounds access to a high quality, affordable college education.
####