LaGuardia Community College Mechanical Engineering Major Zilla Tofte
Awarded Prestigious Community College Transfer Scholarship
As a 2021 Jack Kent Cooke Scholar, Zilla will receive up to $40,000 per year to complete her bachelor's degree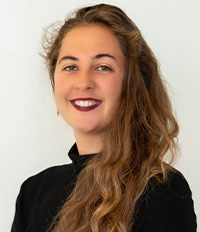 LONG ISLAND CITY, NY (May 10, 2021)—Zilla Tofte, a mechanical engineering major at LaGuardia Community College, has been selected as a 2021 Jack Kent Cooke Scholar, one of 72 such scholars named this year. The highly competitive national Undergraduate Transfer Scholarship will provide Zilla with up to $40,000 a year for up to three years to complete her bachelor's degree. She will also be eligible to apply for graduate school funding from the Jack Kent Cooke Foundation after completing her bachelor's degree.
Over 1,300 students from 398 community colleges nationwide applied for the 2021 Cooke Undergraduate Transfer Scholarship. Eight LaGuardia students were semifinalists. With Zilla's selection, 12 Jack Kent Cooke Scholars have come from LaGuardia; three of whom also received Cooke Graduate Scholarships. The Foundation evaluates each submission based on students' academic ability and achievement, financial need, persistence, leadership, and service to others.
"This is an incredibly competitive scholarship for community college students, and we are thrilled that Zilla has been selected as a 2021 Cooke Scholar," said LaGuardia Community College President Kenneth Adams. "LaGuardia faculty and staff work hard to give our students as many opportunities as possible to help them achieve their personal and professional goals, and helping students win generous scholarships like this one from the Jack Kent Cooke Foundation is a great example."
Zilla, age 26, grew up in Cape Town, South Africa. She holds a 3.986 GPA, is a member of both LaGuardia's Honors Program and Phi Theta Kappa International Honors Society. In addition, she worked with faculty on a sustainable energy research project as part of the CUNY Research Scholars Program, was a Gardner-Shenker Student Scholar at the LaGuardia and Wagner Archives—helping to document college-student life during the Covid-19 lockdown, and represented LaGuardia to friends of the college as a President's Society Ambassador. After graduating with her Associate in Science in Mechanical Engineering next month, she plans to transfer to a four-year college to earn her bachelor's.
"We know how much exponentially harder this past year has been on students. It's an honor to award this group of individuals as they have achieved so much both in the classroom and in their daily lives," said Seppy Basili, executive director of the Jack Kent Cooke Foundation.  
Today, nearly half of the students pursuing college choose to attend two-year institutions. Research commissioned by the Foundation found that community college students who transfer to selective institutions have equal to or higher graduation rates as students who enrolled directly from high school or transferred from four-year institutions. Yet, at the nation's top colleges, only five percent have transferred from a community college. The Undergraduate Transfer Scholarship seeks to increase the number of community college students completing their education at top four-year institutions.  
In addition to financial support, Cooke Undergraduate Transfer Scholars receive comprehensive educational advising to guide them through the process of transitioning to a four-year college and preparing for their careers. As well, scholars receive internship and study abroad opportunities, and get connected to a thriving network of Cooke Scholars and Alumni.
• • • •
The Jack Kent Cooke Foundation is dedicated to advancing the education of exceptionally promising students who have financial need. Since 2000, the Foundation has awarded over $222 million in scholarships to over 2,800 students from 8th grade through graduate school, along with comprehensive educational advising and other support services. The Foundation has also provided $115 million in grants to organizations that serve such students.
LaGuardia Community College (LAGCC), located in Long Island City, Queens, educates thousands of New Yorkers annually through degree, certificate, and continuing education programs . LaGuardia is a national voice on behalf of community colleges, where half of all U.S. college students study. Part of the City University of New York (CUNY), the College reflects the legacy of our namesake, Fiorello H. LaGuardia, the former NYC mayor beloved for his championing the underserved. Since our doors opened in 1971, our programs regularly become national models for pushing boundaries to give people of all backgrounds access to a high quality, affordable college education.
####