LaGuardia Community College is Named a Fulbright HSI Leader by the U.S. Department of State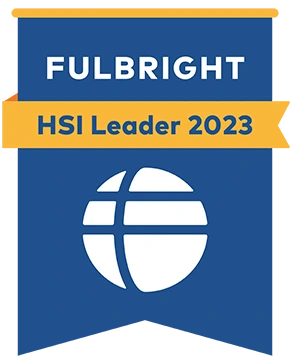 LONG ISLAND CITY, NY (October 30, 2023) — LaGuardia Community College/CUNY is proud to be named as a Fulbright HSI (Hispanic-Serving Institution) Leader for 2023. Each year, the U.S. Department of State's Bureau of Educational and Cultural Affairs (ECA) recognizes the strong engagement of select HSIs with the Fulbright Program, the U.S. government's flagship international academic exchange program.
"We are honored to be recognized by the U.S. Department of State's Bureau of Educational and Cultural Affairs for the fourth straight year. Particularly, as one of the largest educators of New York's Hispanic population, being named a 2023 Fulbright Hispanic-Serving Institution Leader is especially meaningful," said Kenneth Adams, President of LaGuardia Community College.
In 2022 and 2021, LaGuardia was named a Fulbright Hispanic-Serving Institution (HSI) Leader. In 2020, LaGuardia was honored as the associate degree granting institution with the highest number of faculty selected as Fulbright U.S. Scholars nationwide.
Fulbright HSI Leaders demonstrate noteworthy support for Fulbright exchange participants and promote Fulbright program opportunities on campus. The initiative encourages administrators, faculty and students at HSIs to engage with Fulbright and highlights the strength of HSIs as destinations for international students and scholars.
The recognized colleges and universities include two associate-degree granting colleges, five bachelor's degree granting colleges and special focus institutions, 14 master's degree granting colleges and universities, and 25 doctoral degree granting Universities.
Assistant Secretary of State for Educational and Cultural Affairs Lee Satterfield commended the institutions receiving the Fulbright HSI Leader designation this year. "Representation matters and pairing the world-class educational opportunities that Hispanic-Serving Institutions provide with the power of Fulbright further enriches the experience and educational opportunities for students and scholars both at home and abroad."
The Fulbright Program is the U.S. Government's flagship international academic exchange program with a longstanding commitment to diversity, working to ensure that participants reflect the United States and societies abroad. The Fulbright Program works closely with the Hispanic Association of Colleges and Universities (HACU) to promote international exchange opportunities to staff, students, and faculty at HSIs. This year's Fulbright HSI Leaders were announced at the HACU Annual Conference. Fulbright also works with Historically Black Colleges and Universities, the National Clearinghouse on Disability and Exchange, the American Association of Community Colleges, Diversity Abroad, and many more organizations.
The Fulbright Program is the U.S. government's flagship international educational exchange program. Since 1946, the Fulbright Program has provided more than 400,000 students, scholars, artists, and teachers from all types of institutions the opportunity to study, teach, and conduct research abroad. Fulbrighters build connections, gain experience, exchange ideas, and address global challenges.
Fulbright is a program of the U.S. Department of State, with funding provided by the U.S. Government. Participating governments and host institutions, corporations, and foundations around the world also provide direct and indirect support to the program.
Learn more about Fulbright at https://fulbrightprogram.org, including information about Fulbright's efforts to further DEIA within the program and about the Fulbright HSI Leaders initiative.
• • • •
LaGuardia Community College (LAGCC), a Hispanic-Serving Institution, located in Long Island City, Queens offers more than 50 degrees and certificates, and more than 65 continuing education programs to educate New Yorkers seeking new skills and careers. As an institution of the City University of New York (CUNY), the College reflects the legacy of our namesake, Fiorello H. LaGuardia, the former NYC mayor beloved for his advocacy of underserved populations. Since 1971, LaGuardia's academic programs and support services have advanced the socioeconomic mobility of students while providing them with access to a high quality, affordable college education.
####