LaGuardia Community College Named a 2021 Fulbright Hispanic-Serving
Institution Leader
35 colleges and universities nationwide awarded this distinction by the U.S. Department of State Bureau of Educational and Cultural Affairs
Long Island City, NY (October 28, 2021)—LaGuardia Community College ("LaGuardia") has been named a 2021 Fulbright Hispanic-Serving Institution (HSI) Leader. This is the inaugural year that this designation has been awarded. The Fulbright Program, which recently marked its 75th anniversary, is the U.S. government's flagship international educational exchange program.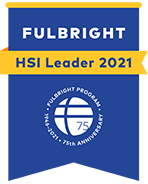 LaGuardia is one of 35 HSIs nationwide to be awarded this distinction. Institutions were selected for promoting Fulbright Program opportunities to its college communities, and for noteworthy engagement with Fulbright exchange participants during the 2019–2021 academic years.
LaGuardia was previously named a top producer of Fulbright Scholars.
"Our gratitude to the U.S. Department of State's Bureau of Educational and Cultural Affairs for recognizing LaGuardia with this distinction. As one of the largest educators of New York State's Hispanic population, LaGuardia is committed to opening access to the highest quality higher education to Hispanic communities here in NYC," said President Kenneth Adams. "Support from the Fulbright Program has enabled LaGuardia faculty to conduct scholarly research around the world. When they return, they bring valuable knowledge and new pedagogical approaches into their classrooms, benefitting our students."
"LaGuardia's robust relationship with Fulbright goes back many years," said Karen Miller, Ph.D., professor of history at LaGuardia and a U.S. Fulbright Scholar. "In 2017–18 we received a Fulbright Scholar-in-Residence grant to host a Philippine scholar who came to LaGuardia to teach sociology courses. And this year I had the honor of participating on a committee reading Fulbright applications."
U.S. Fulbright Scholar Robin Kietlinski, Ph.D., professor of history at LaGuardia, researches the intersection between sports and society in modern Japan. "With Fulbright support, I will be going to Tokyo to examine lessons learned from the first-ever postponed, spectator-free Olympic Games," she said.
The U.S. Department of Education designates colleges and universities as HSIs for having 25 percent or greater students self-reporting as Hispanic among full-time equivalent (FTE) student enrollment. At LaGuardia, this rate is nearly double—48 percent self-report as Hispanic.
A 2021 Excelencia in Education report showed that LaGuardia enrolls the second most Hispanic students in New York State, grants the second most associate degrees to Hispanic students, and is among the top five institutions statewide where Hispanic students earn degrees or certificates.
The Fulbright HSI Leaders Initiative reflects the U.S. State Department's commitment to building diversity and inclusion within the Fulbright Program and within the Bureau of Educational and Cultural Affairs' international exchange programs. In addition, the initiative supports Secretary of State Antony Blinken and Secretary of Education Miguel Cardona's Joint Statement of Principles in Support of International Education, which outlined the benefits of international education and the need for "all Americans… to be equipped with global and cultural competencies."
The first-ever Fulbright HSI Leaders were announced by the U.S. Department of State's Bureau of Educational and Cultural Affairs during the Hispanic Association of Colleges and Universities annual conference. Deputy Assistant Secretary of State for Academic Programs Ethan Rosenzweig spoke on behalf of the bureau. He congratulated and thanked the leadership of the designated institutions for recognizing the impact of the Fulbright Program, saying, "[Your work ensures that] our students have every opportunity to excel beyond goals they may not have believed were ever obtainable."
Primary funding for the Fulbright Program comes from an annual appropriation made by the U.S. Congress to the U.S. Department of State's Bureau of Educational and Cultural Affairs.
• • • •
About LaGuardia Community College
LaGuardia Community College (LAGCC), located in Long Island City, Queens, educates thousands of New Yorkers annually through degree, certificate, and continuing education programs . LaGuardia is a national voice on behalf of community colleges, where half of all U.S. college students study. Part of the City University of New York (CUNY), the College reflects the legacy of our namesake, Fiorello H. LaGuardia, the former NYC mayor beloved for his championing the underserved. Since our doors opened in 1971, our programs regularly become national models for pushing boundaries to give people of all backgrounds access to a high quality, affordable college education.
About Fulbright 
Fulbright is active in more than 160 countries worldwide and partners with participating governments, host institutions, corporations, and foundations in foreign countries and in the United States. Many of these organizations also provide direct and indirect support. The U.S. Department of State's Bureau of Educational and Cultural Affairs sponsors the Fulbright program, and several non-profit, cooperative partners implement and support the program on the Bureau's behalf.
####