LAGUARDIA COMMUNITY COLLEGE NAMED A 2022 HISPANIC-SERVING INSTITUTION LEADER BY THE U.S. FULBRIGHT PROGRAM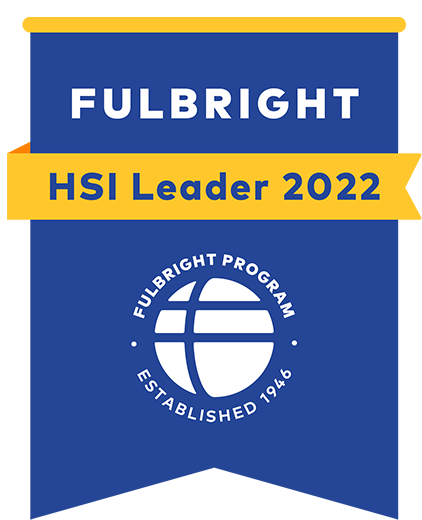 LONG ISLAND CITY, NY (October 11, 2022) — LaGuardia Community College has been named a Fulbright Hispanic-Serving Institution (HSI) Leader for the second year in a row by the U.S. Department of State Bureau of Educational and Cultural Affairs (ECA). This designation recognizes the noteworthy engagement that selected HSIs have achieved with the Fulbright Program, the U.S. government's flagship international educational exchange program.
"Our gratitude to the Fulbright Program and to the U.S. Department of State's Bureau of Educational and Cultural Affairs for recognizing LaGuardia with this distinction for the second year in a row, and for supporting our faculty with grants that enable them to conduct academic research all around the world," said President Kenneth Adams. "As a Hispanic-Serving Institution and one of the largest educators of New York State's Hispanic population, being recognized as a Fulbright HSI Leader is especially meaningful.
In a letter to President Adams congratulating LaGuardia on this honor, U.S. Secretary of State Antony J. Blinken wrote, "As one of 43 Hispanic-Serving Institutions (HSIs) honored for demonstrating noteworthy engagement with the Fulbright Program by the U.S. Department of State's Bureau of Educational and Cultural Affairs (ECA), City University of New York- LaGuardia Community College exemplifies a deep commitment to international exchange and to building lasting connections between the people of the United States and the people of other countries."
Colleges and universities with at least 25% Hispanic students are designated as HSIs by the U.S. Department of Education. At LaGuardia, 47% of credit students and 71% of non-credit students identify as Hispanic. Institutions were selected as 2022 Fulbright HSI Leaders for demonstrating noteworthy engagement with Fulbright exchange participants during the 2021-2022 academic year and for promoting Fulbright Program opportunities on campus.
Among higher education institutions in New York State, LaGuardia was among the top five colleges where Latinx students enrolled and earned degrees or certificates, according to a 2021 Excelencia in Education report. To further support and empower New York's Hispanic communities and LaGuardia's Hispanic students, the college recently launched a new center, Casa de las Américas ("La Casa"), to celebrate the rich and varied traditions and history of the people of Hispanic heritage from all countries of the Americas.
"The Fulbright Program helps our efforts to empower and serve our students," said LaGuardia Provost Billie Gastic Rosado. "Supporting academic research results in faculty bringing new educational approaches and knowledge into their classrooms—benefiting our students."
Deputy Assistant Secretary of State for Academic Programs Ethan Rosenzweig, speaking on behalf of ECA, which sponsors the Fulbright Program, announced the Fulbright HSI Leaders on October 10 during an international plenary session at the Hispanic Association of Colleges and Universities (HACU) annual conference in San Diego.
In his remarks, DAS Rosenzweig noted the strong relationship between HSIs and the Fulbright Program stating, "The Fulbright Program's success with HSIs is built on real collaboration with you and your institutions." He thanked HSI leaders for their collaboration and for recognizing the value of the Fulbright Program in deepening campus internationalization efforts; and he recognized Fulbright campus liaisons and advisors for recruiting and advising applicants. He also commended current Fulbright participants and alumni from and hosted by HSIs for sharing "their expertise, experience, perspective, and enthusiasm with their institutions, their communities, and their societies."
LaGuardia was named a Fulbright HSI Leader in 2021, the first year this designation was awarded. In 2020, LaGuardia was previously named a top producer of Fulbright Scholars among U.S. colleges and universities—that year, LaGuardia history professors Dr. Karen Miller and Dr. Robin Kietlinski were among the very few community college faculty to be awarded Fulbright scholarships to support their academic research. Dr. Miller conducted research at the University of the Philippines on her project, "Circulation as Solution: Interisland Migration, Non-Christian Landscapes, and National Identity in the Philippines, 1902-1965"; while Dr. Kietlinski worked on "Trash Islands: Olympic Infrastructure and Japan's Changing Environment" at the University of Tsukuba in Japan.
The Fulbright Program is the U.S. government's flagship international academic exchange program. Since its inception over 75 years ago, the Fulbright Program has given over 400,000 talented and accomplished students, scholars, teachers, artists, and professionals of all backgrounds and fields the opportunity to study, teach, and conduct research abroad, exchanging ideas, and contributing to finding solutions to complex international challenges.
Each year, the U.S. Congress appropriates funds to the U.S. Department of State to sponsor the Fulbright Program. Many foreign governments contribute substantially as well. Additional funding and in-kind funding is provided by U.S. and foreign host institutions, non-governmental organizations, private organizations, corporate partnerships, and individual donors.
Over many years the Fulbright Program has designed and implemented a wide range of initiatives to increase participant diversity and inclusion. The program strives to ensure that its participants reflect the diversity of U.S. society and societies abroad. Fulbrighters come from all backgrounds and are selected through an open, merit-based competition, regardless of their race, color, national origin, sex, age, religion, geographic location, socio-economic status, disability, sexual orientation, or gender identity. Information on the Fulbright Program's diversity and inclusion initiatives is detailed on the Fulbright U.S. Student Program website.
• • • •
LaGuardia Community College (LAGCC), located in Long Island City, Queens, educates thousands of New Yorkers annually through degree, certificate, and continuing education programs . LaGuardia is a national voice on behalf of community colleges, where half of all U.S. college students study. Part of the City University of New York (CUNY), the College reflects the legacy of our namesake, Fiorello H. LaGuardia, the former NYC mayor beloved for his championing the underserved. Since our doors opened in 1971, our programs regularly become national models for pushing boundaries to give people of all backgrounds access to a high quality, affordable college education.
####