LaGuardia Community College Graduates Win Investment From 2018 CUNY Startup Accelerator
Luis Medina Triana and Christian Robinson selected for their platform, Perfectus.io, designed to connect startup ventures with students seeking professional experience
July 5, 2018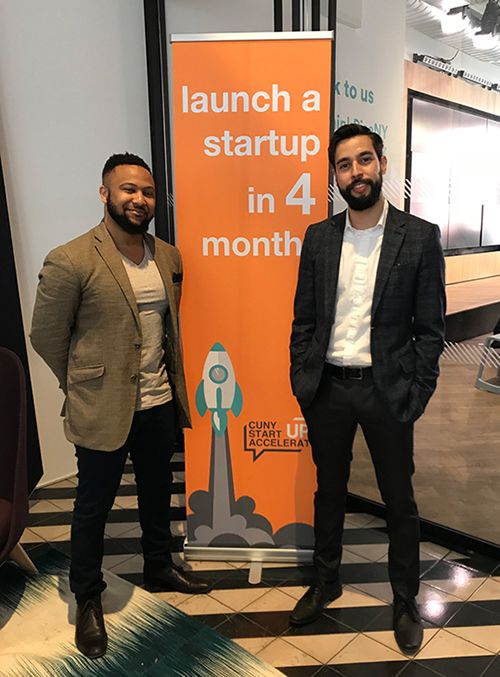 Christian Robinson to the left & Luis Medina Triana to the right
CUNY Startups assists students in launching their own ventures, through a four-month program that helps teams go from idea to pilot to launch. After successfully taking an early stage idea to a well-defined launch plan, LaGuardia Community College/CUNY graduates, Luis Medina Triana and Christian Robinson, were recently selected for a $4,500 grant towards their startup, a platform called Perfectus.io, which enables startups to find talent to staff-up their ventures. They describe it on their website as, "A unique platform that matches startups with the right level of experience, interest, and compensation."
"As an entrepreneur myself, I know firsthand how important CUNY Startups is to young entrepreneurs," said CUNY Startups Manager of Marketing & Partnerships Faith Fraser. "Many founders come to us with just an idea and over the course of four months are able to accomplish so much. Luis and Christian are a great example of that."
"The initiative that Luis and Christian showed in bringing their idea to CUNY Startups is commendable. Being a part of the CUNY system affords our students with many meaningful opportunities, like those at CUNY Startups. We encourage all our students to take advantage of these opportunities to expand their learning, connect with experts in their fields of interest, and find support for future ventures," said LaGuardia Community College President Gail O. Mellow. "With the grant Luis and Christian are receiving towards their platform, combined with their education, and commitment to innovation, they're primed to make a significant mark on NYC's tech ecosystem."
Robinson describes how they drew from their own experience working on startups as inspiration: "I was on several startup teams that fell apart when we weren't able to find people with the right skillsets to fill much-needed roles; it was especially hard to find people outside my major area to work with us — we just didn't know enough people."
They decided to address this gap with a new platform.
"Startups don't often have the resources to pay a recruiter $10,000; they may only have just enough money to post a position on a job board or to ask around. As a result, they end up getting a small pool of applicants," said Medina Triana. "Startups also need a process that is streamlined and easy to use – because they need workers NOW, yet lack the time to go through hundreds of resumes."
"The platform also works for students because it helps them find good positions quickly – and many are eager to start working asap," said Robinson.
Medina Triana and Robinson plan to put their CUNY Startups winnings towards building the platform. They also recently won the Capital One Innovation Challenge for their customer research work on their project. Currently, they're working with two clients on a trial basis.
Medina Triana (class of 2013) and Robinson (class of 2018), both age 26, met at a reception celebrating the opening of Cornell Tech — quickly bonding over a shared desire to start their own businesses. They decided to form a partnership and seek opportunities together.
"Our original startup idea was a peer to peer matching system — helping students connect with other students to work together," said Medina Triana. "However, we pivoted our idea to create a sustainable business model helping startups find the right fit for their team and helping students gain experience in roles that fit their passions."
"As entrepreneurs, we decided to focus on startups as they're such an exciting area," said Robinson. "We know how eager many students are for any experience they can add to their resume and build their professional experience."
Medina Triana, who was born and raised in Colombia, earned a bachelor's in digital marketing from Baruch College. He recently earned a professional certificate from TechHire, LaGuardia's coding boot camp program, and currently works as a member of LaGuardia's webmaster team.
Robinson, age 26, is a graduate of LaGuardia's President's Society — Tech, a professional development program for students interested in working in tech, and is currently working towards a bachelor's in business administration at Medgar Evers College. He currently works as a client engagement specialist at iTell.io, a tech startup working out of NYDesigns, a startup incubator space located on the LaGuardia campus.
For more information about LaGuardia's suite of tech education and training programs, please contact Seema Shah, Director of Tech and Innovation at TechPartnerships@lagcc.cuny.edu
• • • •
LaGuardia Community College (LAGCC), located in Long Island City, Queens, educates thousands of New Yorkers annually through degree, certificate, and continuing education programs . LaGuardia is a national voice on behalf of community colleges, where half of all U.S. college students study. Part of the City University of New York (CUNY), the College reflects the legacy of our namesake, Fiorello H. LaGuardia, the former NYC mayor beloved for his championing the underserved. Since our doors opened in 1971, our programs regularly become national models for pushing boundaries to give people of all backgrounds access to a high quality, affordable college education.
####