LaGuardia Community College Appoints Mark C. Healy, former CEO of AST Financial Group, as Vice President of Continuing Education
From cargo truck driver to CEO and now LaGuardia vice president—LaGuardia graduate Healy credits the College with putting him on his career path
Healy's vision for Continuing Education is to address the educational aspirations of the professionals moving into Long Island City, to strengthen & grow existing continuing education programs, & to leverage the New York State Opportunity Zone Program to support new businesses moving into Western Queens
September 26, 2018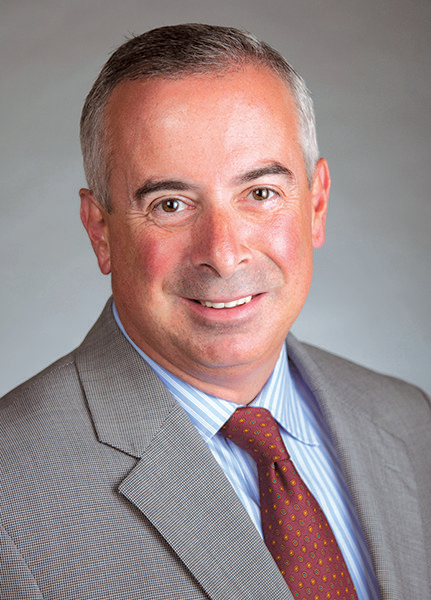 After a nationwide search, LaGuardia Community College/CUNY ("LaGuardia") has named business leader Mark C. Healy (LaGuardia Class of 1983) as vice president of Continuing Education, which serves 30,000 New Yorkers seeking high-quality, affordable, and short-term pathways to advancing their careers, education and businesses.
Healy brings more than 35 years of experience in business and financial services, including serving as president and CEO of AST Financial Group. He has held senior positions at National Financial Services/ Fidelity Investments, and TD Securities. Most recently, he was owner and president of BGBY Investments, LLC, a wealth management practice.
"Throughout his career, Mark has shown an astounding ability to lead and manage large and growing teams of people. He combines this extensive experience with a deep and enduring commitment to LaGuardia and our mission," said LaGuardia Community College President Gail O. Mellow.
Healy graduated from LaGuardia in 1983 with an associate degree in accounting.
"I credit LaGuardia with much of my professional success," said Healy. "It's where I learned how to merge my street smarts with my acquired accounting expertise, and where I met faculty who helped me establish a career on Wall Street—mentorship that was vital as I didn't have professional role models in my personal life."
Healy and his four siblings grew up with limited means in Jamaica, Queens. Their mother struggled to make ends meet after Healy's father died suddenly when he was 10 years old. After high school, he took a job driving cargo trucks at Kennedy Airport. However, after a year he decided that he needed to go to college, and enrolled at LaGuardia because of its affordable tuition and opportunities for paid internships. After graduating from LaGuardia, he earned his bachelor's in public accounting from LIU Post (as it is currently named), and then started his highly successful career in finance.
When Healy speaks with students, he shares the family hardships that led him to LaGuardia: "I want students to know that I understand what they're going through, and encourage them to stay in college and graduate so they can have a better future. I'm thrilled to be in this new role supporting our adult-learners on their journeys to improving their lives and careers."
LaGuardia's Continuing Education Division serves adults who need to finish high school, immigrants wanting to improve their English language skills, professionals seeking new skills, and entrepreneurs working to grow their businesses. Robust certificate and professional development offerings include healthcare education and training, the largest English language-learning program in New York City, and career skills training.
Innovative partnerships with New York employers and governmental agencies help shape and support these programs—helping underemployed and unemployed New Yorkers find pathways to steady work, and supporting small businesses. As example, a partnership with Weill Cornell Medicine, supported by NYC's Department of Small Business Services, trains New Yorkers for medical billing jobs at Weill Cornell and other health care institutions. In addition, the College's Goldman Sachs 10,000 Small Businesses program has helped hundreds of New York entrepreneurs create jobs, secure loans, and negotiate new contracts.
"My goals are to both sustain our vital education and training programs, while addressing the educational aspirations of the professionals moving to Western Queens," said Healy. "Another key goal is supporting efforts to draw businesses to our community, through the Opportunity Zone community development program—increasing opportunities for jobs and internships for our students." ( Click here for a map reflecting the census tracks in Queens that have been designated part of the New York State Opportunity Zone Program.)
Since 2013, Healy has been a member of the LaGuardia Community College Foundation, including as board chair (2016-2018)—spearheading efforts to provide financial support for students. Each year, the Foundation gives out nearly $2 million in scholarships and emergency financial support to the College's primarily low-income and new-immigrant students. In 2015, Healy established a scholarship fund to help students pay their tuition and other college expenses.
For his dedication to LaGuardia, the College Foundation honored Healy with the 2014 Innovative Leadership Award. To watch a video of his acceptance of the award, click here.
Healy takes the reins from Jane E. Schulman, who stepped down last month as vice president of continuing education.
To learn more about LaGuardia's Continuing Education division, click here.
• • • •
LaGuardia Community College (LAGCC), located in Long Island City, Queens, educates thousands of New Yorkers annually through degree, certificate, and continuing education programs . LaGuardia is a national voice on behalf of community colleges, where half of all U.S. college students study. Part of the City University of New York (CUNY), the College reflects the legacy of our namesake, Fiorello H. LaGuardia, the former NYC mayor beloved for his championing the underserved. Since our doors opened in 1971, our programs regularly become national models for pushing boundaries to give people of all backgrounds access to a high quality, affordable college education.
####