LaGuardia Partner Energy Tech High School Celebrates Graduation
July 2, 2018
Energy Tech High School, which trains graduates for in-demand jobs in the STEM field here in New York City, recently marked its second-ever graduating class. The school opened five years ago through a partnership between LaGuardia Community College, The City University of New York, National Grid, and Con Edison.
Energy Tech High School is part of a growing movement of grades 9-14 programs, where students can take college courses starting as early as the 10th grade, and can pursue an engineering-related associate degree free of charge.
Over half the members of Energy Tech's Class of 2018 plan to continue their education at LaGuardia Community College to earn an associate degree in engineering or other majors.
"Congratulations to Energy Tech High School's Class of 2018! The partnership between our college, CUNY, National Grid and Con Edison is clearly working," said LaGuardia Community College President Gail O. Mellow. "Our collaboration with Energy Tech and other high schools lets students get a head start on going to college, while also demystifying the whole process of applying to and attending college. This model has shown success and we are proud to have been a pioneer in integrating high school and college education. Graduates of Energy Tech have a bright future as we grapple with creating more sustainable and reliable energy sources."
"Energy Tech has excelled within the Early College Initiative using two core tenets of the strategic framework guiding CUNY: supported transitions from high school to college, and the full partnership with National Grid and other employer partners providing formative work-based learning and mentoring experiences towards successful career options in the energy industry," said Brian Donnelly, director of the CUNY Early College Initiative.
"Upon high school graduation, students of the Class of 2018 have already made great strides toward their college and career goals. We look forward to continuing to develop our students and alumni as leaders in the energy industry, STEM fields more broadly, and beyond," said Hope Barter, founding principal of Energy Tech High School.
Ken Daly, chief operating officer of US Electric, National Grid, delivered the keynote address at the graduation, in which he encouraged the Class of 2018 to continue to accept the challenge as they pursue a unique pathway to careers in the energy industry and beyond. "Your individual successes will benefit society as a whole, when you succeed you are helping someone else," he said.
As an Energy Tech industry partner, National Grid provides technical support to help shape curriculum, field trips to company learning centers and power plants, along with mentoring and internship opportunities.
This summer, Energy Tech will participate in National Grid's "Engineering Our Future Pipeline Program," a six-year preparatory experience for high school students pursuing four-year engineering degrees and careers at National Grid.
"We are thankful to National Grid for their continued partnership—preparing students to be competitive candidates for engineering pathways is complex and challenging — we could not provide this level of support without the unwavering dedication of our industry partners," said Principal Barter.
"Energy Tech provides a unique opportunity for local New York City high school students to gain the specific STEM skills we need in our industry to meet the energy challenges ahead," said Daly. "Our partnership with Energy Tech High School supports National Grid's 'Engineering Our Future' initiative to build a highly skilled and diverse workforce. Congratulations to the class of 2018 — National Grid is delighted to help you prepare for productive technical careers in our local communities and support your development as future leaders in the energy industry."
Energy Tech will celebrate its inaugural cohort of associate degree graduates in June 2019, while a small group of accelerated students is on track to earn their associate degrees in December 2018.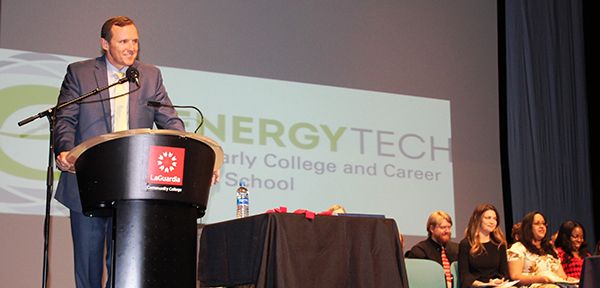 Ken Daly, COO, U.S. Electric, National Grid delivers the keynote address for Energy Tech High School's Commencement Ceremony on June 22, 2018.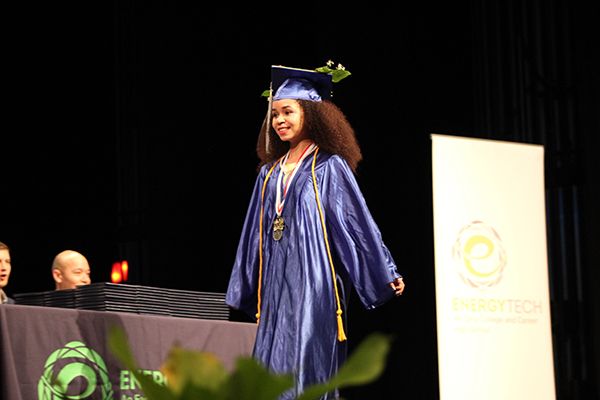 Moza Maryam walks across the stage as her name is being called.
About National Grid
National Grid (LSE: NG; NYSE: NGG) is an electricity, natural gas, and clean energy delivery company that supplies the energy for more than 20 million people through its networks in New York, Massachusetts, and Rhode Island. It is the largest distributor of natural gas in the Northeast. National Grid also operates the systems that deliver gas and electricity across Great Britain.
National Grid is transforming its electricity and natural gas networks to support the 21st century digital economy with smarter, cleaner, and more resilient energy solutions. Read more about the innovative projects happening across our footprint in The Democratization of Energy, an eBook written by National Grid's US president, Dean Seavers.
About Energy Tech
Energy Tech is an Early College Initiative (ECI) and Career and Technical Education (CTE) school serving grades 9-14, and focusing on building a skilled workforce for the fast-growing energy industry. The school opened in the fall of 2013 in Long Island City, Queens, and is being developed in partnership with The City University of New York, LaGuardia Community College, National Grid, and Con Edison. Energy Tech is preparing students for the demands of college and work, and for a range of competitive careers in engineering and technology in our local utility industry. In collaboration with local university and industry partners, Energy Tech provides students with the skills and understandings to earn a high school diploma, an associate's degree, and to participate in a range of career readiness experiences over the course of a six-year program. Ultimately, students will leave Energy Tech as skilled candidates for jobs on a ladder of career growth in the field of energy, or competitive applicants for four-year colleges.
• • • •
LaGuardia Community College (LAGCC), located in Long Island City, Queens, educates thousands of New Yorkers annually through degree, certificate, and continuing education programs . LaGuardia is a national voice on behalf of community colleges, where half of all U.S. college students study. Part of the City University of New York (CUNY), the College reflects the legacy of our namesake, Fiorello H. LaGuardia, the former NYC mayor beloved for his championing the underserved. Since our doors opened in 1971, our programs regularly become national models for pushing boundaries to give people of all backgrounds access to a high quality, affordable college education.
####