LaGuardia–Baruch Business Academy Launch Marked at Signing Ceremony with LaGuardia President Kenneth Adams and Baruch President S. David Wu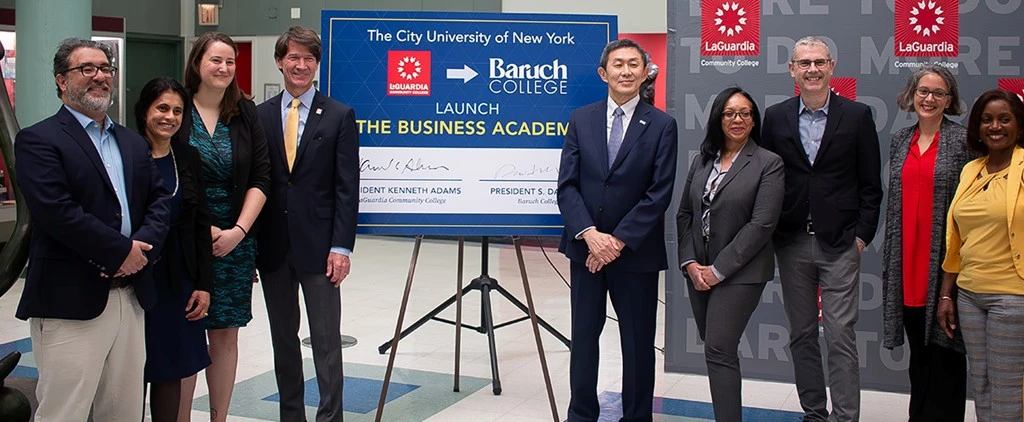 LONG ISLAND CITY, NY (May 24, 2023) — LaGuardia Community College/CUNY (LAGCC) President Kenneth Adams and Baruch College/CUNY President S. David Wu hosted a public signing ceremony today to officially launch the LaGuardia–Baruch Business Academy. The event, which took place in the Atrium on the LAGCC campus, was attended by NYC community partners, CUNY administrators, faculty and staff from both colleges, and LaGuardia students. The Academy expands and builds upon the transfer agreement between LaGuardia's Business Administration program and the Zicklin School of Business at Baruch College. It will provide holistic support and access to robust resources at both colleges to ensure students' academic and career success.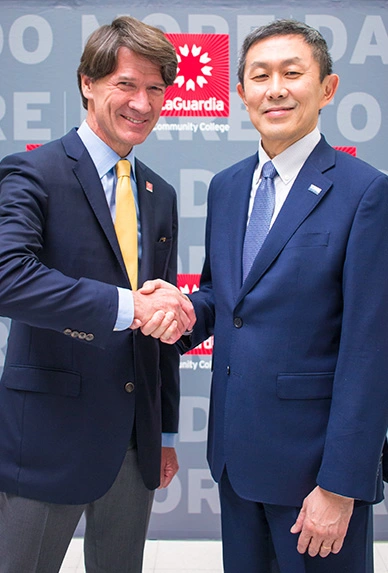 "President David Wu and I are launching the LaGuardia–Baruch Business Academy to ensure that our students are getting the most out of our long-standing collaboration," said Kenneth Adams, President of LaGuardia Community College . "Business Administration is a top major for LaGuardia students, with many eager to transfer to Baruch upon completion of their associate degree. By helping more LaGuardia business graduates earn their bachelor's in business administration at Baruch and establish a career in business, the Academy will empower the diverse workforce of tomorrow that New York City businesses need."

"I am proud to announce this landmark partnership between LaGuardia Community College and Baruch College," said S. David Wu, President of Baruch College. "The expanding model of Business Academy, which also includes Borough of Manhattan Community College and Queensborough Community College, is an innovative approach to make top-notch business education accessible by preparing students academically and psychologically to succeed. This is at the core of Baruch's mission—to make excellent education accessible to all students who are willing to work hard to realize their ambitions."

In statements provided ahead of today's events, New York elected officials expressed their support for the new LaGuardia–Baruch Business Academy. Queens Borough President Donovan Richards Jr. touted the new initiative for the guidance it will provide students seeking to earn their college degree.

"I'm thrilled that LaGuardia and Baruch have joined forces to help students navigate the often daunting process of securing a higher education degree," said Queens Borough President Donovan Richards Jr. "The LaGuardia-Baruch Business Academy will do the important work of preparing students to excel in the modern economy. I salute LaGuardia and Baruch for this innovative expansion of their longtime partnership and wish the future students at the LaGuardia-Baruch Business Academy great success in the next phases of their academic and professional careers."

New York State Senate Deputy Leader Michael Gianaris noted that the new Academy builds on the legacy of high-quality, affordable education at both LAGCC and Baruch.

"LaGuardia and Baruch have a longstanding tradition of providing an affordable world-class education to New Yorkers and this announcement uses that excellent history as the foundation for an even brighter future," said New York State Senate Deputy Leader Michael Gianaris.

Council Member Julie Won noted that the Business Academy reflects LaGuardia's commitment to serving the Queens community with innovative programs.

"LaGuardia Community College in my district has always invested in its students and broader community with programs like 3,000 Heroes and the upcoming Queens Tech Incubator. I'm excited for this new partnership between LaGuardia and Baruch, which will ensure that LaGuardia students have access to world-class business education and mentorship through CUNY," said Council Member Julie Won. "Thank you to LaGuardia President Kenneth Adams and Baruch President David Wu for creating these opportunities for our students."

The LaGuardia-Baruch Business Academy is a unified program that empowers LaGuardia students to prepare for, transition into, and thrive at Baruch. The Academy provides student support including peer and faculty mentorship opportunities, community-building events, and early access to Baruch's Starr Career Development Center programming. Academy students who complete the Associate in Science (A.S.) degree in Business Administration at LAGCC, and meet additional predetermined academic criteria, are guaranteed admission to Baruch College and the Zicklin School of Business.

Programming for the LaGuardia-Baruch Business Academy got underway in April 2023 for current LAGCC Business Administration majors.

"Through the LaGuardia–Baruch Business Academy, I have a peer advisor who's a current student at Baruch. She checks up on me, and we talk about my classes and she makes sure I'm on track with my education. I've also gotten to attend Zoom meetings organized by Baruch about different business majors where we heard from experts working in those fields. The meetings have helped me narrow down my interests to finance and marketing," said Jonathan Restrepo, 19, a Business Administration major at LaGuardia. "Knowing that I'll be able to transfer to Baruch—a top business school in New York—after I graduate from LaGuardia next year, is huge. I want to thank LaGuardia and Baruch for coming together and creating this Business Academy."

LAGCC's Business Administration Program is administered by the Business & Technology Department, chaired by Michael Napolitano, Esq. Students receive a strong foundation in management, accounting, finance, and marketing. An option in Healthcare Management is available for Business Administration majors.
• • • •
LaGuardia Community College (LAGCC), a Hispanic-Serving Institution, located in Long Island City, Queens offers more than 50 degrees and certificates, and more than 65 continuing education programs to educate New Yorkers seeking new skills and careers. As an institution of the City University of New York (CUNY), the College reflects the legacy of our namesake, Fiorello H. LaGuardia, the former NYC mayor beloved for his advocacy of underserved populations. Since 1971, LaGuardia's academic programs and support services have advanced the socioeconomic mobility of students while providing them with access to a high quality, affordable college education.

Baruch College provides students with the skills, knowledge, and perspectives to pursue their aspirations in today's global environment. Part of The City University of New York (CUNY), Baruch is also listed among the nation's top public colleges for academic excellence, affordability, student success, and value. Its three schools educate more than 19,500 students who represent one of the most diverse college campuses in the country. Strong career and support services drive Baruch's national recognition as an engine for social and economic mobility. Through executive education, international partnerships, public events, and arts programming, Baruch stands out as an intellectual and cultural resource for New York City and the world.
####