Voices of Queensbridge Celebrates History & Residents of
Nation's Largest Public Housing Development
October 16, 2019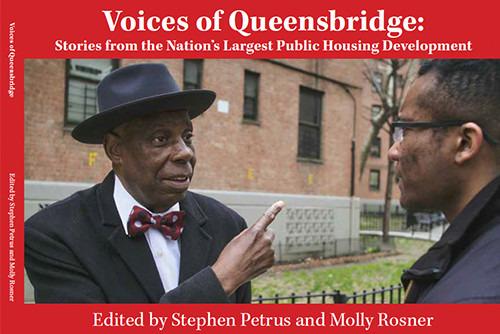 A new book,
Voices of Queensbridge: Stories from the Nation's Largest Public Housing Development
, explores the history of Queensbridge Houses and the lives of people who call it home. It's published by the
LaGuardia and Wagner Archives
("the Archives") at LaGuardia Community College, a repository of mayoral and other municipal records, including the records of the
New York City Housing Authority (NYCHA)
, which built and manages Queensbridge. A centerpiece of the book is oral histories of long-time Queensbridge residents, who were interviewed by LaGuardia students.
The publication, made possible through the generous support of the Robert David Lion Gardiner Foundation, was celebrated at a recent gathering that included LaGuardia Community College faculty, staff and students, and senior residents and staff of Queensbridge Houses and the Jacob A. Riis Neighborhood Settlement.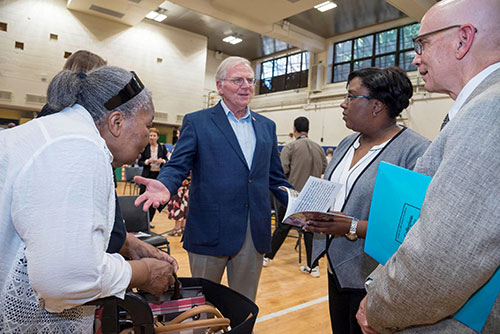 "Our college's mission is to develop socially responsible citizens to help shape a rapidly evolving society; therefore, it's critical that our students have opportunities like this to engage with the community in ways that are beneficial for everyone involved. We're grateful to those who allowed our students to interview them—teaching our students that their voice has value," said LaGuardia Community College Interim President Paul Arcario. "And as the commitment of the federal government to public housing continues to wane, I hope this book finds the widest readership possible, to combat stereotypes and illustrate the need for affordable places to live."
"It was a distinct honor to be part of the Voices of Queensbridge project with LaGuardia Community College and the LaGuardia and Wagner Archives. The faculty, student interviewers and videographer took such care to present a well-balanced view of life in the Queensbridge Housing Development," said Gail Brown, Riis' director of senior services and an integral coordinator for the project.
Amanda Jones, a LaGuardia student who conducted oral interviews with Queensbridge residents said, "This project challenges the preconceived notions of public housing and the people who live there. My fellow students and I didn't just watch and listen to the residents of Queensbridge, we interacted with them, and in doing so, realized that despite having different backgrounds, we share many commonalities. We related to one each other's struggles."
"This project is about what it means to be a New Yorker. It's about expanding and strengthening our community. The students learned to connect with neighbors because that's what makes a city feel like home. And importantly, the stories in Voices of Queensbridge bring life to our NYCHA Collection," said Molly Rosner, Ph.D., assistant director of education programs for the Archives, who co-edited the book along with Archives historian Stephen Petrus, Ph.D.
Voices of Queensbridge can be viewed and downloaded on the Archives website.
Additional featured content of the Archives can be viewed on the Archives page.
• • • •
LaGuardia Community College (LAGCC)
, located in Long Island City, Queens, educates thousands of New Yorkers annually through degree, certificate, and continuing education programs . LaGuardia is a national voice on behalf of community colleges, where half of all U.S. college students study. Part of the City University of New York (CUNY), the College reflects the legacy of our namesake, Fiorello H. LaGuardia, the former NYC mayor beloved for his championing the underserved. Since our doors opened in 1971, our programs regularly become national models for pushing boundaries to give people of all backgrounds access to a high quality, affordable college education.
####