Immigrant & Refugee Students Enrich Campus Life, Strengthen Communities, & Benefit the Economy
September 10, 2019
Community colleges serve as a critical gateway for many immigrants and refugees looking to gain an economic foothold in the labor market and integrate into the social fabric of their communities. LaGuardia Community College has a long history of supporting immigrants as they work towards achieving "the American dream" through higher education. LaGuardia's more than 50,000 students come from nearly 150 countries. Many get their start at LaGuardia in our English language program, the largest such program in New York City. LaGuardia helps immigrants find a job, advance their career, earn their college degree, and become more active in their community.
Now in two chapters of a new book, Dr. Gail O. Mellow, former president of LaGuardia Community College and John Hunt, LaGuardia's Interim Assistant Dean for Pre-College Academic Programs, share their expertise about developing programs and services to support immigrants.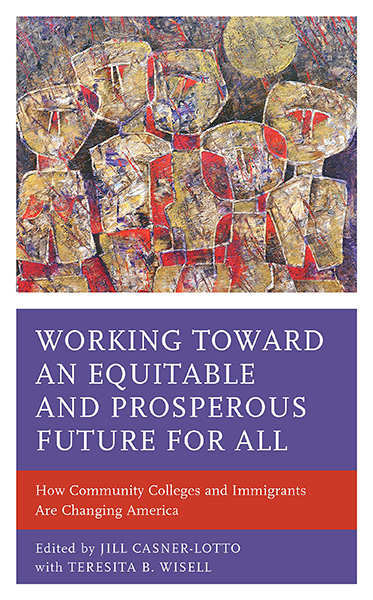 The book, Working toward an Equitable and Prosperous Future for All: How Community Colleges and Immigrants Are Changing America, is co-published by Rowman & Littlefield and the American Association of Community Colleges. It examines the role of leadership in adopting institution-wide strategies and allocating resources that have advanced immigrant and refugee integration on campus and in the community.
The Community College Consortium for Immigrant Education (CCCIE) announced the publication earlier this month as part of a showcase of the initiatives of CCCIE member community colleges and their partners working together at local and state levels to integrate immigrants and refugees by helping them further their education, succeed in training programs, and launch new careers in high-demand fields. It joins a companion volume, Working Together: How Community Colleges and Their Partners Help Immigrants Succeed . Together, the two volumes illustrate the various ways immigrant and refugee students enrich campus life, strengthen communities, and benefit the economy.
The two volumes, co-edited by Jill Casner-Lotto, CCCIE director, with Teresita B. Wisell, CCCIE executive director and vice president for workforce development and community education at Westchester Community College, include 23 chapters written by community college educators who serve on CCCIE's Blue Ribbon Panel and other leading experts and practitioners in the fields of immigrant and refugee education, workforce development, and integration. "The books capture the expertise and dedication of colleagues across the country in community colleges, community agencies, and nonprofit organizations who have joined us in our work. It is through our collective efforts that our immigrant and refugee students have found their success," notes Wisell.
CCCIE was founded in 2008 and comprises community colleges and other professional organizations committed to building the capacity of colleges to advance immigrant and refugee integration through education and workforce development. CCCIE is hosted and led by Westchester Community College in Valhalla, New York.
Discount code RLEGEN19 may be used to receive 20% off the order of either book noted above.
• • • •
About LaGuardia Community College
LaGuardia Community College (LAGCC), located in Long Island City, Queens, educates thousands of New Yorkers annually through degree, certificate, and continuing education programs . LaGuardia is a national voice on behalf of community colleges, where half of all U.S. college students study. Part of the City University of New York (CUNY), the College reflects the legacy of our namesake, Fiorello H. LaGuardia, the former NYC mayor beloved for his championing the underserved. Since our doors opened in 1971, our programs regularly become national models for pushing boundaries to give people of all backgrounds access to a high quality, affordable college education.
####