LaGuardia's Radiologic Technology Students Exceed Average National Exam Pass Rate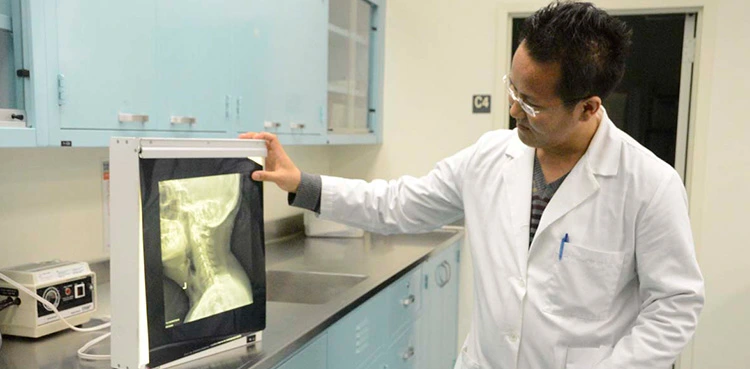 LONG ISLAND CITY, NY (August 22, 2023) — The Radiologic Technology (AAS) major at LaGuardia Community College/CUNY, trains students to be licensed X-Ray technologists and combines the arts and sciences while immersed in technology. As part of the course training, students must successfully pass a licensing exam before they can step into a profession in radiologic technology.
According to the American of Register Radiologic Technologist (ARRT), LaGuardia's Class of 2022, successfully passed the licensing exam with a pass rate of 90%, compared to the national average for 2022 which is 83.5%, The ARRT is the world's largest organization offering credentials in medical imaging, interventional procedures, and radiation therapy. ARRT certifies and registers technologists in a range of disciplines by overseeing and administering education, ethics, and examination requirements.
Dr. Theresa Licari, associate professor and program director of the Radiologic Technology Program is very proud of the students' success and says having a dedicated staff and faculty makes a big difference.
"I want to thank our faculty and staff for working together to help our students succeed," said Professor Licari. "Together they helped our students reach this important milestone."
According to a report by the US Bureau of Labor Statistics, the overall employment of radiologic and MRI technologists is projected to grow by 6 percent from 2021 to 2031. Professor Licari says there are many factors that contribute to the success of LaGuardia's program, which takes pride in preparing students for successful careers in radiologic technology.
"Providing a caring, learning atmosphere for our students is one asset," said Professor Licari. "Program mentorship and working with all students is important in providing the community with trained, compassionate, and quality radiologic technologists as they provide radiation to imaging patients for medical diagnosis."
Professor Licari says LaGuardia students are especially unique as "they yearn to improve their lives and go out and do what they need to do," she said. "They follow our lead and are hardworking. This is especially impressive as many have ESL and are making personal sacrifices for this two-year, full-time intense program. All these factors help make an excellent reputation for our program. As our hardworking students obtain employment, a reputation is established."
The pandemic was difficult on everyone involved in the program, Professor Licari says, especially when in-person clinical internship is required for eligibility. She says having faculty and staff working collaboratively was critical in ensuring success for the radiologic technology students.
"Faculty and staff worked extra-long hours learning online education and through the summer to assure students made up clinical internship time so graduation, and sitting the licensed exam would not be delayed into another school year," Professor Licari said. "Students worked extra hours preparing video assignments, projects and rearranged their lives to make up clinical internship hours. The college and CUNY provided training and support for us as much as possible, taking over many duties to assist faculty and staff."
The Radiologic Technology two-year program launched in 2010, and since then, it has obtained an average of 90% or above pass rate. "On average, I believe the national average is generally 83.5-86%," Professor Licari said. "The exam is competitive, and through the years it stresses critical thinking scenarios, so students are encouraged to 'learn how to learn' the material and not memorize it."
For students to be eligible to sit the licensed exam, students must complete a rigorous curriculum outline of academic courses. Students must also complete a clinical internship which offers students training in hospital or outpatient facilities on procedure competencies (44-50 competencies to pass). Students are evaluated on domains of equipment operation, patient care, radiation protection, personal and professional goals. Once the required coursework is completed, students are given three hours to complete the license exam (100 challenging questions). There are 3 sections of questions: 1.) Imaging Procedures, 2.) Radiation Protection/equipment operation and Physics, and 3.) Patient care. Students must pass the exam with 75%.
"Since the beginning of the program, we have graduated hundreds of trained licensed Radiologic Technologists healthcare professionals that now work all over the five boroughs of New York City in most healthcare facilities," Professor Licari said. Radiologic Technology is a medical imaging allied health field that provides images to a patient's symptoms and is vital in aiding physicians to provide a patient diagnosis in the patient's plan of care. We recently were essential workers in healthcare in providing imaging and care during the COVID pandemic. There's a lot to be proud of."
In addition to thanking the students, Professor Licari thanks faculty and staff including Professor Kamrul Huda, Professor Lorena Maldonado, Professor Victoria Buitrago-Brown, Victoria Napolitano-college assistant, and longtime adjuncts (Anthony Amen-soon to be a full-time Professor,) Naim Syla, Victor Lam, and other adjuncts through the years.  Professor Licari also says support from the LaGuardia and CUNY Administrations is much appreciated. "Thank you to CUNY Health Sciences Dean Patti Boyce, Chairman Philip Gimber, Health Science administrator Jazmine Firenze," she said, "and special thanks to President Kenneth Adams, and Provost Billie Gastic Rosado as we expand our program this school year."
• • • •
LaGuardia Community College (LAGCC), a Hispanic-Serving Institution, located in Long Island City, Queens offers more than 50 degrees and certificates, and more than 65 continuing education programs to educate New Yorkers seeking new skills and careers. As an institution of the City University of New York (CUNY), the College reflects the legacy of our namesake, Fiorello H. LaGuardia, the former NYC mayor beloved for his advocacy of underserved populations. Since 1971, LaGuardia's academic programs and support services have advanced the socioeconomic mobility of students while providing them with access to a high quality, affordable college education.
####