LaGuardia Performing Arts Center Invites Public to Experience Diverse 2023-24 Fall/Winter Season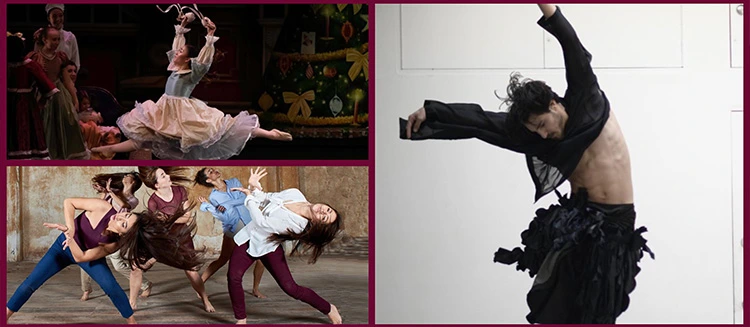 LONG ISLAND CITY, NY (August 22, 2023) — The LaGuardia Performing Arts Center welcomes a diverse group of performers from all over the world to share their artistry. The 2023-24 season promises to bring an array of performances for all ages including dance, comedy, and the holiday tradition of "The Nutcracker."
LPAC, which supports the mission of LaGuardia Community College/CUNY, invites everyone this season to celebrate connection, conversation, and community through art with its exciting fall and winter lineup of events.
"Sarah: A Joyful Resistance"
Monday, September 11, 7 p.m.
Tickets: $15/general, $10/faculty and staff, $7/student
Remember September 11th through the perspective of Iraqi Kurdish dance artist Hussein Smko. Inspired by the choreographer's sister, this Rough Draft Festival work-in-progress piece is an empowering story of love, oppression, and the complexities of the hijab and the societal pressures women face.  
Tour USA Perros Criollos Comedy Show
Thursday, September 21, Friday, September 23, 8:30 p.m.
Este show es pa' todos, incluso pa' los de queso y tocineta! This show is for everyone even those with cheese and bacon!
Dance on the Wings of Song
Saturday, September 30, 2023, 2 p.m.
Don't miss the Philippine Ballet Theater performing to the music of Filipino singer and songwriter, Jose Mari Chan. Sponsored by the Foundation for the Filipino Artists, Inc, this event commemorates the 35th anniversary of the Philippine Ballet Theater.
"Sex and the Abbey"
Thursday, October 12, 3:30 p.m. and Friday, October 13, 2 p.m.
Tickets: $25/general, $15/faculty and staff, $7/student
The Abbey is in trouble –– and only Hrotsvit's play can save them!  Embroiled in lustful conflicts, the stress of daily prayers, and impassioned moral arguments, can these women save Gandersheim Abbey from male takeover? Find out the hot goss from 10th Century Saxony in this Rough Draft Festival work-in-progress presentation!
"Tonight's Conversation Live and Uncut"
October 20 – 22 at 8 p.m. (Almost Sold Out!)
Hosted by ACE Metaphor, "Tonight's Conversation Podcast is coming to LPAC this October!
This popular relationship debate podcast is perfect for a date night, a girls' night out, or an outing with the fellas.
Mexico Now
November 17, Workshop, 10 a.m., Performance
Tickets: $30/general, $15/faculty and staff, $7/student
Independent arts festival spotlighting México in New York City, Celebrate México Now! returns to LPAC in celebration of their 20th anniversary, with an exciting new dance performance and educational workshop for our audiences.
The Nutcracker & Visit to Santa's Toyland
Saturday, December 17, 3 p.m.
Ticket: $40/general, $20/faculty and staff, $7/student
Join us for this beloved holiday tradition as we share Joffrey Ballet School's production of "The Nutcracker" followed by a meet and greet with cast members, and a visit to Santa's Toyland while we deck the halls with the sounds of the season.
• • • •
LaGuardia Community College (LAGCC), a Hispanic-Serving Institution, located in Long Island City, Queens offers more than 50 degrees and certificates, and more than 65 continuing education programs to educate New Yorkers seeking new skills and careers. As an institution of the City University of New York (CUNY), the College reflects the legacy of our namesake, Fiorello H. LaGuardia, the former NYC mayor beloved for his advocacy of underserved populations. Since 1971, LaGuardia's academic programs and support services have advanced the socioeconomic mobility of students while providing them with access to a high quality, affordable college education.
LaGuardia Performing Arts Center (LPAC) welcomes vibrant storytellers to create theater, music, and dance in order to inspire conversation, connection, and change within our diverse community. If you have a story, we have a home for it.
####