CUNY Colleges Receive $1 Million Grant to Support Development of Wastewater-Based Epidemiology Student Training and Education Program (WESTEP)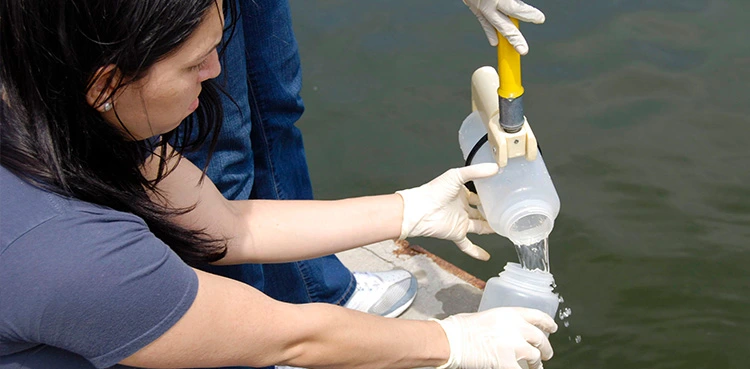 LONG ISLAND CITY, NY (August 23, 2023) — LaGuardia Community College/CUNY, Queens College/CUNY, and Queensborough Community College/CUNY received a $1 million grant from the National Science Foundation (NSF) to develop a wastewater-based epidemiology (WBE) student training and education program at CUNY.
The Principal Investigator of the project is Dr. John Dennehy, professor of biology at Queens College, who is working with Co-Principal Investigator Dr. Olga Calderón, professor of biology at LaGuardia Community College, and Co-Principal Investigator Dr. Monica Trujillo, professor of biology at Queensborough Community College.
With support from the Improving Undergraduate STEM Education: Hispanic-Serving Institutions (NSF-HSI Program), this project aims to establish a wastewater-based epidemiology training program (WESTEP) at CUNY to respond to declining minority student retention and graduation rates in STEM.
These declines hamper workforce development in industries clamoring for STEM talent and ultimately U.S. competitiveness in emerging technologies.
Wastewater-based epidemiology (WBE) focuses on the use of biological or chemical indicators in sewage to provide information on the overall health of a community. "WBE assesses the presence or quantity of a chemical or biological signal in a pooled sample of sewage, taken from the sewer network or wastewater treatment plant (WWTP), to gain information on various aspects of public health," Professor Calderón said. "Concentrations of chemical or biological signals are measured to indicate drug or substance consumption patterns in a population or provide indicators of chemical exposures or illness. Other human biomarkers or biological signals such as viral RNA can indicate the level of disease or spread of pathogens within a population."
Through the program students will be trained on WBE technologies and competencies, to help prepare them as the next generation of workers to face challenges posed by emerging infectious diseases.
Professor Calderón said the team's objective is to support inspiring community college students with career prospects in wastewater-based epidemiology emerging technology, by providing academic, research, and social mentoring from role models that they can identify with will improve student retention, graduation rates, and career success.
"Our program's goal is to generate interest in wastewater-based epidemiology as a career option, thus enhancing US pandemic preparedness," she said. "Our program will also have ripple effects in different areas of society, such as water management, healthcare, public recreation and health, regulatory policy, science education, economic mobility for graduates of the program and their families."
By participating in the WBE training program, these students will be well positioned for high-paying jobs in the public and private sectors or for graduate school.
• • • •
LaGuardia Community College (LAGCC), a Hispanic-Serving Institution, located in Long Island City, Queens offers more than 50 degrees and certificates, and more than 65 continuing education programs to educate New Yorkers seeking new skills and careers. As an institution of the City University of New York (CUNY), the College reflects the legacy of our namesake, Fiorello H. LaGuardia, the former NYC mayor beloved for his advocacy of underserved populations. Since 1971, LaGuardia's academic programs and support services have advanced the socioeconomic mobility of students while providing them with access to a high quality, affordable college education.
####