LaGuardia's Annual Hunger Banquet and Food Day Fair Raises Awareness about Global Hunger, Poverty, and Injustice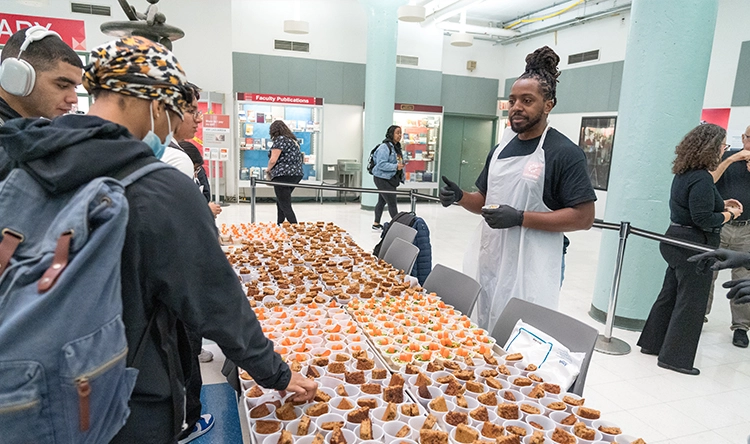 LONG ISLAND CITY, NY (November 1, 2023) — The 5th Annual Hunger Banquet and Food Day Fair was convened at LaGuardia Community College/CUNY on Wednesday, October 25. Open to LaGuardia students, faculty, and staff, the events were designed to foster understanding of food insecurity among different populations and income levels both locally and around the world. The Nutrition and Culinary Management Program hosted the events, in partnership with LaGuardia CARES. Sponsorship was provided by CUNY's Anti-Hate Initiative and LaGuardia's Office of Diversity, Equity, and Inclusion.
The Hunger Banquet featured an interactive, role-playing exercise where participants were randomly assigned to one of three tables: high-income, middle class, or low/no-income, and were served meals, provided by MBJ, in accordance with the socioeconomic level of each table. Moderators led attendees in discussions about issues of food insecurity and encouraged participants to share reflections. The event concluded with a brainstorming session exploring potential action steps to address the struggles of poverty, global hunger, and food insecurity.
For Computer Science major Joaquin Flores, attending the Hunger Banquet taught him a lot about nutrition.
"I love to cook. The Hunger Banquet was a good reminder that a meal isn't just food that tastes good, but a collection of essential vitamins and nutrients that are necessary for a healthy life," said Joaquin. "We reviewed the various things you should consider when feeding yourself, including how to read nutrition labels, what a balanced meal looks like, and about the importance of drinking enough water to keep you healthy throughout the day. These are lessons I will take with me through life."
Following the Hunger Banquet, a Food Day Fair was held in the E-Building Atrium, featuring free samples of delicious and nutritious food prepared and served by students from LaGuardia's Nutrition & Culinary Management: Culinary option, who also led attendees in nutrition trivia games. Fair attendees played memory games with the Therapeutic Recreation Student Association, learned creative ways to reuse common household items from the Sustainability Council, had their blood pressure screened by Nursing students, and received lessons in posture and balance from Physical Therapist Assistant students. The Health Services Center and Wellness Center hosted informational tables. In addition, Food Day Fair participants had the opportunity to shop for fresh fruits and vegetables at a farmer's market stand, and to receive free grocery items provided by LaGuardia CARES.
"We hope and expect that attendees of the 2023 Hunger Banquet and Food Day Fair came away with a deeper understanding of food insecurity, poverty, and discrimination. The hands-on, interactive elements were designed to make these topics feel real, rather than conceptual," said Cynthia Vazquez, BS, RDN, director of the Nutrition and Culinary Management Program. "We hold these events during the last full week of October each year in honor of World Food Day, an annual event where organizations around the world promote awareness and action for those suffering from hunger."
Donations of non-perishable food items and winter clothes were collected at both the Hunger Banquet and the Food Day Fair for donation to LaGuardia CARES.
"Special thanks to Jenny Palios, chief laboratory technician for the Nutrition and Culinary Management Program, for her teamwork in making these events a success," said Ms. Vazquez.
• • • •
LaGuardia Community College (LAGCC), a Hispanic-Serving Institution, located in Long Island City, Queens offers more than 50 degrees and certificates, and more than 65 continuing education programs to educate New Yorkers seeking new skills and careers. As an institution of the City University of New York (CUNY), the College reflects the legacy of our namesake, Fiorello H. LaGuardia, the former NYC mayor beloved for his advocacy of underserved populations. Since 1971, LaGuardia's academic programs and support services have advanced the socioeconomic mobility of students while providing them with access to a high quality, affordable college education.
####