LAGUARDIA COMMUNITY COLLEGE THEATER PROGRAM PRESENTS "SPRING AWAKENING," FIRST IN-PERSON PERFORMANCE IN THREE YEARS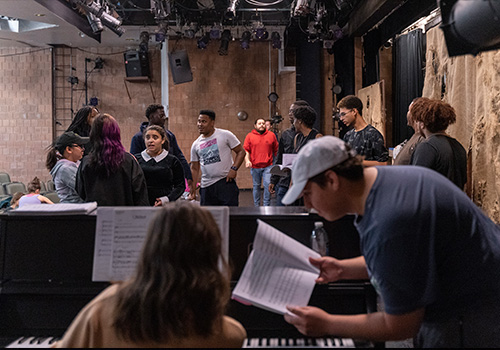 LONG ISLAND CITY, NY (November 04, 2022) — LaGuardia Community College/CUNY's award-winning Theater Program is putting on a production of Spring Awakening—its first in-person campus theater production in three years. Tickets are available now for shows running November 9–12 at the LaGuardia Performing Arts Center (LPAC).
"We are pleased to welcome back in-person theater productions with Spring Awakening. The campus feels like the lively environment it was before March 2020—it's a great time to be at LaGuardia," says Kenneth Adams, president of LaGuardia Community College. "LaGuardia proudly supports the arts in all capacities—from our robust visual and performance arts degree programs, to hosting productions like this one."
"We are extremely excited to present Spring Awakening. Due to the pandemic, it's our first fall production in three years. Our cast and crew have shown incredible dedication in putting on this musical production," says Professor Stefanie Sertich, director of LaGuardia's Theater Program. "In addition to current LaGuardia students, both theater majors and those in other majors, the cast includes alumni who did not get a chance to participate in theater productions during the past three years."
Spring Awakening, written by Tony winner Steven Sater, is a coming-of-age story. A group of teenagers in late nineteen century Germany as they discover their sexuality. While set in the past, this rock musical has surprising repercussions today. Content warning: this musical contains depictions and discussion of sexual and familial violence and suicide. The Theater Program is partnering with LaGuardia's Wellness Center—the college counseling center, The Women's Center, a resource that provides support services and advocates for women's rights and gender equity on campus, as well as the Liberal Arts Option in Women, Gender, and Sexuality Studies (WGS). Resources for audience members will be made available at all performances.
The show will be performed in LPAC's Little Theater (31-10 Thomson Ave, Long Island City, NY 11101 — use entrance on Van Dam St. near 47th Avenue).
Run-time is two hours with a 15-minute intermission.
There is an Open Dress Rehearsal (free with reservation) on Wednesday, November 9 at 2:30 p.m.
The remaining shows require tickets that cost $10 for the general public or $8 for students. Showtimes include:
Thursday, November 10 at 7:30 p.m.
Friday, November 11 at 2:30 p.m. and 7:30 p.m.
Saturday, November 12 at 2:30 p.m. and 7:30 p.m.
Click here to reserve tickets.
LaGuardia's Theater Program, offered through the Humanities Department, leads to an Associate of Science (AS) degree and provides students with skills and knowledge necessary to pursue a wide spectrum of careers in the theater. Studies include the ability to analyze, critically assess and write about theater through rigorous courses in theater history, dramatic analysis and the contemporary New York theater scene. Program graduates have transferred to highly competitive, audition-based theater programs and have been selected for scholarships to theater conservatory programs.
Each year, Theater Program majors participate in the Kennedy Center American College Theater Festival, an opportunity for students to compete against students from two-year and four-year colleges and conservatories nationwide in areas of acting, directing, arts management, dramaturgy, playwriting, design, and tech management. Under Professor Sertich's direction since 2011, LaGuardia students have been awarded numerous honors and awards at past regional festivals, and a number have gone on to represent the college at the national festival in Washington, D.C.
• • • •
LaGuardia Community College (LAGCC), located in Long Island City, Queens, educates thousands of New Yorkers annually through degree, certificate, and continuing education programs. LaGuardia is a national voice on behalf of community colleges, where half of all U.S. college students study. Part of the City University of New York (CUNY), the College reflects the legacy of our namesake, Fiorello H. LaGuardia, the former NYC mayor beloved for his championing the underserved. Since our doors opened in 1971, our programs regularly become national models for pushing boundaries to give people of all backgrounds access to a high quality, affordable college education.
####