LAGUARDIA COMMUNITY COLLEGE HONORED WITH NY WORKFORCE PARTNER AWARD BY BUILDING SKILLS NY (BSNY)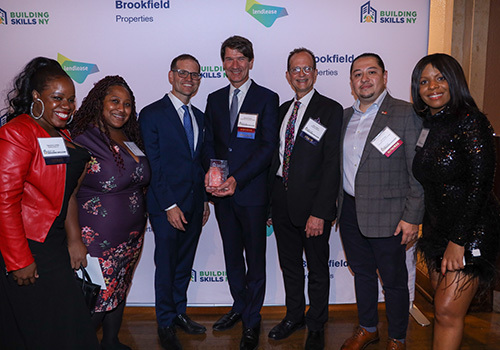 LaGuardia Community College/CUNY was honored by Building Skills NY (BSNY) at its inaugural Best of Building Skills NY fundraiser on October 20, 2022. President Kenneth Adams accepted the New York Workforce Partner award on behalf of LaGuardia Community College. The college was one of several community and workforce partners honored for helping BSNY to advance its mission of Building Skills and Building Futures.
BSNY is a non-profit construction workforce development organization dedicated to helping historically underemployed New Yorkers gain the skills and certifications necessary to enter and advance in the construction industry.
"It was an honor to accept the Best of Building Skills NY Workforce Partner Award on behalf of LaGuardia Community College," said Kenneth Adams, president of LaGuardia. "Building Skills NY has been a critical partner with our college. Together we are training the next generation of plumbers, electricians and HVAC techs ready to rebuild our communities following the COVID-19 pandemic and to help transition our communities to clean energy. We look forward to continuing and deepening our partnership."
Projects where LaGuardia and BSNY are partnering include providing approx. 75 underemployed and unemployed New Yorkers with industry-recognized, tuition-free training to become certified Heating, Ventilation and Air Conditioning (HVAC) technicians. The program, with Positive Workforce, a New York City based minority construction advocacy organization, is designed to provide an entry point for in-demand clean energy jobs for this vulnerable population. New York State Energy & Research Development Authority (NYSERDA) is funding the program as part of a major statewide effort to combat climate change by supporting and encouraging transitions from fossil fuels to renewable energy sources.
"We're overwhelmed by the support our partners showed at the first annual Best of Building Skills," said David Meade, BSNY Executive Director. "This support goes a long way toward helping us equip New Yorkers with the tools they need to develop successful construction careers."
"When employers partner with workforce development nonprofits, they become firsthand witnesses to the positive impact these organizations have on individuals," said Ron Moelis, vice chair of BSNY Board of Directors, and chairman and co-founder of L+M Development Partners.
Posted on November 7, 2022