LaGuardia Film Expert Sheds Light on Cult Films and Current Blockbusters
LONG ISLAND CITY, NY (August 21, 2023) — On July 26, The New York Times published an article, "Annihilation,' 'Support the Girls' and More Streaming Gems," which included a review of a documentary film by LaGuardia Community College staff member Thomas Edward Seymour titled, "Cult Films and the Decline of Physical Media (2015)."
Seymour, a senior college lab technician and adjunct assistant professor, has taught video production but currently works in New Media Technology. He comes from an independent filmmaking background, but also worked as a CBS news cutter in Hartford, Connecticut years ago.
"I really try to emphasize learning all positions of filmmaking from shooting to cutting," Seymour said. "I believe that is the only way you can become unstoppable. The documentaries mentioned in 'The New York Times' were feature length films that only cost $500 to create. In creating your own independent projects, you create your own opportunities, and this experience can lead to industry jobs."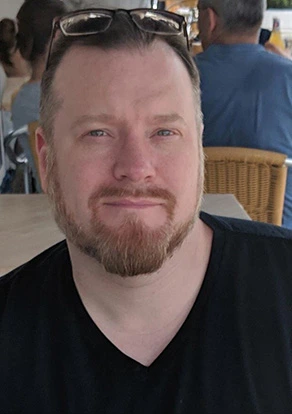 When Seymour thinks of cult movies, he said he thinks of unusual movie titles that gain success in the long run.
"Often, they are genre films or sometimes films that the large studios wouldn't bother to make because of their specificity," he said. "Mandy" (2018) starring Nicolas Cage I thought it was a pretty interesting horror film, that was shot on 35mm film. In using older technology instead of cutting-edge technology, it stood out."
The summer film season brought on an increase in movie-goers opting to experience movie theaters again, with films like, "Barbie," which grossed $1.2 billion so far, and "Oppenheimer," which has grossed $717.8 million so far. Seymour said these films are good examples of films that were made with lower budgets – "Barbie" ($145 million) and "Oppenheimer" ($100 million), according to Collider.com.
"I think the studios need to start making less expensive films, so they don't have to recover so much money to break even. 'Barbie' and 'Oppenheimer,' both well made films with budgets that were not outrageous," Seymour said. "Studios like A24 have a solid template for creating original and successful less expensive films but more streaming services need to have a micro-budget category to foster lower and middle-class filmmaking in our country."
• • • •
LaGuardia Community College (LAGCC), a Hispanic-Serving Institution, located in Long Island City, Queens offers more than 50 degrees and certificates, and more than 65 continuing education programs to educate New Yorkers seeking new skills and careers. As an institution of the City University of New York (CUNY), the College reflects the legacy of our namesake, Fiorello H. LaGuardia, the former NYC mayor beloved for his advocacy of underserved populations. Since 1971, LaGuardia's academic programs and support services have advanced the socioeconomic mobility of students while providing them with access to a high quality, affordable college education.
####