LaGuardia Community College Leads U.S. Two-Year Schools with Most Mellon/American Council of Learned Societies Faculty Fellowships for 2022
With support from the Mellon Foundation, each Faculty Fellow will receive $40,000 towards their academic research
LONG ISLAND CITY, NY (May 10, 2022)—LaGuardia Community College has been awarded the highest number of 2022 Mellon/American Council of Learned Societies (ACLS) Community College Faculty Fellowships. Five LaGuardia professors were named 2022 Mellon/ACLS Fellows, among 30 total from U.S. two-year schools from Honolulu to Long Island City. The fellows were selected for their vital and diverse contributions to humanistic research and teaching. Each will receive a $40,000 grant, made possible by the Mellon Foundation, to support their academic research.
LaGuardia awardees are English Department Professors Paul Fess and Joy Sanchez-Taylor, Social Science Professors Dušana Podlucká and Nichole M. Shippen, and Humanities Professor Ari B. Richter. They are among thirteen 2022 fellows from the City University of New York (CUNY). Half of the 2022 Mellon/ACLS Fellows (15 out of 30) come from New York State.
"The long, proud tradition of academic research at LaGuardia is reflected in our faculty receiving the highest number of 2022 Mellon/ACLS Fellowships among all U.S. community colleges," said LaGuardia Community College President Kenneth Adams. "We are proud of Professors Hess, Podlucká, Richter, Sanchez-Taylor, and Shippen for this recognition of distinction. The Mellon Foundation's generous support will enable them to advance their research on diverse topics including slavery, the Holocaust, fantasy literature, learning differences, and colonialism. Their findings will enhance the learning experiences of LaGuardia students, enlighten the broader community through the exhibitions of their work, and advance the study of the Humanities."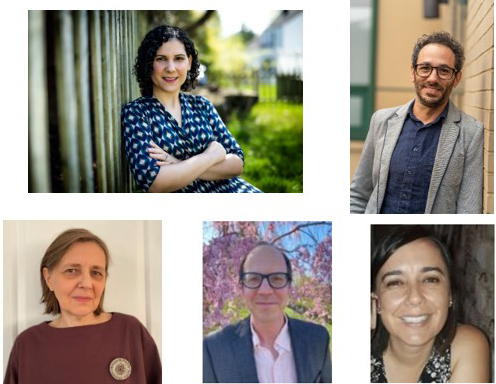 The five LaGuardia professors selected as 2022 Mellon/ACLS Community College Faculty Fellows. Clockwise from top Jett: Joy Sanchez-Taylor; Ari B. Richter; Nichole M. Shippen; Paul Fess; and Dušana Podlucká
Paul Fess , assistant professor of English, will lead Resonant Texts: Music and Antislavery Print Culture, a project examining "music as an important structural element of the literature of the U.S. antislavery movement from the 1830s to the Civil War."
Ari B. Richter , professor of fine arts, will produce Never Again Will I Visit Auschwitz: A Graphic Family Memoir, to be published by Fantagraphics Books and showcased in an accompanying multi-media exhibition. The project is "an intergenerational collaboration that draws on four generations of first-person written testimonials, recorded interviews, and photo archives." It will feature the oral histories of Professor Richter's grandparents and great-grandparents, who survived the Holocaust along with Richter's self-examination of living with this history.
Dušana Podlucká , associate professor of psychology, plans to engage in a participatory exploration of learning and development of students with learning differences in higher education and collectively with students develop recommendations to improve institutional practices for students with learning differences, through her project titled, Collaborative Activist Inquiry with and for Community College Students Diagnosed with Learning Differences.
Joy Sanchez-Taylor , professor of English, will embark on a project titled Diverse Fantasies, "a critical intervention in the study of fantasy literature that helps scholars and fans of fantasy understand how authors of color are providing alternative viewpoints of race in fantasy worlds."
Nichole M. Shippen , associate professor and program coordinator of political science, will focus on bordertown violence, "a direct consequence of the ongoing settler-colonial genocidal strategy of eliminating Indigenous peoples for territorial acquisition and natural resource extraction," as she describes in her research abstract. Her project, Decolonizing Bordertown Violence: Settler Colonialism, Strategies of Elimination and Indigenous Resistance, will examine how "foundational entanglements of American liberalism, racial capitalism, and settler colonialism underscore why a state-based politics of recognition in itself will not decolonize bordertown violence."
The 2022 Mellon/ACLS Fellows will come together in a convening hosted by the ACLS to build their cohort, share work in progress and discuss wider issues related to the humanities in community colleges and the impact of COVID-19.
Launched in 2018, the Mellon/ACLS Community College Faculty Fellowship offers teaching staff at two-year colleges support for research projects in the humanities and interpretive social sciences. The four-year initiative has recognized the vital and diverse contributions of more than one hundred community college faculty to humanistic research and teaching.
In 2021, four LaGuardia faculty were awarded Mellon/ACLS Fellowships.
• • • •
LaGuardia Community College (LAGCC), located in Long Island City, Queens, educates thousands of New Yorkers annually through degree, certificate, and continuing education programs . LaGuardia is a national voice on behalf of community colleges, where half of all U.S. college students study. Part of the City University of New York (CUNY), the College reflects the legacy of our namesake, Fiorello H. LaGuardia, the former NYC mayor beloved for his championing the underserved. Since our doors opened in 1971, our programs regularly become national models for pushing boundaries to give people of all backgrounds access to a high quality, affordable college education.
####